Endangered Species
R2 - United Kingdom - Lions Gate Home Entertainment
Review written by and copyright: Rick Curzon (29th May 2021).
The Film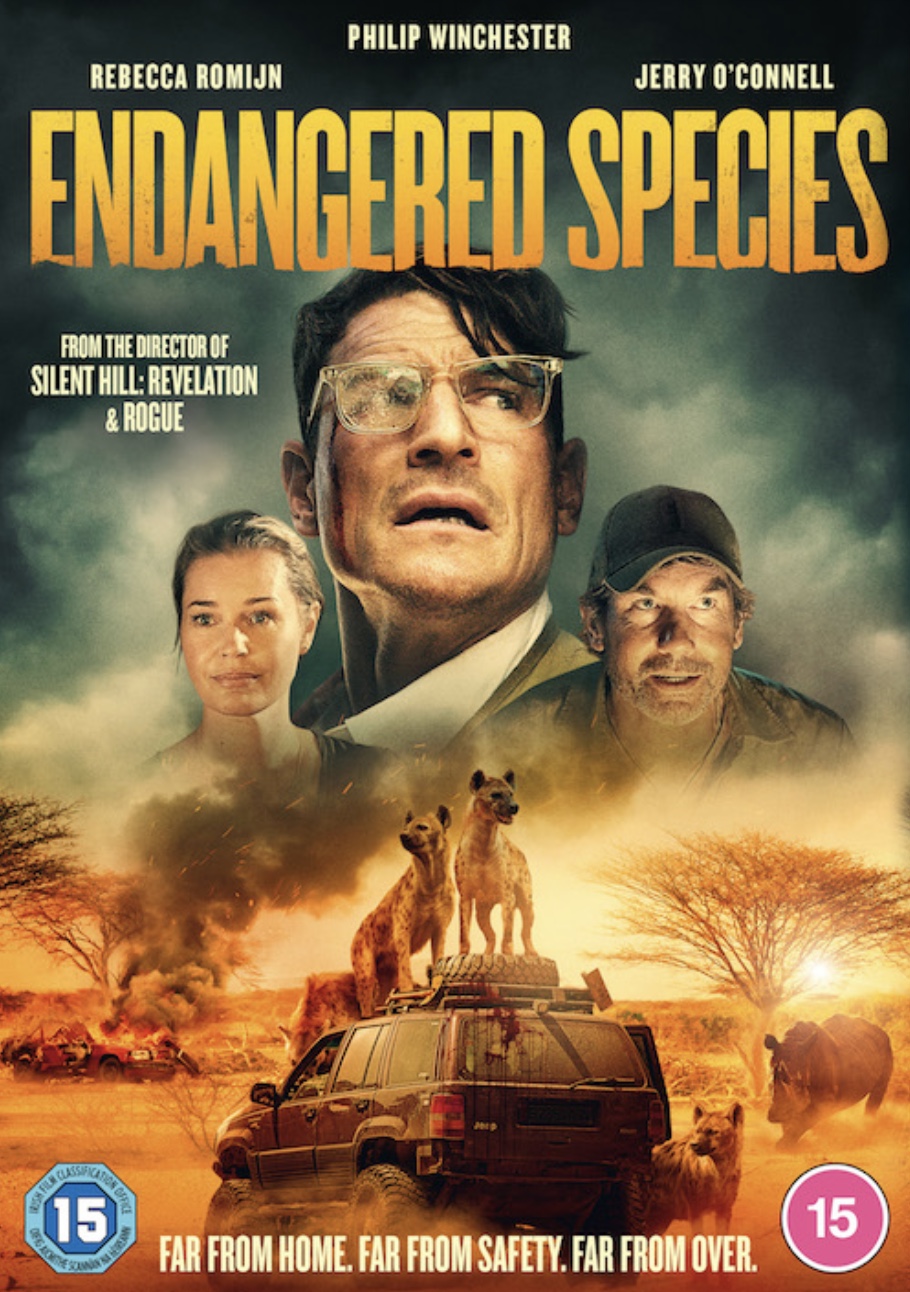 Robert (Philip Winchester), his wife Andi (Rebecca Romijn), teenage daughter Katie, and young son Toby take a trip to the Amboseli National Park in Kenya. Wanting to experience adventure in the wilderness, they head down a forbidden road to a remote area of the vast national park without a guide, when a hair-raising encounter with a wild rhino leaves their car a wreck and the family stranded miles off the main trail.

Under the suffocating African sun, they soon find themselves stalked by hyenas and facing deadly attacks from leopards, but when they discover a vicious gang of armed poachers they find that man is the most deadly animal on the savanna …

Blending fast-paced action in a tense eco-thrill ride, director M.J. Bassett explores the horrors of animal poaching with an empowering message about how ordinary people can fight back against the devastation inflicted on the natural world.

Starring Rebecca Romijn (X-Men franchise, Star Trek: Discovery), Jerry O'Connell (Scream 2, Stand by Me), Philip Winchester (Rogue, Thunderbirds) and Michael Johnston (Teen Wolf). Written and directed by M.J. Bassett.

Video


Low budget action drama about a diverse and dysfunctional American family trapped in the African holiday from hell gets a basic DVD release from Lionsgate in the UK.

This is a colourful looking, digitally shot production made last year so it's a strong transfer for standard definition and presented on a dual-layered DVD9 with a reasonable bitrate. Flesh tones are healthy and natural, colours fairly vivid albeit not on Flash Gordon (1980) levels and it looks pretty solid. I could see no compression artefacts or digital tinkering. Black levels and contrast are solid and supportive with no unintended crush or blown out highlights.

A good-looking DVD.

PAL / MPEG-2 / 2.39:1 / 96:59

Audio


English Dolby Digital 5.1
Subtitles: English HoH

Florid, thunderous, modern 5.1 action film soundscape. Not as big and as boisterous as the typical Marvel, DC or Bond flick but it's a pretty robust track all round and presented here in a lossy Dolby Digital form that's about as good as can be for the format and the sound design of the original. Dialogue is firmly front and centre and the cod African-sounding score plays well in the surrounds along with ambiance and actionfull surround elements.

Subtitles for the hearing impaired have been provided and are welcome.

Extras


(1.) Audio commentary by cowriter / director / producer M. J. Bassett (2021)
(2.) Audio commentary by cowriter / director / producer M. J. Bassett and actors Philip Winchester and Jerry O'connell (2021)

Two newly recorded yaktraks; one with director Bassett going solo and one with the her joined by two members of the cast. The first track is more interesting and focussed on production info, the latter more chatty and conversational. Both are presented in Dolby Digital 2.0 stereo.

Cast and Crew Interviews:
- Jerry O'Connell (2:25)
- Philip Winchester (6:50)
- Michael Johnston (3:24)
- M. J. Bassett (9:07)
- Rebecca Romijn (3:37)
- Chris Fisher (3:21)
- Isabel Bassett (6:59)

Standard EPK puff pieces of very little value; you know the score. Presented in PAL 2:1 with with Dolby Digital 2.0 stereo sound.

Startup Trailers:
- Chaos Walking (2:18)
- The Virtuoso (1:51)

Trailers for forthcoming releases presented in 2.4:1 with Dolby Digital sound; the second trailer is in 2.0 stereo but bizarrely the first is in 5.1.

Packaging


Standard black, DVD Keepcase.

Overall


Solid DVD presentation of a recently shot action film. Image and sound are as good as can be for the format but extras are limited. The two commentaries provide the only real value. For the price this is recommended but buffs will want one of the BD releases available abroad.
| | | | | |
| --- | --- | --- | --- | --- |
| The Film: C- | Video: B+ | Audio: B+ | Extras: D- | Overall: C+ |

---
DVD Compare is a participant in the Amazon Services LLC Associates Program and the Amazon Europe S.a.r.l. Associates Programme, an affiliate advertising program designed to provide a means for sites to earn advertising fees by advertising and linking to amazon.co.uk, amazon.com, amazon.ca, amazon.fr, amazon.de, amazon.it, amazon.es and amazon.se.