The Film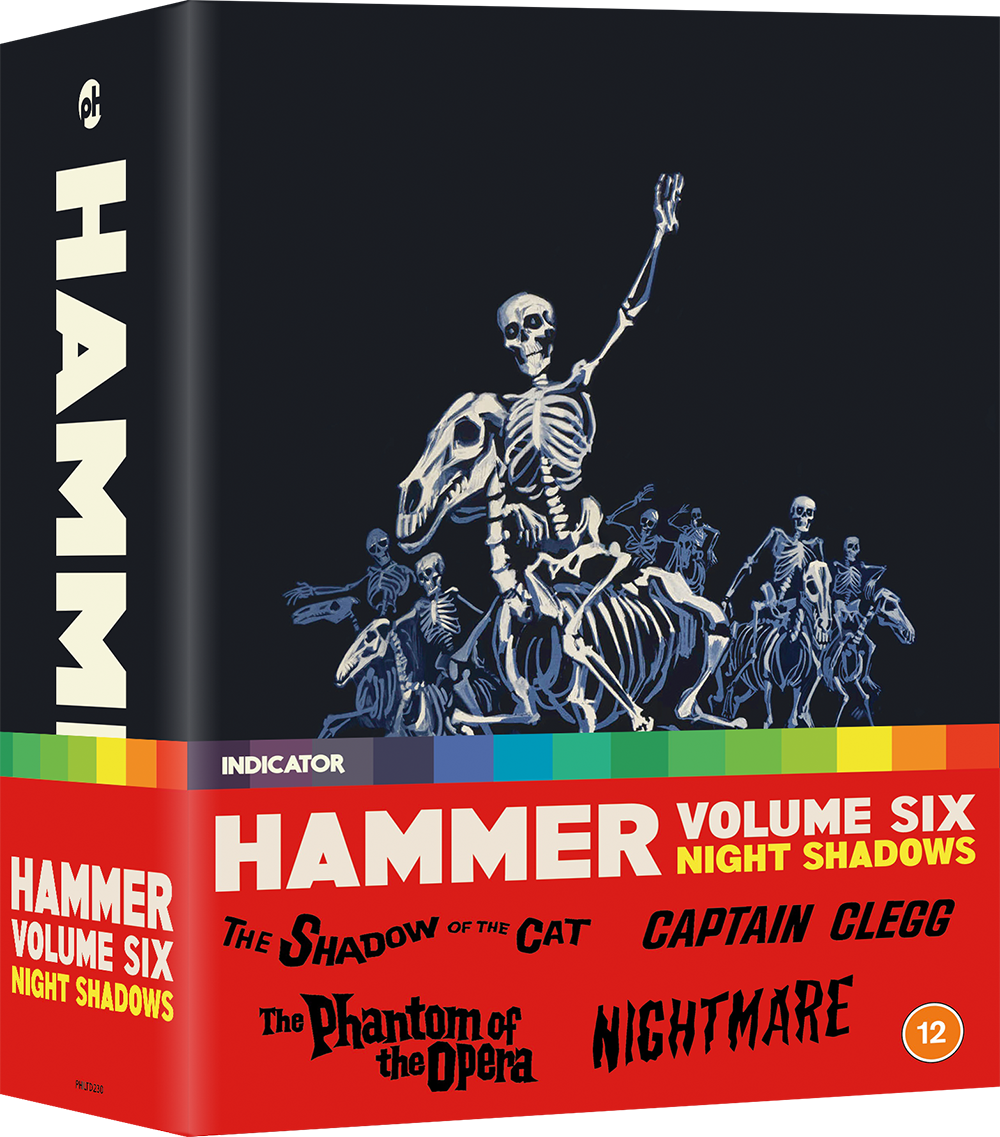 Hammer Volume Six: Night Shadows revives four consummate Hammer classics from the early sixties, exemplifying some of Hammer Films' best work in the horror and thriller genres.

Edgar Allan Poe looms large in The Shadow of the Cat, a macabre 'old dark house' tale of feline revenge, starring André Morell (Cash on Demand) and Barbara Shelley (The Camp on Blood Island); Peter Cushing (The Gorgon, Corruption) and Oliver Reed (The Scarlet Blade) star in Captain Clegg, which sees Hammer fuse horror and adventure in an eighteenth-century-set tale of smugglers and marsh phantoms; Herbert Lom (Mysterious Island) stars as The Phantom of the Opera in Hammer's acclaimed production of Gaston Leroux's Gothic classic, whilst Freddie Francis (Torture Garden) directs Nightmare, a spooky psychological thriller in the Les Diaboliques vein, which benefits from full-blooded central performances by Moira Redmond (Jigsaw) and Jennie Linden (A Severed Head).

This collection contains a wealth of new and archival extra features, including documentaries and appreciations, interviews with actors and crew members, audio commentaries, and extensive booklets. Strictly limited to 6,000 numbered units.

Video


Quite simply one of the best in Hammer's series of swashbuckling adventures began in 1954 with their first colour film, Men of Sherwood Forest. The series would continue, ending in Sherwood Forest with A Challenge for Robin Hood in 1967 taking in Pirates, Roundheads, Viking Queens and Romans along the way. Captain Clegg was also made to look like it had one foot in pure gothic Hammer horror which no doubt endeared itself to school children of all stripes back in 1962 when they saw it on a double bill with Hammer's only 'A' certificate horror, The Phantom of the Opera. 'A' being the early '60s equivalent of PG.

These swashbucklers were designed for family audiences, to be released in time for the school holidays and they mostly all raked in the dosh doing very well. I first caught up with the film in 2005 when Universal released it as part of their troublesome 8-film set "The Hammer Horror Series". That edition gave the film it's bogus US theatrical retitling "Night Creatures" and was presented in the over-matted aspect ratio of 2:1 (along with Phantom).

As with The Phantom of the Opera, Captain Clegg has always looked good on DVD and BD including the controversially framed 2:1 versions; here we thankfully have the film presented in the 1.85:1 aspect ratio. Colour values are rich, deep, warm and very ... Hammer. Black levels are also incredibly rich and deep with no signs of unintended crush. Contrast is also very supportive allowing the filmic and ever present grain field naturally play over the image varying from fine in well-lit scenes to courser in darker, less well-lit scenes. During opticals there are colour density changes and detail gets soft, but that was always the case and it's baked into the OCN. The day for night scenes can be disconcerting but they've always looked that way.

Apart from these moments, detail is exceptional along all focal plains with skin textures and fabrics coming off as very well delineated. There are no signs of compression or digital artefacts to spoil the show. Encoding from Fidelity in Motion is typically superb.

1080/24p / AVC MPEG-4 / 1.85:1 / 82:10

Audio


English DTS-HD Master Audio 1.0 (theatrical versions)
Subtitles: English HoH

A typical mono track from the period presented in uncompressed LPCM 1.0. It's naturally fairly limited in range by the standards of a 2021 Dolby Atmos track but is still robust and surprisingly strong with no distortions even at a high volume. About as good a mono track as I've heard from a '60s film. Very powerful when played via my amp.

Excellent hard of hearing subtitles are provided.

Extras


Audio commentary with Constantine Nasr (2021)

Fine commentary ported over from the 2021 Shout! Factory BD is jam packed with information. Nasr has been researching
Hammer history for many years in the service of Little Shoppe of Horrors magazine and is always welcome. Lossy Dolby Digital 2.0 stereo.

"The BEHP Interview with Peter Graham Scott: Interviewed by Darrol Blake and John Sealey" 2004 interview (200:46)

A colossal extra and extremely valuable; an engaging, lengthy interview spanning the career of Captain Clegg's director, Peter Graham Scott. Shot in standard definition home video 1.33:1 but upscaled to 1080/24p with lossy Dolby Digital 2.0 mono sound.

"Making of Captain Clegg" 2014 documentary (32:00)
"Peter Cushing: Perspectives" 2021 documentary (28:59)
"Smuggler's Gothic: David Huckvale on Composer Don Banks, Music Supervisor Philip Martell and Captain Clegg" 2021 featurette (21:21)
"Kim Newman Introduces Captain Clegg" 2021 featurette (13:55)
"Hammer's Women: Josephine Botting on Molly Arbuthnot and Rosemary Burrows" 2021 featurette (13:47)
"The Mossman Legacy" 2014 featurette (6:53)

The making of and Mossman pieces are ported over from the 2014 UK Final cut BD and are splendid; filled with interest. The Mossman featurette being all about George Mossman (1906-93) and his coaches and carriages which were used in various films, including Captain Clegg. Both are presented by Hammer historian and author Wayne Kinsey. Incidentally, the making of also covers the Dr. Syn novels of Russell Thorndike (1885-1972) which firm the basis of Captain Clegg. All of the other pieces are newly produced for this edition and are (as with the Phantom of the Opera disc) very enjoyable.

We have a fine piece on Cushing and a 1985 radio interview he gave to fan Richard Edwards plus reminiscences by actor Derek Fowlds (Frankenstein Created Woman, 1966) amongst others. We have another entry in the ongoing series of featurettes featuring David Huckvale waxing lyrical about the film under discussion and it's composer; this time we also get a profile of Hammer's musical arranger Phillip Martell. Another welcome and enjoyable entry in Powerhouse Film's Hammer's Women series, this time with Josephine Botting discussing two prominent Hammer women from behind the scenes; usually these feature actresses. And finally we get the ubiquitous Kim Newman for a thorough introduction. All of the featurettes are 1080/24p 1.78:1 with lossy Dolby Digital 2.0 stereo sound.

Night Creatures Theatrical Trailer (1:01)

Vintage American promo piece; goofy voice over and in monochrome despite extolling the virtue of the film being in colour. 1080/24p 1.66:1 with LPCM 1.0 sound.

Image Galleries:
- Captain Clegg Image Gallery: Production Stills (103 images)
- Captain Clegg Image Gallery: Promotional Material (87 images)

Very substantial HD gallery contains much to enjoy and covers most aspects of the production.

36-page liner notes booklet by Frank Collins and Kieran Foster, extracts from original press materials, an overview of contemporary critical responses, and film credits

The usual comprehensive booklet chock-a-block with added value material; these booklets are a gem and to be savoured.

Packaging


Four clear plastic BD Keepcases set in a hard card outer box with a card slip.

Overall


Captain Clegg is another firs class slab of Hammer filmmaking and like the other three films in this sixth boxed set is presented on it's best behaviour with superb image and sound that's as good as can be given the elements which are in excellent shape and have been well looked after. Extras are peerless, porting over everything from the 2014 UK BD and the recent US BD.

These Hammer sets have all been glorious allowing us Hammer obsessives to wallow as if we were pigs amongst the truffles! Set #6 subtitled "Night Shadows" is one of the best and like the previous five gets my highest possible recommendation.
| | | | | |
| --- | --- | --- | --- | --- |
| The Film: B+ | Video: A- | Audio: A+ | Extras: A+ | Overall: A |