The Film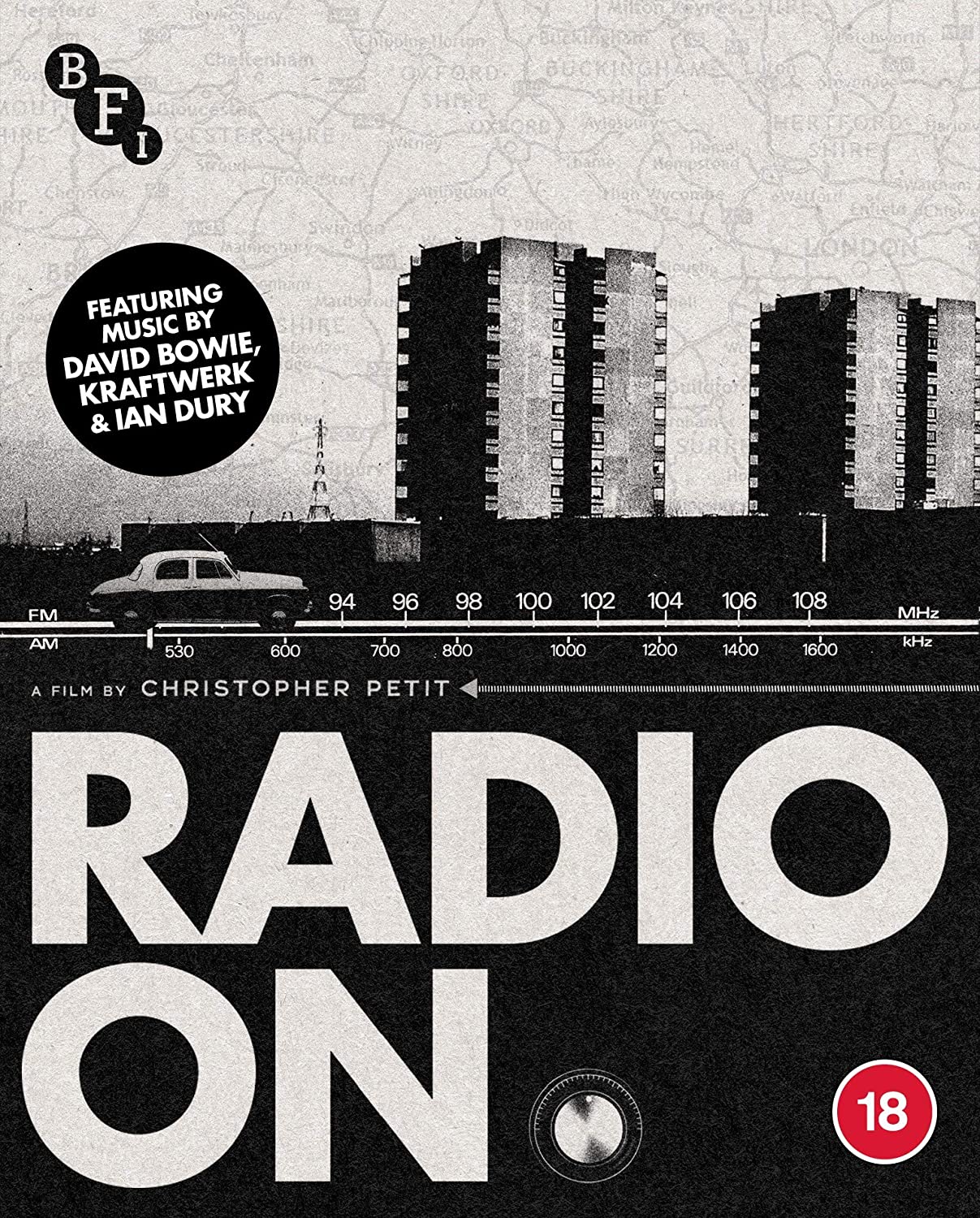 "Radio On" (1979)

Robert (played by David Beames hears about the death of his brother, a radio DJ, which leads him to drive from London to Bristol to look into what happened. On his journey he encounters various people, including Inga (played by Lisa Kreuzer), a German woman who is hoping to reunite with her young son, a Scottish soldier (played by Andrew Byatt) who is deserting his post, as well as a gas station attendant (played by Sting) who is obsessed with the late singer Eddie Cochran.

The genre of the road movie took on new life in American cinema with films like "Easy Rider" (1969), "Two-Lane Blacktop" (1971), and "Vanishing Point", crossing existential elements with a continuously changing landscape with various locations of the journey taken by the main characters. German filmmaker Wim Wenders took the road movie concept and created his own seminal trilogy of films, "Alice in the Cities" (1974), "Wrong Move" (1975), and "Kings of the Road" (1976). One of Japan's most beloved and critically acclaimed films of all time is the road movie "The Yellow Handkerchief" (1977). The United Kingdom may have a system of motorways that connect the entire country, but the road movie genre was never truly explored until 1979, when film journalist Chris Petit directed "Radio On", a film very different from anything else being released in the UK at the time.

Petit's script is incredibly minimal. Dialogue scenes are brief and sometimes inconsequential. At times they are only a few words, in other sequences there is basically silence with only music and effects being the showcase. Robert's journey does not have the usual discussions that explain his relationship with his brother, his life, or what life is like for the rest of society. The audience is given glimpses into what goes on. From Robert playing records, playing arcade games, driving on the road with his various tapes, there isn't much to piece together and instead the gaps are huge. The music that is played, the theater marquee displaying "In the Realm of the Senses", the spraypainted graffiti that states "Free Astrid Proll", and news reports of escalating issues in Northern Ireland sets things in the time period of the late 1970s, yet the film doesn't look or feel like a 70s film because it was shot in stark black and white film, lensed by Martin Schäfer, who worked on some productions by Wenders. Wenders was also an associate producer for the film, and the German influence of the production is quite strong not only with the influence and the partially German crew, but also with the scenes with Lisa Kreuzer. Some of the sequences are spoken in German like with her conversations with Katja Kersten, which is left untranslated for Robert as well as the viewers. With this said, the film is also about the lack of communication. Conversations tend to be disjointed and lacking, and there is little to be said about actual meaningful words spoken. There are at times though, such as when Inga explains how her expectations never came to fruition, regarding both Robert as well as reuniting with her son. Some could see this as an example of how boring a film could be, by not having a clear and concise plotline with characters to guide the way. Instead it looks closer to a series of vignettes where little to nothing happens from place to place and time to time. For others, it is about placing their own thoughts, own morals, and own memories into perspective while seeing someone else's.

Picking up people along the way, Robert's journey gets more wordy when the deserter hitchhikes, but the conversation is mostly one sided, with the deserter spilling his story out loud, but later things get a little on the mentally unstable side. Inga is the more emotional core of the people he picks up, and her story of losing her husband and son is a heartbreaking one, even if the audience is never given the whole story of what exactly happened between them. When Sting appears as the gas station attendant, it is important to know he was an established musician as the leader of The Police but nowhere near the superstar he was to become. It's actually refreshing to see him in an acting role where his character seems pure and far from the spotlight, yet close to what he is as a musician. The attendant knows everything about Eddie Cochran. His music, his life, his death, and he obsesses over him as a huge fan while working at the station by himself in the middle of nowhere. It's with conversations between these people that we see various happenings, but not much is really revealed about Robert and his life. It's all about what happens along the way and not about him.

The film opens with David Bowie's "Heroes" in both English and German, and the following sequence has Robert in his car opening a package from his late brother, which are three cassette tapes of Kraftwerk. This already showcases how the soundtrack would be one of the defining factors of "Radio On" and its construction. The incredible soundtrack also features Robert Fripp, Ian Dury, Devo and more, playing in various scenes as background music, the car stereo, or jukeboxes, and in a feat that was only accomplished by dealing directly with artists and having connections, was entirely curated by Petit for an incredibly minimal cost for licensing, though he has stated that the renewal negotiations have been a bit more expensive to deal with years later. In another possible crime itself or just a deal with licensing issues, there has never been a soundtrack album released for "Radio On" anywhere in the world.

There are hints that Robert's brother was possibly involved in pornography as there are some radio news reports overheard throughout the film, and there is a scene later when Robert goes through his brother's things that he finds a slideshow of pornographic images, which some are fairly graphic considering the film was given a general release in the UK in 1979. But then again, the film early on makes a reference to "In the Realm of the Senses" which had its own controversies around the world with its graphic sexual content. "Radio On" doesn't delve into the hows and whys of Robert's brother's life and death but like the rest of the film gives glimpses of what might be. Some viewers may be frustrated with the fact that there really isn't much to tie things together in the course of the film. But for others, there is a lot more to be enjoyed. The visuals and the music are incredible highlights to the film, and its influence runs strong. "Stranger Than Paradise" (1984) has a lot in common with the look and feel, and "The Straight Story" (1999) also deals with a brother's lonely journey as well. As for British cinema, the road movie never quite caught on as a movement or genre, but "Radio On" showed that experiment and persistence made it possible once upon a time.

Note this is a region B Blu-ray

Video


The BFI presents the film in the original theatrical aspect ratio of 1.85:1 in 1080p AVC MPEG-4. The original 35mm negative and original 35mm fine grain duplicating positive elements used for the 4K restoration by the BFI National Archive, with grading and remastering taking place at Silver Salt Restoration. The film looked good on DVD over a decade ago, but the new 4K restoration really showcases the excellent black and white image to its sharpest, while still retaining its film grain and its low budget origins. Greyscale is excellent, shadows are crisp, and damage is incredibly minimal throughout. It probably can't get much better than how it looks here, and is another excellent restoration by the BFI.

The film's runtime is 104:33.

Audio


English LPCM 1.0
The original mono audio track is presented uncompressed on the Blu-ray, remastered from original magnetic elements. Music plays an important part in the film, and even though in mono, still sounds quite great throughout, sounding clear and complimenting the dialogue and effects. The track is well balanced, with no issues of hisses or pops, and sounding natural as it could. It will obviously lack the fidelity of listening to the songs in stereo form from their original albums, but this faithfully has the theatrical mono track and sounds very good throughout. Though it is noted as "English", there are a few German portions spoken as well.

There are optional English HoH subtitles for the main feature in a white font, which also captions the song lyrics of the various music cues. In addition, the track does in fact caption the German sequences. It doesn't translate the German, but in fact captions the dialogue in German, keeping with the original theatrical experience of not having translations for the German portions for English speakers. They are well timed and easy to read.

Extras


"A Little Bit Kitsch, But Ice Cold: Retro-futurism in Focus" audio discussion with Vic Pratt and Chris Petit (51:33)
In this newly recorded audio interview, Petit chats with the BFI's Vic Pratt about his career and the film. Discussed are his time as a film critic, his encounter with Wenders, about some of the memorable sequences and their shooting, the fairly unconventional approach in the licensing of music, working alongside a mostly German crew, the influences, and a lot more. This plays as an alternate audio track over the feature film. Once the interview ends, the audio reverts to the film's audio track.
in English Dolby Digital 2.0 without subtitles

"Cinematic Windscreen" interview with Jason Wood (55:57)
Jason Wood, author of "100 Road Movies" and obsessed fan of the film gives this new lengthy interview about the production of "Radio On". He talks about the first time seeing the film, the cult following the film had in later years, the originality of the film in British cinema, information on songs used, comparisons to other road movies, and a lot more. This interview was produced remotely during COVID lockdown so the video and audio are obviously not up to high standards, but is a fascinating listen in which Wood could probably go on all day discussing the film.
in 1080p AVC MPEG-4, in 1.78:1, in English Dolby Digital 2.0 without subtitles

Interview with Chris Petit & Keith Griffiths (42:15)
From 2008, the director and producer of "Radio On" are interviewed separately and edited together for this interview piece, as they recall the making of the film. From Petit's early days as a critic, getting the inspiration to make a British road movie, the choice of having it shot in black and white, the dialogue between characters, and much more are discussed. This interview was previously available on the BFI DVD release.
in 720p AVC MPEG-4. In 1.33:1, in English Dolby Digital 2.0 without subtitles

"Radio On (Remix)" video essay (24:15)
This abstract video essay has Petit reorganizing clips from the film with newly shot footage through filters, recordings and other manipulations of the image, alongside music by Bruce Gilbert of Wire. Though it is called a "video essay", it has basically no spoken dialogue except for a few potions, with text clips scrolling across the screen. Nothing particularly in depth, but an interesting experiment.
in 720p AVC MPEG-4, in 1.33:1, in English Dolby Digital 2.0 without subtitles

"Coping with Cupid" 1991 short (18:58)
Three aliens arrive on Earth to study about the human interaction of "love" in this experimental short film, directed and co-written by Viv Albertine of The Slits. The aliens are played by Yolande Brener, Fiona Dennison, and Melissa Milo, and are three beautiful blonde women who walk the streets of Soho as stories are heard through interviews and dialogue of the definition of love through various minds. Shot on 16mm film, the transfer here looks quite good, with some damage seen, but colors are bold and bright, and the sound is also good without any issues such as dropout or hiss.
in 1080p AVC MPEG-4, in 1.33:1, in English Dolby Digital 2.0 without subtitles

"On the Road" shorts
Presented are two vintage driver's education short films.

"L for Logic" (1972) (13:51)
In this narrated short film, it showcases examples of a young new driver taking a driving test, as well as a more experienced older driver in more realistic though dramatized situations. The colors look quite good in the transfer here.
in 1080p AVC MPEG-4, in 1.33:1, in English Dolby Digital 1.0 without subtitles

"The Motorway File" (1975) (33:12)
This is a dramatic reenactment detailing what led to a fatal accident, with differing viewpoints and what precautions and risks that each driver took. The audio and video of this short is a bit rougher, with some crackly audio and speckles throughout the color film.
in 1080p AVC MPEG-4, in 1.33:1, in English Dolby Digital 1.0 without subtitles

Image Gallery (4:40)
Unlike the BFI's usual automated slideshow, this is a manual slideshow of 27 production stills.
in 1080p AVC MPEG-4

Trailer (3:14)
The original theatrical trailer is presented here. There is no dialogue or narration, with only soundtrack cues such as "Radioactivity" and "Heroes" played.
in 1080p AVC MPEG-4, in 1.85:1, Music Dolby Digital 1.0

Booklet
A 36 page booklet is included with the first pressing. "Radio On: Celluloid Jukebox" is an essay by Jason Wood who updates his essay from the 2008 DVD release here, and proves he has much more to say about the film with personal recollections and production information. Next is an essay by Geoffrey Nowell-Smith from Screen magazine in 1979 in an abridged form. "A Seriously Good Soundtrack" has music journalist Ian Penman look at the music used in the film. "Border Zones" is an essay about the film by Sukhdev Sandhu, which was originally in the booklet for the US Plexifilm DVD edition (which we should note is not in our database as of yet, since we cannot find reliable specs for it!). "Dancing Alone on the Céline" is by director Chris Petit looking back at his film. Next is the appreciation "A Melancholy Requiem" by "Two-Lane Blacktop" screenwriter Rudy Wurlitzer. There are also written biographies of Chris Petit and Keith Griffiths written by Michael Brooke. Next are notes on special features which also includes a short recollection by Viv Albertine on the making of "Coping with Cupid", and an essay on "Coping with Cupid" by documentary filmmaker Jane Giles. Finally, there are notes on the transfer, acknowledgements, and stills.

The following is a clip of the film promoting the BFI Blu-ray release.



In addition, here is an introduction by critic Mark Kermode for the BFI Player from five years back.



Overall


"Radio On" is an essential in the road movie genre, with an incredible soundtrack and memorable visuals that is timeless yet vintage at the same time. The BFI's 4K restoration looks and sounds great, and the Blu-ray features a great amount of extras making this highly recommended.
| | | | | |
| --- | --- | --- | --- | --- |
| The Film: A | Video: A | Audio: A | Extras: A | Overall: A |