The Film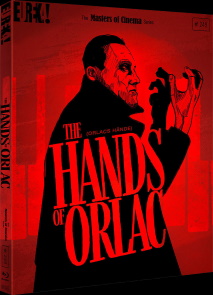 Following his final concert, world-famous pianist Paul Orlac (The Man Who Laughs' Conrad Veidt) plans to retire and spend more time with his wife Yvonne (Rasputin, Demon with Women's Alexandra Sorina). In an unfortunate twist of fate, he is in a train collision on his way home and loses his hands. While he is still recovering from a skull fracture, Yvonne begs the doctor (Hans Homma) to save his hands, knowing music is everything to her husband. Orlac awakens following a hand transplant already in doubt about his ability to play with someone else's hands; he is terrified, however, by the specter of a strange man (Pandora's Box's Fritz Kortner) and a mysterious note informing him that the hands that have been grafted on to him are those of Vasseur the executed murderer. The doctor confirms that this is indeed true, but tries to convince him that it is the head and the heart that rule the soul not the hands; however, Orlac feels the evil influence of his hands' previous owner creeping up on him, especially when he nearly strangles chambermaid Regine (Carmen Cartellieri). Unwilling or unable to play, Orlac and his wife fall on hard times. Yvonne appeals to Orlac's miserly father (Fritz Strassny) but he refuses to help out of his hatred for his own son. When Orlac himself goes to see his father, he discovers the older man's body impaled on the dagger belonging to Vasseur, and the police are baffled by Vasseur's fingerprints on the weapon. Although Orlac has no memory of the crime, he is approached by the strange man who demands a fortune as payment for "his" hands.

Based on the influential novel by Maurice Renard, The Hands of Orlac reunited Veidt and The Cabinet of Dr. Caligari director Robert Wiene but the film is bound to disappoint in spite of a handful of strikingly expressionistic setups. Technical actor Veidt gives it his best shot but it is more melodramatic "handwringing" than paranoia or possession and Kortner is a striking presence but not given enough to do for fear of spoiling one of the plot twists; but overall, Wiene does not seem to know how to direct a "conventional" horror film, with Yvonne's meeting with Orlac's father played as more of a suspenseful set-piece than some of the others involving real danger to the characters. When the final twist is revealed, it is more silly than clever; as such, one can see why subsequent adaptations including German expressionist cinematographer turned Hollywood horror director Karl Freund's easily superior Mad Love, the run-of-the-mill Hands of a Stranger, and the 1960 British/French co-production The Hands of Orlac all made their own changes to the sources, combining characters or changing their motivations or dispensing entirely with the "logical" in favor of either the supernatural or madness. Although the well-exploited notion of transplanted organs carrying something with them (usually malevolent) of their owner may have had its literary nexus with Renard's source novel and its cinematic one with Wiene's film, The Hands of Orlac is not a case where everything else can be regarded as pale imitations.



Video


Hard to see outside of the bootleg circuit after its 1928 American theatrical release – thanks largely to film collector Raymond Rohauer's stranglehold on prints of many rare works of silent cinema – The Hands of Orlac became widely available again in 2007 when Kino Video put out a DVD (also available in the German Expressionism Collection with The Cabinet of Dr. Caligari, Secrets of a Soul, and Warning Shadows) from HD-mastered 35mm materials in the possession of the F.W. Murnau Film Foundation with newly-created English intertitles. In 2013, the Film Archiv Austria created a new restoration from their own materials with a roughly comparable but too slow framerate (112:56 on the Kino versus Film Archiv's 104:33). Although Eureka utilizes Film Arhiv Austria's newer HD restoration, Eureka's 1080p24 MPEG-4 AVC 1.37:1 pillarboxed fullscreen presentation at 94:28 runs slightly faster than Film Archiv Austria's own 2019 Blu-ray (98:38). The source materials have variable damage they do allow an assessment of the film's attempts to evoke something of German Expressionism's forced perspective sets and areas of light and shadow within a more conventional setting. The scratches are less distracting than the missing frames that pop up intermittently (see below).

Audio


The Kino DVD featured a non-distracting a score by Paul Mercer; I say non-distracting because Johannes Kalitzke's dissonant and bombastic accompaniment on the newer restoration is horrendous on the level of The Tiger Lillies' score for the Friedrich-Wilhelm-Murnau-Stiftung restoration of Varieté, more likely to get on one's nerves than jangle them. It tries so hard to make the film scary to the extent that I almost wondered if some frames missing during the scene of Orlac discovering his father's body were really damage or some annoying cinematographic effect added in concert with the music. The original German intertitles are preserved with optional English subtitles.

Extras


The disc's major extra is the aforementioned F.W. Murnau Foundation Restoration (112:46) in its entirety derived directly from Kino's SD NTSC master and featuring the Mercer score. Damage is as variable but in different places, perhaps offering another aesthetic alternative along with a different translation of the intertitles. The Film Archiv Austria presentation is accompanied by an audio commentary by author Stephen Jones and author/critic Kim Newman in which they discuss the reputation of Renard as France's H.G. Wells – while also noting that his works have not traveled apart from the source novel which was recently retranslated to correct several errors in the original English publication – as well as noting the source's weaknesses beyond the "high concept" that have their origin in writing for serialization, with the transplant aspect of the story pushed towards the final chapters in favor of subplots brought up and abandoned as if Renard was making it up as he went along, how those weaknesses translated to the film, and how subsequent adaptations wrestled with them. They also are of the opinion that Viedt is miscast and would have been better cast as the villain (also observing that Orlac in general is a "rather wet" character in the story and film).


In the video essay "Extremities" (26:23), filmmakers David Cairns and Fiona Watson try to rehabilitate Wiene's reputation as the director of The Cabinet of Dr. Caligari in contrast to the more accepted story that the screenwriters and original director Fritz Lang were the major innovators on the film and that Wiene was overshadowed by his own production designer, drawing parallels between the Expressionistic physical performances of the Caligari film characters and those of Orlac. The disc also includes a version comparisons (13:49) piece created and narrated by Bret Wood for the Kino release. Although it does not address the Film Archiv Austria restoration, its comparison of the Murnau source and a 16mm print from the Rohauer collection is of interest in discussing the production of two negatives for domestic and export utilizing two cameras simultaneously filming at slightly different angles. In the case of The Hands of Orlac, such a comparison reveals not only different angles but also some different takes entirely as well as different editing rhythms (although presumably Eureka like Kino felt that the differences were not so drastic as to necessitate the inclusion of the Rohauer version in its entirety).

Packaging


Housed with the disc is a 31-page collector's booklet featuring a pair of essays. In "Robert Wiene: A Forgotten Film-maker?", Philip Kemp also tries to rehabilitate Wiene's reputation as a director, noting his stylistic choices in The Hands of Orlac as a continuation and evolution of his work on The Cabinet of Dr. Caligari and offering his own assessment of the film's strengths. In "Orlac and Beyond: The Body Horror of Maurice Renard", Tim Lucas makes the case that there is more in Renard's oeuvre than Orlac that influenced the so-called "body horror" subgenre, noting the perception by critics of "something 'impure' about [Renard's works] because their love and enthusiasm for science, for speculation, was somehow compromised by their moral and philosophical concern about the possible consequences and repercussions of daring scientific advancement."

Overall


Although it reunites Conrad Veidt and The Cabinet of Dr. Caligari director Robert Wiene, The Hands of Orlac is bound to disappoint in spite of a handful of strikingly expressionistic setups.