The Film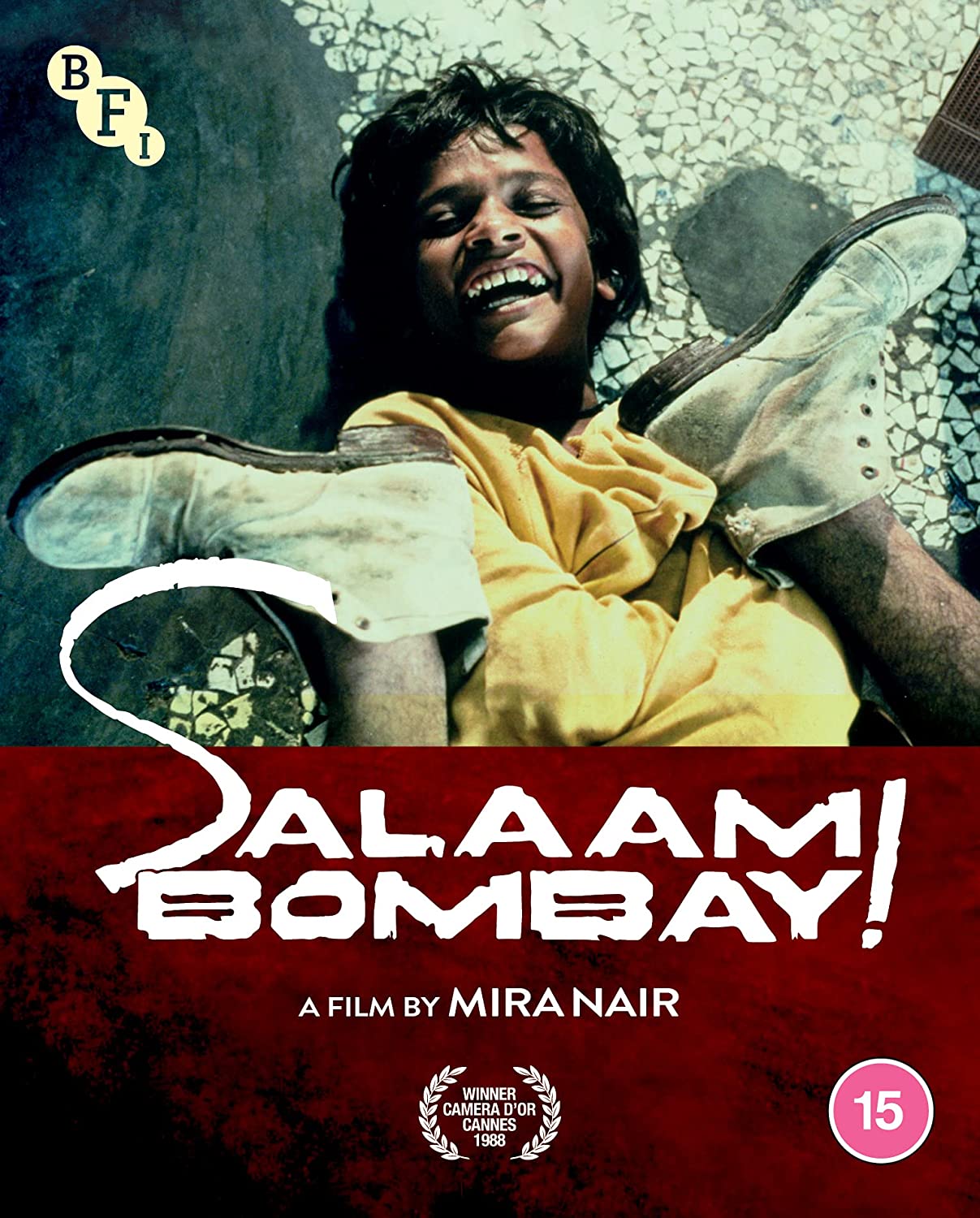 "Salaam Bombay!" (1988)

Krishna (played by Shafiq Syed) is an 11 year old living in the streets of Bombay without a home or family. Instead he has fellow street children, local pimps, drug dealers, and others that he can call friends or acquaintances, and also allowing for menial work as a chai tea delivery boy. One day he dreams of returning home and reuniting with his mother, but the deeper he sinks into the lower depths of his surroundings, it becomes more difficult for an escape. Yet as a child he always finds a way to stay positive and keep his head up.

While the story of "Salaam Bombay! might surround one child, there is a much broader world to be seen through the eyes of various characters that young Krishna (or "Chaipau" as he is nicknamed by everyone) sees every day. Chillum (played by Raghuvir Yadav) is one of the first people he befriends. Much older, he is like an adult older brother to Chaipau but one with a serious drug problem - both as a user and a dealer. Chillum and Chaipau do menial work for Baba (played by Nana Patekar), a pimp who can be quite strict both personally and professionally. He is also a father and husband, with his wife Rekha (played by Anita Kanwar) who is a prostitute hoping for a better life out of the profession for the family's sake, and to take better care of their daughter Manju (played by Hansa Vithal), who is a few years younger than Chaipau. Though Baba promises a better future, he is not making an effort to further himself for the family's sake. At the brothel where he works, the madam (played by Shaukat Azmi) forcefully brings in a young virgin to become their prized sale. He young girl (played by Chanda Sharma) was sold to the establishment and brought against her will. Chaipau immediately sees her as more than just another girl working there, and takes it upon himself to try and help her whenever he can. There are a great deal of perspectives to see from the various characters, and they are all from the lowest part of the slums, which was not the typical Bollywood production which had glamorous sets and costumes, epic musical segments and a dreamlike fantasy quality. "Salaam Bombay!" was real and honest in depicting the cruel world of the slums of the city of Bombay (renamed Mumbai as the official English name in 1995). The film's city scenes were shot entirely on location in Bombay, using real alleyways and brothels for filming, and at times the people walking down the streets in wide shots were unaware of a film being in production leading to real reactions rather than being staged entirely. This was also due to the budget of the film being only $450,000 which was quite miniscule. The financing came from multiple sources including from the UK and France as well as India, through Cadrage, Channel Four Films, Doordarshan, La Sept Cinéma, Nair's own Mirabai Films and the National Film Development Corporation of India.

This was filmmaker Mira Nair's first fiction feature film following work making documentaries. Inspired by the realities seen in her previous works "So Far from India" (1983) and "India Cabaret" (1985), the focus would be on characters that were not seen in modern Indian films and seen through the eyes of the most innocent - the children in those surroundings. For authenticity, local children from Bombay were enrolled in an acting workshop overseen by Nair in preparation and casting. The adult roles were comprised of actors with theater and film experience, though a notable exception was the small role of the scribe played by Irrfan Khan in his first film role after a few parts on television. The kids in the film all had a sense of camaraderie that is natural as it is dramatic, as they were fit for their roles in a comforting state, geared towards them and wonderfully directed by Nair. From scenes of them playing in the streets, causing havoc, while also helping each other through various tasks and deeds all bring a sense of joy and wonder that only kids could find even in a rank and decrepit environment around them. The screenplay by Sooni Taraporevala gives each of the characters a unique voice with differing outlooks on their places and futures, and it is easy for viewers to identify with some, sympathize with others, and downright hate others.

Krishna/Chaipau is obviously the central focus, as he is the first character introduced and his journey into Bombay by train is also how the audience travels to the big city. Even if he is one of the youngest characters of the main cast, he is also possibly the most adult character in the story. He always wants to do the right thing by helping others, including junkie Chillum overcome his addiction. When Chillum needs money, Chaipau does indeed help him, but all the way up to the point that the addition gets too heavy that Chillum ends up begging for money rather than working for it. When he sees how the young prostitute is being treated as she is brought into the brothel, he thinks of ways of saving her, including setting fire to her room so they could escape together - which doesn't work out well for either of them. When it is revealed why Chaipau has left his home, there is more than the usual abandonment or abuse backstory, but more out of guilt and love for family that rings things closer for viewers. Although he may be young and illiterate, he has a strong mind and is most likely to survive the ordeals of living in dangerous poverty in the streets of Bombay in comparison to some of the other characters in the film (of which yes, there are deaths involved).

There are obvious connections to Pather Panchali" (1955) and "Aparajito" (1957), the first two installments in filmmaker Satyajit Ray's "Apu Trilogy" following a young boy's journey from childhood under trying circumstances, as like those films, "Salaam Bombay!" does not resort to Bollywood norms but shows life as it is in a realist fashion. There are also connections to Italian noe-realist films such as "Shoeshine" (1946) and "The Bicycle Thieves" in the depictions of poor neighborhoods and children in desperate situations, and Nair was especially influenced cinematically by filmmaker Hector Babenco's 1980 film "Pixote" in terms of seeing children having to become part of a brutal and desperate life among the lowest in the social order. It may not have had the commercial success in its home county due to the subject matter, but on a worldwide scale it was a different story altogether. The film premiered at the Cannes Film Festival in May 1988 and it won both the Camera d'Or and the Audience Award. It was also nominated for an Oscar, Golden Globe, and a César for Best Foreign Language Film. Not to say that India completely ignored the film, as it won two awards at the Indian National Film Awards, with Best Feature Film in Hindi and Best Child Artist for Shafiq Syed. The worldwide gross was $7.4 million which far surpassed any other Indian film at the time in commercial sales and became an arthouse favorite, establishing Nair's career as a narrative filmmaker and giving Indian cinema worldwide exposure - even if the film did not represent what a standard Bollywood film was like.

On a very positive note, the profits from the film were used to found the non-profit Salaam Baalak Trust, a foundation that provides housing, education, food, and clothing for homeless children. Originally started as a trust to help the homeless children who appeared in the film and to help their futures, the organization expanded to helping more homeless children in Bombay, later expanding to more than a dozen centers across the country and still continuing to this day, more than thirty years later.

In more recent years, there have been many features focusing on young children growing up in a hostile environment based in reality. "City of God" (2002), "Slumdog Millionaire" (2008), "Lion" have all been equally inspired by "Salaam Bombay!" in their depictions of reality, each with a differing twist in narrative, location, and other elements. More than three decades later, "Salaam Bombay!" has proved to be timeless and unflinching, gripping with its cruel honesty while also reaching for possible hope for a better future.

Note this is a region B Blu-ray

Video


The BFI presents the film in the 1.78:1 aspect ratio in 1080p AVC MPEG-4. The master from Mirabai Films was utilized for this Blu-ray release. Colors are quite vibrant from the exteriors and interiors and skin tones also look very natural throughout. Darker portions can look a little crushed, with pitch black portions being very dark, and some detail can be lost at times. Damage has been somewhat cleaned, but certain portions have more damage visible than others with debris and light flickering of colors. It could look better with a 2K or 4K restoration, but it certainly looks great for the most part.

The film's runtime is 114:14.

Audio


Hindi LPCM 2.0 mono
The original mono track is presented uncompressed. For a film that was unusually shot with synchronized sound and without a studio environment. The music by L. Subramaniam sounds excellent from the start, accenting an uplifting element to the film. Dialogue is clear and easy to hear though at times there might be some echo and fidelity issues depending on the scene and location. There are thankfully no hisses, pops, crackle, or other issues with the audio track, sounding very clean and balanced.

There are optional English subtitles in a white font.

Extras


Audio Commentary by director Mira Nair
In this audio commentary recorded in 2013 after the 25th anniversary screenings, Nair recalls the making of the film with lots of anecdotes and memories. She discusses the acting workshop for the street children, the low budget nature and shooting on the actual streets of Bombay in sometimes dangerous situations, biographies of the performers and crewmembers including updates on their lives in the following years, and much more. It's very informative and there are many great and sometimes funny situations that she fills in the audience with, such as the biscuit eating scene, the 11-take wedding scene, etc.
in English Dolby Digital 2.0 without subtitles

"Sandi and Bernard Sissel in Conversation" interview (51:09)
In this newly recorded remote interview, cinematographer Sandi Sissel, her adopted son and child actor Bernard Sissel talk to John Ramchandani of the BFI from three different parts of the world, in Australia, the US, and the UK respectively. Sandi discusses her early career in news and documentaries, her work on "Salaam Bombay!" and memories of the shoot including the difficulties faced, such as not having the option for video playback and not being able to see dailies. Bernard also shares his memories of being on the set as one of the young street kids, plus his life changing with his adoption and move to the United States, and more.
in 1080p AVC MPEG-4, in 1.78:1, in English Dolby Digital 2.0 with no subtitles

"India Cabaret" 1985 documentary (59:46)
Nair's documentary on Indian strippers at a cabaret as they show off their skills at night while talk frankly about their experiences at home and on stage. They may feel like queens as they strip, but sometimes life at home can prove to be much more degrading and hopeless. Interviews are not only with the dancers, but also with male patrons who can sometimes show a hypocritical look as well in the male dominated society as the sense of freedom from the women may be more artificial than anything else. It's a fascinating look through the lens, as well as a precursor to what is seen with the treatment of women in "Salaam Bombay!" a few years later. The documentary includes the original Hindi/English audio track with optional English subtitles for the Hindi portions, as well as an English only audio track with English voiceover for the Hindi portions. The documentary was previously available on the US Criterion release of "Monsoon Wedding", and the HD transfer for that edition has also been utilized for this BFI release.
in 1080p AVC MPEG-4, in 1.33:1, in Hindi/English Dolby Digital 2.0 / English Dolby Digital 2.0 with optional English subtitles for the Hindi portions

Archive Shorts (with Play All) (30:40)
- "La vie aux Indes / Indian Scenes" (1906) (10:43)
- "Oliver Twist" (1909) (9:39)
- "Gardens of the Orient" (1936) (10:15)
Three vintage short films from the BFI archives are presented here. The first, "La vie aux Indes / Indian Scenes" is a French documentary from Pathe showcasing daily lives of people in Calcutta and Mumbai at the turn of the century, from farmers to the busy work at the ports, to merchants on streets and even the preparation for a cremation of a recently deceased man, and animal sacrifices. The silent film includes English intertitles, and has the usual weaknesses of scratches and debris, but is in a very watchable state with excellent greyscale. The second short is an adaptation of "Oliver Twist" by the Vitagraph Company. The connection here to "Salaam Bombay!" is with the orphan's journey, as the audience sees Oliver's meeting with the Artful Dodger and Fagin, being adopted, all told in a very quick and condensed form. The silent film is tinted, and looks fairly good with contrast and detail, though slightly faded and having some damage to the image. "Gardens of the Orient" is a narrated documentary by the GPO Film Unit showing life on tea plantations in India and Sri Lanka, from how the tea leaves are cultivated to how they are processed and shipped, while also showing what life is like for tea farmers and their families. The image quality is slightly scratchy as well as the audio, but is certainly in a watchable state.
in 1080p AVC MPEG-4, in 1.33:1, Music Dolby Digital 2.0 with English Intertitles / in English Dolby Digital 2.0 without subtitles

Theatrical Trailer (1:34)
The original trailer from Cinecom pictures is presented here, without narration or dialogue. Not in the best condition with scratches and slightly faded colors.
in 1080i60 AVC MPEG-4, in 1.78:1, Music Dolby Digital 2.0


Booklet
A 32 page booklet is included with the first pressing. The first essay is "Grace Among the Wretched" by freelance writer and podcaster Manish Mathur discussing about the film, its themes, and its impact. "So Long, Bombay" is an article by Alex Dudok de Wit which first appeared in Sight & Sound's 'Endings' column in October 2017. Next is a short piece about the Salaam Baalak Trust written by Nair, explaining about the non-profit organization's establishment and continuation of rescuing and helping street children across India. A biography of Nair by Ellen Cheshire is next, plus full film credits, special features information, transfer information, acknowledgements, and stills.

The original CineCom trailer is also presented here:


A clip of the film to promote the BFI's Blu-ray release is also here, using the HD transfer with the bold colors seen on the Blu-ray, rather than the slightly faded colors of the trailer above.


The amount of extras offered here is very generous with new and vintage materials combined, though there are some key extras from previous releases that have not been carried over. The DVD releases from MGM in the US and Film Four in the UK had a differing commentary from Nair from 2003. The MGM release also included a separate commentary by Sissel as well as six featurettes. The US Blu-ray includes all the featurettes, plus the Sissel commentary and a commentary by Nair (which I cannot find if it was the 2003 commentary or the 2013 commentary).

Overall


"Salaam Bombay!" was a masterpiece on its initial release and has lost none of its power all these years later. The BFI's Blu-ray release features a very good transfer in video and audio with a lot of great extras making this highly recommended.
| | | | | |
| --- | --- | --- | --- | --- |
| The Film: A | Video: B+ | Audio: A | Extras: A- | Overall: A- |