The Film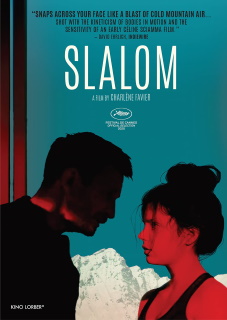 Fifteen-year-old Lyz Lopez (Genesis's Noée Abita) is the new girl on Team FL training for the World Cup in alpine skiing. The daughter of a working single mother (Félix et Lola's Muriel Combeau), Lyz finally starts to feel more independent away in the mountains than she could in the Paris apartment for which her mother is also paying to give her daughter space. Her coach Fred (Criminal Lovers's Jérémie Renier) seems completely driven towards turning out a champion, criticizing her mercilessly about her commitment and coordination, only softening when her performance starts to improve; although this does not seem too unusual since the young leader of the French team Max (Axel Auriant) only starts flirting with her when she starts winning, the dual attentions of the top men on the team causing Lyz's friend and fellow competitor Justine (Maïra Schmitt) to run hot and cold on her. When Fred makes a move on Lyz one night after a competition, she is caught up in the moment, only worrying about getting pregnant and shopping for the morning after pill the next day. In spite of her jealousy of Fred's girlfriend and chaperone for the female members of the team Lilou (A Woman's Life's Marie Denarnaud), Lyz becomes emboldened by Fred's attention even as her efforts to push herself even harder have an effect not only on her grades but on her health.

Reductively promoted by distributor Kino Lorber as a "riveting, Cannes-selected #MeToo drama," Slalom is as much a tale of the "loss of innocence" as it is about an inappropriate and illegal relationship. Feature-debuting director Charlène Favier does not depict the sort of serial predatory abuse scenario that we are so familiar with not only from the casting couch but also athletic programs from schools and professional teams all the way up to the Olympics; instead, she depicts the environment in which such improprieties and violations can happen with the combination of hormonal teenagers getting their first taste of freedom, wanting to fit in with seemingly more worldly colleagues – Lyz seems alternately disgusted by and attracted to Max, only kissing him when provoked by his needling – and wanting to seem more adult to elders. On the adult side, we have a coach who behaves as if his responsibility towards his athletes is solely to train them, a chaperone personally involved with her colleague, and parents who have entrusted their children to an athletics program as if it is a school camping trip. While Fred's attentions towards Lyz do not seem premeditate as depicted, and Lyz is depicted as active in the relationship, the power dynamics of the relationship are not ignored: from Fred expecting Lyz not to be provoked by the continuity of his relationship with Lilou and Lyz having to endure in silence intimations of just how favored she is by Fred to the conflation of Lyz's attraction to Fred with the relative absence of her father in her life apart from a yearly visitation as well as the certainty that Lyz is falling in love while being unable to truly know if Fred even feels the same way. When Lyz does end things with Fred, it appears to be because she comes to believe he only cares about her so long as she is winning; as such, the film is more about Lyz's painful experience of a first love; the true innovation of #MeToo-esque innovation here being a tale of a not-uncommon tale of a relationship between a younger woman and an older man in which we can simultaneously identify with the feelings of the protagonist without forgetting that the relationship is only made possible by an environment rife for abuse (of persons and privileges) and various personal and institutional failures.

Video


Shot with Arri Alexa cameras and Panavision B-series lenses known specifically for their flaring qualities, Slalom probably looks as best as it can on standard definition anamorphic 2.35:1 widescreen DVD due to the heavy use of backlighting, low lighting, and some instances of extremely saturated red gel lighting. Clarity is good when it comes to the well-lit exteriors and interiors, and a Blu-ray presentation might make some of the darker scenes a bit more inviting, it is obvious in the actual scenes of athletics that the film is less concerned with detail than movement.

Audio


Audio options include a Dolby Digital 5.1 track that is generally front-oriented apart from atmosphere and music. Fitting for the environment, atmosphere is a bit louder and busier in some of the more crowded interior scenes than in the wide snowy expanses. A Dolby Digital 2.0 surround-flagged downmix is also included. The optional English subtitles have no noticeable errors.

Extras


Apart from a theatrical trailer (1:43) for the film, the only other extra is a Kino Lorber-sponsored 2021 Q&A with director Charlene Favier (48:06) speaking in English with an interviewer and an interpreter who chimes in when Favier lacks the English word for a term. Favier discusses the autobiographical aspects of the story in her training as an athlete as a youth and her later writing and short films in which themes of the film were already evident. She speaks of the feature's long gestation, with a long hiatus after a colleague pointed out that the story was about sexual abuse which she had not considered, her return to the idea, and her decision not to make Fred a serial predator. She also discusses the casting – noticing Abita at Cannes and casting her in the short film Odol Gorri before asking her to work on the feature – being a fan of Renier, her approach to directing, as well as some lesser-noticed elements like the film's color scheme.

Overall


While describing Slalom as a "riveting, Cannes-selected #MeToo drama" is reductive, it does tell a familiar story of a taboo relationship without letting the viewer ignore the institutional and personal failures that made it possible.