The Film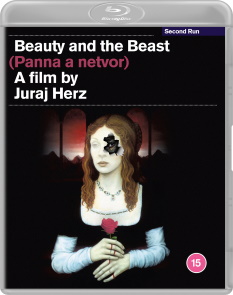 International Fantasy Film Award - Special Mention: Juraj Herz (winner) and Best Film: Juraj Herz (nominee) - Fantasporto 1982
Medalla Sitges en Oro de Ley (Best Director): Juraj Herz (winner) -

While her elder sisters Gábinka (The House in Karp Lane's Jana Brejchová) and Málinka (The Lanfier Colony's Zuzana Kocúriková) set their sights on suitors, young Julia (Lady Chatterley's Lover's Zdena Studenková) happily thinks only of keeping her merchant father Otec (Bohemian Rapture's Václav Voska) company in his coming old age. Although Otec has set up a fine household and healthy dowries for at least two of his daughters, he is used to living with risk and initially does not worry as his debtors and customers complain that his latest imports have not arrived; as such, when the caravan party are set upon by bandits while crossing the cursed Black Wood, he loses everything and his daughters no longer have any prospects. Resigned to selling the only thing still left of value – a portrait of his late wife, more valuable for the frame than the canvas – Otec sets off on his own on horseback to the next village but becomes lost in the fog and must shelter in the ruins of a castle (seemingly the cursed castle of local legend). Beyond the cracked stone and cobwebs, however, Otec discovers candlelight, wine, and a roast suckling pig. He falls asleep sated and wakes to generous payment in jewels where once was the painting. He thanks his unseen host, but oversteps hospitality when he picks a single rose as a gift for Julia. The horrid, unseen host rages at him and tells him that unless one of his daughters comes to the castle willingly, the merchant must forfeit his life. Otec returns home with the jewelry, restoring his home and his daughters' prospects; however, his own joy is overshadowed by his vow. While his older daughters have marveled at the riches bestowed upon them, they do not offer to make the sacrifice, leaving it to Julia to bid her family farewell and travel to the castle. Although Julia is initially afraid, she finds comfort in the visits of her host who does not allow her to see his face; for he (Marketa Lazarová's Vlastimil Harapes) is more bestial bird of prey than man, reminded of his monstrousness by a taunting sprite (A Night at Karlstein's Frantisek Svacina) and the impossibility of any sort of union with the woman that does not result in death: hers or his own.

From Juraj Herz, director of The Cremator, Beauty and the Beast (also known as The Virgin and the Monster) is a decidedly gothic adaptation of the popular Jeanne-Marie Leprince de Beaumont fairytale. After a horrific sequence in which a caravan traveling through fog-shrouded woods is set upon by bandits and the lone surviving female is ravaged by a clawed assailant, the film appears to be set in a less surrealistic world than the likes of Valerie and Her Week of Wonders, and the castle is more Castle Dracula than Jean Cocteau. Most intriguing is the beast, a bird of prey very believable as only being vaguely humanoid with expressive eyes behind a largely immobile mask; the "man in a monster suit" aspect only truly calling attention to itself when Julia's touch transforms his claws into human hands. Rather than being a miracle, it is a fright to the beast who the sprite says has become weakened by his love. When he was an animal, he thought only of killing and feeding. With humanity comes the knowledge of mortality, visualized by human hands no longer able to hunt like an animal while his face and the rest of his body can only repulse humans including Julia who is frightened when she catches a glimpse of the beast in the window glass without realizing that it is her suitor's reflection. It is too late at this point when he frees her to return to her family, and with his transformation from beast to handsome prince comes despair and starvation. Herz leaves it up to interpretation whether the soft focus final shot is a happy ending or the (re)uniting of lovers in death. Inexplicably made for a family audience – as were some other examples of Czech fantasy of the period including a darker imagining of The Little Mermaid – Herz's version of Beauty and the Beast is as likely to appeal to lovers of the Cocteau film as it is to more adventurous fans of the horror genre.

Video


Released theatrically in the US by International Film Exchange (IFEX), Beauty and the Beast received its first English-friendly DVD release from CCV in the Czech Republic; however, the 2018 German Ostalgica Blu-ray release – which offered up both original aspect ratio 1.37:1 and 1.66:1 widescreen options – featured no English subtitles (quite a disappointment since their editions of Herz's Ferat Vampire and Morgiana were English-friendly). Second Run's 1080p24 MPEG-4 AVC 1.37:1 pillarboxed fullscreen Blu-ray is advertised as being "a new HD transfer from original materials by the Czech National Film Archive" and it is indeed a new transfer not a restoration. While the Czechs and Second Run have likely done some cleanup work on the transfer, it is not immaculate, boasting good to strong detail with the pop of colors held in check by the color scheme and shadows varying from inky black to slightly milky (presumably to avoid as much crush as possible). Speckling and faint scratches appear occasionally and some of the brightest whites have a slight green tinge. Hopefully an American release is preceded by a massive overhaul.

Audio


The sole audio opton is a Czech LPCM 2.0 mono track that is more consistent in quality, deliverin clear voices, scoring, and some pointed sound design. The optional English subtitles are without any noticeable errors.

Extras


The film is accompanied by an audio commentary by Projection Booth podcasters Mike White, Samm Deighan, and Kat Ellinger which is a quite lively affair, discussing the differences between the various film adaptations – and the argument that the film is indeed as surrealistic as the Cocteau version – borrowings from the Bluebeard tale, the ways in which Herz's film is closer to the source, the dark edge of Czech fantasy films of the period, and some disagreement over interpretation including a grim but stimulating Repulsion-esque take on Julia's perspective in the story. The only other extra is "František Hrubín" (9:07), a 1964 short film on the film's screenwriter.

Packaging


The cover is reversible, featuring the alternate title "The Virgin and the Monster" on the inside, and housed inside with the disc is a 20-page booklet featuring an essay by film historian Jonathan Owen that places the film within the context of Herz's "exclusion" from the Czech New Wave, instead managing to become the country's "master of the macabre" while working within the studio system, and how being "typecast as a fantasy director" afforded him a number of projects on which to stamp his "baroquely imaginative" identity.

Overall


From the director of The Cremator, Beauty and the Beast is a decidedly gothic adaptation of the popular Jeanne-Marie Leprince de Beaumont fairytale, likely to appeal as much to fans of the Cocteau films as more adventurous horror fans.