The Show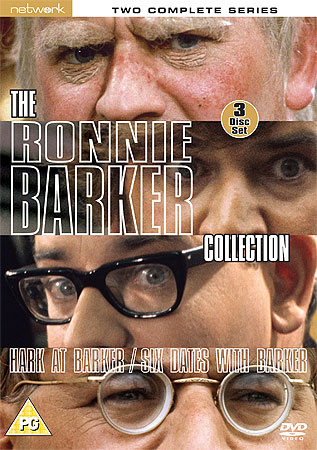 Produced for London Weekend Television and screened on local ITV channels, the Ronnie Barker-starring situation comedies Hark at Barker (1969-70) and Six Dates With Barker (1971) have both remained unseen since their original transmission. This is somewhat surprising considering the critical cachet that has been attached to much of Barker's later work for the BBC, including the now-classic Clement and La Frenais'-scripted sitcom Porridge (1974-1977) and Roy Clarke's Open All Hours (1976-1985). Network's latest release, titled The Ronnie Barker Collection, gathers together both series of Hark at Barker and all six episodes of Six Dates With Barker; the two series are also available separately.

Hark at Barker
Disc One: Series One (11.04.1969-30.05.1969)
Episode One: 'Meet Lord Rustless' (25:06)
Episode Two: 'Rustless and Women' (24:53)
Episode Three: 'Rustless in Pigtails' (25:20)
Episode Four: 'Rustless and a Banquet' (25:19)
Episode Five: 'Rustless and Murder' (24:40)
Episode Six: 'Rustless and Foreigners' (25:03)
Episode Seven: 'Rustless and the Solar System' (25:31)
Episode Eight: 'Rustless and Relics' (24:23)

Disc Two: Series Two (10.07-1970-21.08.1970)
Episode One: 'Rustless on Music' (25:21)
Episode Two: 'Rustless on Law' (25:22) B&W!!!
Episode Three: 'Rustless on Communications' (23:59)
Episode Four: 'Rustless on Cooking' (24:46)
Episode Five: 'Rustless on Medicine' (25:01)
Episode Six: 'Rustless on Do-It-Yourself' (25:23)
Episode Seven: 'Rustless on Sport' (24:39)

Running for two series and first broadcast on the 11th of April 1969 (with the last episode of the second series broadcast on the 21st of August 1970), Hark at Barker was written by the playwright Alan Ayckbourn and Ronnie Barker, under the pseudonyms 'Peter Caulfield' and 'Gerald Wiley'. (Ayckbourn adopted a pseudonym due to his contract as a producer of BBC radio drama prohibiting him from working for anyone else.) 'Gerald Wiley' was the pen-name Barker had used since the days of The Frost Report (1966-1967), and which Barker continued to use through his work on The Two Ronnies (1971-1987); sensing that Wiley was a fictional character, some of the writers and production team of The Two Ronnies tried to unmask the identity of Wiley, initially believing the man behind the pen-name to be none other than Tom Stoppard. (See this article on the BBC's website.) Barker had begun his career writing for radio, and a characteristic of the scripts and sketches that Barker wrote under the name of Gerald Wiley was their emphasis on wordplay (Barker's most famous sketch is probably the 'Fork Handles/Four Candles' sketch from the 1976 series of The Two Ronnies); this is evident throughout Hark at Barker. For example, each episode begins with an introduction by a tongue-tied television presenter (played by Barker) who stumbles over his lines: in the first episode, the presenter discusses a woman who is to deliver 'a recital of Folish Polk Music, and her husband will afflompany her on the coot'. This character is immediately recognisable to viewers familiar with The Two Ronnies, as during the similar to-camera introductions of each episode of that series Barker frequently drew laughs through near-identical wordplay.

The situation within Hark at Barker revolves around a television documentary about the life of Lord Rustless of Chrome Hall. Rustless is played by Barker, and in each episode of the comedy Rustless delivers a discussion of a socially-relevant topic, from the role of women in society to etiquette. Rustless' views are nothing less than autocratic, and much of the humour is rooted in observations about the English class system: in the second episode ('Rustless on Women'), Rustless discusses women and tells us of the difficulties involved in distinguishing between 'ladies' and 'women': he declares that 'the women are easily distinguishable by their aprons, you see; or if it's cold weather, their brown coats'. Similarly, in the sixth episode ('Rustless on Foreigners') Rustless observes that '[n]obody enjoys travelling. I mean, it's rather like marriage, in a way: necessary but not fun. All you do in both cases is to explore a few places, get blisters everywhere and spend your whole time trying to get used to the food. Not to mention trying to cope with someone who doesn't speak the same language'.

Rustless' monologues are frequently interrupted by his house staff, including his secretary Mildred Bates (played by Barker's frequent collaborator Josephine Tewson), the gardener Dithers (David Jason), Badger the butler (Frank Gatliff) and Effie the maid (Moira Foot). There are also guest appearances from Michael Palin, Valerie Leon, Ronnie Corbett and Carol Cleveland, amongst others.

The show incorporates sketches that are triggered by Rustless' ruminations and which are accompanied by caricatures drawn by Monty Python's Terry Gilliam. At the time of the series' production Barker claimed that 'This will probably be the first situation comedy series that also has sketches. The way it works is that his Lordship sounds off about his various recollections and experiences. Then we do a sketch about it in which I play the other characters involved' (Marcus, 2008: en). For example, in the fourth episode ('Rustless and a Banquet') Rustless' comments on crime are interrupted by a very funny sketch revolving around a car thief trying to steal a haunted car, which is eerily similar to some of the imagery in Stephen King's 1983 novel Christine. The sixth episode ('Rustless on Foreigners') features a brilliant silent sketch set in a roadside café, with a bowler-hatted businessman (Barker) playing with sugar cubes and turning them into a pair of dice, then 'stacking' the slices of toast he is served as if they are a deck of cards. The sketch turns into a parody of silent American Westerns, complete with intertitles (instead of the classic line 'leave the bottle', the intertitles tell us that Barker's character tells the waitress to '[l]eave the pot' of tea), when another businessman arrives at the café on a motor scooter. The other businessman wields his umbrella as if it were a rifle and, in an action that is iconographic of the Western genre, is slid a cup of coffee across the counter (in place of a glass of beer). The sketch ends with Barker and the other businessman leaving the café in order to participate in a shootout using tomato ketchup squirters as weapons; the prolonged shootout is accompanied on the soundtrack by Ronnie Barker singing a song that openly parodies High Noon's 'Do Not Forsake Me, Oh My Darling' ('The townsfolk watched in silence/They know that one man would get squirted/He would get squirted/He would squirted/And spill his ketchup on the ground […] At transport café/Where the stakes are much too high').

In 1972, whilst working for the BBC Barker delivered a sequel to Hark at Barker. Titled His Lordship Entertains (1972) and once again scripted by Barker (under the pseudonym 'Jonathan Cobbald'), the series was once again set in Rustless' home, Chrome Hall. However, in this later situation comedy, due to economic necessity Chrome Hall has been converted into a hotel. Parallels were drawn by Barker between His Lordship Entertains and the later hotel-set situation comedy Fawlty Towers (1975-1979) (see McCabe, ed, 1999). However, all of the episodes of His Lordship Entertains were sadly wiped by the BBC.

Series one of Hark at Barker is entirely in monochrome; the second series is in colour, except for the second episode ('Rustless on Law') which is in monochrome.


Six Dates With Barker
Disc Three (08.01.71-12.02.71)
Episode One: '1937 A.D.: The Removals Person' (25:10)
Episode Two: '1899 A.D.: The Phantom Raspberry Blower of Old London Town' (25:18)
Episode Three: '1970 A.D.: The Odd Job' (24:34)
Episode Four: '1915 A.D.: Lola' (24:14)
Episode Five: '1971 A.D.: Come In and Lie Down' (24:35)
Episode Six: '2774 A.D.: All the World's a Stooge' (25:17)

Each episode within Six Dates With Barker takes place at a different point in history. Each story is written by a different writer and requires Barker to play a different character, and as such the show is similar in some ways to Barker's 1973 anthology series for the BBC, Seven of One. Where Seven of One's episodes 'Prisoner and Escort' and 'Open All Hours' led into the spin-offs Porridge and Open All Hours, the first episode of Six Dates With Barker ('1937 A.D.: The Removals Person'), with Barker playing a very short-sighted removals man, seems like a clear predecessor of Barker's later situation comedy Clarence (1988). Here Barker is given some great moments of absurdist humour; as Fred, he mistakes a postbox for 'an old Chelsea pensioner' and confuses Angela (Gillian Fairchild), the daughter of the upper middle class homeowner for whom Fred is working, with a standard lamp, picking her up before realising his mistake. The humour in this episode is largely based on the juxtaposition of the working class characters (Fred and the household's maid, played by Josephine Tewson) and their upper middle class employers, who are depicted as selfish and thoroughly petulant. There are some touching scenes between Fred and the maid (played by Josephine Tewson) which are prevented from becoming too sentimental through some acerbic lines of dialogue: when Fred asks the maid 'Are you married' and she responds in the negative, he tells her 'You stay that way. Don't go making some poor bloke's life hell [….] I can appreciate a woman who dies single and miserable, you know'.

Written by Spike Milligan, the second episode ('1899 A.D.: The Phantom Raspberry Blower of Old London Town') is immediately recognisable: during the fifth series of The Two Ronnies, the narrative was reworked into a series of sketches. The episode draws on the myths of Victorian London (Spring Heeled Jack, Bram Stoker's Dracula and the presence of the real-life Jack the Ripper) and through absurdist humour it mercilessly lampoons the Victorian-set Hammer horror films of the late-1960s/early-1970s; it revolves around the search for the Phantom Raspberry Blower, a becloaked man who kills his victims by blowing raspberries at them. The humour here is typically Milligan-esque: during the opening scene, the Phantom Raspberry Blower knocks at the door of the Prime Minister; the butler answers and declares that the Prime Minister is unavailable. The Raspberry Blower asks 'Will you give him my card?' and hands a business card to the butler; the butler takes one look at the card and declares 'But there's no address, sir'. The Raspberry Blower responds by stating 'I know. I'm never in', before killing the butler by blowing a fatal raspberry.

The third episode is the only episode of the series not to be filmed in colour: its production coincided with the 1971 colour strike at ITV. Scripted by Bernard McKenna, this episode was later reworked into a feature length film entitled The Odd Job Man (Peter Medak, 1978), with Graham Chapman playing the part that is here played by Barker. In this episode, Barker plays Arthur; when Arthur brings his wife Kitty (Joan Sims) some flowers, she bemoans the fact that he is so predictable. Following an argument, she leaves him and he threatens to kill himself. Barker then hires a visiting odd job man, Clive (David Jason), to kill him. However, once the plan has been set in motion Kitty returns and Arthur wants to renege on his deal with Clive. However, Clive has already made plans to murder Arthur by putting hydrochloric acid in his milk and placing a tripwire on the stairs…

Written by Ken Hoare and Mike Sharman, the next episode ('1915 A.D.: Lola') is set during the First World War, and Barker plays a man named Fitz Braun (who seems to be clearly modelled on Peter Lorre). Braun disguises himself as Germany's top female secret agent, Lola Fischer. This wartime farce is very reminiscent of the later WWII-set sitcom 'Allo 'Allo (BBC, 1982-1992). Not without its moments of humour, the episode seems a step down from the previous three stories and the subsequent John Cleese-scripted story ('1971 A.D.: Come In and Lie Down'), in which Barker plays a psychiatrist, Dr Swanton. Swanton is confronted with a patient (Michael Bates) who pretends he is the gas man in order to gain access to Barker's office without anyone judging him. It is very easy to imagine Bates' character in this episode played by John Cleese: he is very similar to the bombastic, uptight and repressed lower middle class types that Cleese tended to play throughout the 1970s and 1980s (for example, Basil Fawlty).

The final episode ('2774 A.D.: All the World's a Stooge') is set in the future, and in its set design and costumes the episode is oddly reminiscent of the satirical Nigel Kneale teleplay The Year of the Sex Olympics (1968). Written by Barker himself (as 'Gerald Wiley') and set in a future that is repressed through its addiction to humour, worshipping comedy as a form of religion, the episode depicts a society in which the national anthem has been replaced by an unfunny joke that is told in deathly seriousness (the participants have to remind themselves that they are forced to find the joke funny) and conversations are forced to be carried out in old jokes. When Barker's character (who has lost his comic 'mojo' and laments its passing) by the end of the episode regains his ability to tell jokes, the 'victory' feels hollow, as if the forces of repression have won. The episode presumably seeks to lampoon the dystopian science-fiction of authors such as Aldous Huxley and George Orwell, but instead the episode seems oddly prophetic and, like Kneale's teleplay, could be taken as a satire of modern television's emphasis on the trite escapist fantasies provided by 'reality television'. It's one of those episodes that feels very much ahead of its time as it seems so relevant to our modern-day relationship with television and the concept of escapism.

Video


All of the episodes are presented in their original ratio (4:3) and are given serviceable transfers. The first series (on disc one) of Hark at Barker is presented in monochrome (as it was originally filmed), and series two is (with the exception of the second episode, 'Rustless on Law') presented in colour. Six Dates With Barker is presented in colour, with the exception of the third episode which, for reasons outlined above, was filmed in monochrome.

Audio


Audio is presented in English, via a two-channel mono mix. There are no problems with the audio track. Sadly, no subtitles are included.

Extras


UnsetThe discs contain no contextual material whatsoever. It would have been especially interesting to hear some of the participants' comments on the episodes within Six Dates With Barker, but considering the rarity of the episodes themselves the absence of any contextual material is by no means a 'deal breaker'.

Overall


For fans of Ronnie Barker (or for any of the multitude of writers involved in the production of these series) this set comes with a very high recommendation and is great value for money; having heard so much about both of the series represented within this DVD boxed set and considering their unavailability for over thirty years, it's a great pleasure to finally be able to view the episodes.

References:
Marcus, Laurence, 2008: 'Hark at Barker'. TV Times (6 April, 2008)

McCabe, Bob (ed), 1999: All I Ever Wrote: The Complete Works of Ronnie Barker. Essential Books


For more information, please visit the homepage of Network DVD.
| | | | | |
| --- | --- | --- | --- | --- |
| The Show: | Video: | Audio: | Extras: | Overall: |