The Film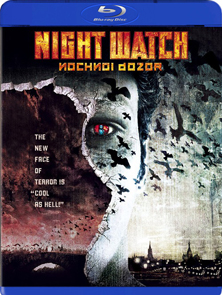 There are times, when a film reviewer is struggling with a very simple aspect with his/her review; the plot of the film. Obviously there's no need to go too deep and certainly good reviewer is always avoiding "spoilers", but the general views of the story, characters and themes is always nice to include. When enough head-scratching is done, it's probably best just to double check the trailer. With "Night Watch AKA Nochnoy dozor (2004)", it sums the film up pretty nicely…

"It began over 1,000 years ago, when a truce was struck between the protectors of light and the warriors of darkness. For centuries that delicate balance has always been guarded by the underground forces of the Night Watch. Today, on these streets, the balance of power is about to shift."

"These streets" are set in modern Moscow, Russia, where the "protectors of light" are called "Night Watch" (led by Geser (Vladimir Menshov)) and the "warriors of darkness" are called "Day Watch" (led by Zavulon (Viktor Verzhbitsky)). Many of these "Others" will walk the Earth looking like normal people, but they've chosen their side in this epic battle ("light" or "dark"). Many "Dark Others" are now vampires in the human bodies.

The long peace between these sides is now about to be broken, when a young boy Yegor (Dmitry Martynov) appears to be the "chosen one", eventually shifting the balance of the battle. But - to which side? In the middle of all this will be the "light Other" Anton Gorodetsky (Konstantin Khabensky) - later with his "partner" Olga (Galina Tyunina ), who 12 years earlier "joined" the everlasting battle. The streets of nightly Russian capital are about to get even darker, when the "final battle" nears.

"Night Watch" is the first chapter of the trilogy, originally planned as a 4-part TV-series. The film was official selection from Russia for the Academy Awards of 2005 (it did around $16 million at the Russian box office) and it was the breakthrough film for the director/co-writer Timur Bekmambetov. The Russian-Kazakh director recently received a positive buzz (at the box office also) with his Hollywood action-film "Wanted (2008)". "Night Watch" is a mix of reality, fantasy, horror and science fiction, and like director Bekmambetov describes it, it blends "Russian and U.S. cultures". This means, that many times the film looks like a downgraded version of Hollywood, but in a very "Russian way". You've slick, carefully planned visual images, CGI, slow motions as well as the fast-paced action-sequences, heavy metal music and "cool looking" urban characters. Then again the language (well, I highly recommend watching this film in its original Russian audio), narrative, the equally gritty and majestic shots of Moscow and just the subtle undertones along the pacing feel very Russian. Bekmambetov also seems to love close-ups.

Does this mean, that the film takes the best from "both worlds"? Well, sadly, not really. Although this is first and foremost a fantasy film (the genre that to me can break most of the rules), the story is quite confusing and sometimes even alienating. It's actually the old story; the film has so many different themes, styles and sub-plots for (almost) 2-hours, that you need to be totally focused and alert at all times. If you're a bit tired or just not in the mood for complex storylines, you quickly lose the essence of the whole film. Also those looking for an "Underworld" type of solid and easy vampire-action film, then you will be disappointed. "Night Watch" has some action (and vampires), but it's always done a bit differently. These scenes are very much on par with the rest of the film; fast, stylistic, ambitious and carefully choreographed - but quite odd, complex and challenging for many viewers. "Night Watch" can be a rewarding experience for sure (and it's never "bad"), but it comes with a price. It's not the easiest film to digest.

Video


"Night Watch" is presented in 1.85:1 widescreen (1080p 24fps) and uses AVC MPEG-4 compression. The print is clean, colors are vivid and the black levels strong, so not much to complain. Some film grain is visible and with certain scenes the glimpses of noise is probably mixing up to the image, but it's not very damaging. The film has many dark scenes and they usually hold up very well. You could argue, that is the "Music TV video look" the best and most natural choice for the film, but that's up to each viewer.

The Blu-ray is marked as "Unrated", which in this case means the 114:21 minute "International version" from "Fox Searchlight". This means, that the opening narration (history of "Night Watch vs. Day Watch") is dubbed in English and the whole film is a bit shorter in length. Note, that this version doesn't include the "animated English subtitles" (visual, often moving burned-in subtitles on the print itself in selected scenes - they work like "effects") created for the U.S.-theatrical release. The original "Russian version" for the film is not included.

For more info about the differences, please see the info from >IMDB (might include SPOILERS). The film is using "BD-50"-disc and there are 20 chapters. Note, that the disc is confirmed to be "Region A" only.

Review equipment: Sony Bravia KDL-40W2000 LCD (1080p) + Playstation 3, via HDMI cable.

Audio


The disc includes the following audio tracks; original Russian DTS-HD Master 5.1 (48 kHz), dubbed English DTS 5.1 (768 Kbps) and French Dolby Digital 5.1 (448 Kbps). English, English HoH, Cantonese, Korean, Mandarin, and Spanish subtitles are included.
Russian DTS-HD MA-track is quite powerful and "edgy", with plenty of surround activity. The heavy metal music comes often in "bursts" (the "main menu" music is actually very annoying, since it's so goddamn loud - you have to tweak the volume all the time if you go back to menu) and there are plenty of odd audio effects and such coming from every speaker. It's an active and lively mix, which suits not only the film, but also your home theatre as well.

Review equipment: Yamaha RX-V1800 (HDMI 1.3 AV receiver) + 5.1 surround

Extras


The Blu-ray-release ports all the extras from the R1 SD DVD-release and most from the European SD DVD-releases as well ("Broken Saints" episodes and "Day Watch AKA Dnevnoy dozor (2006)" promos are missing, though). All extras (except "Theatrical trailer" and of course Audio/text commentaries) are in 480p standard definition.

-Audio commentary from director/co-writer Timur Bekmambetov is in English (no subtitles) and you can also choose subtitled text commentary from the novelist Sergei Lukyanenko (in English, French or Spanish).

-7 Deleted scenes run 28:42 minutes with "Play All". They include Russian or English Dolby Digital 5.1-audio, and English HoH, French and Spanish subtitles. Optional Audio commentary from director/co-writer Timur Bekmambetov (in English) is also included. The scenes are as follows:
*Star (0:44 sec)
*Anton`s Brought in (2:36 min)
*Surgery And Heartbeat (4:26 min)
*Anton And Olga (1:57 min)
*The Cup (0:46 sec)
*The Fight (11:35 min)
*The Roof (Extended Ending) (6:35 min)

-"Making of Night Watch" -documentary runs 39:03 minutes and is in Russian (with English HoH, French and Spanish subtitles). It's quite interesting and rich documentary, featuring interviews and "behind-the-scenes" footage.

-"Characters, Story And Subtitles" -featurette runs 5:06 minutes is in English (no subtitles), which also refers to the "animated English subtitles" (you can also see a few examples). Too bad, that these subtitles were omitted from the actual film.

-"Night Watch Trilogy" -featurette runs 3:27 minutes (again in English, with no subtitles) and is a short "promo" of the film, also touching the sequel.

-"Comic Book" still gallery includes comic screens with Russian text (optional English, French and Spanish subtitles are included). It runs 8:44 minutes.

-Poster gallery runs 1:20 minutes, including some rather "different" (vs. American films, at least) Russian posters and designs for the film.

-U.S. Theatrical trailer (2:26 minutes) is in 1080p HD.

-Bonus trailers (in 1080p HD) include; "Day Watch AKA Dnevnoy dozor (2006)" (U.S. - 2:32 min), "AVP: Alien vs. Predator (2004)" (2:17 min), "From Hell (2001)" (2:22 min), "The Fly (1986)" (2:04 min), "Man on Fire (2004)" (2:54 min), and "Sunshine (2007)" (1:58 min).

While not really considered as "extras", the disc has one additional option;
-D-Box Motion Code: You can watch the movie using your "D-Box" integrated motion system. For more info, visit their homepage HERE. This includes the following info-sections: "Feel The Film", "System Overview", and "Loading D-Box Motion Code".

The disc is packaged in a standard Blu-ray case.

Overall


"Night Watch" is a thinking man's "fantasy-horror"-film, which can give viewer a wild, visual and rewarding ride to the unknown. Then again, it can alienate many viewers with its heavy narrative, confusing plot and restless pacing. It's also a first film of the trilogy, so the ending might not satisfy some of the more "casual" viewers. This film is a risk, but perhaps risk worth taking.

Blu-ray -release is very good in both visual (no original "Russian version", though) and audio (no "animated English subtitles" for the U.S.-version, though) front and most extras from the earlier DVD-releases are included.

For more info, please visit the homepage of Fox Blu-ray.
| | | | | |
| --- | --- | --- | --- | --- |
| The Film: | Video: | Audio: | Extras: | Overall: |