Honest Thief (Blu-ray) [Blu-ray]
Blu-ray B - United Kingdom - Signature Entertainmnet
Review written by and copyright: Rick Curzon (13th November 2021).
The Film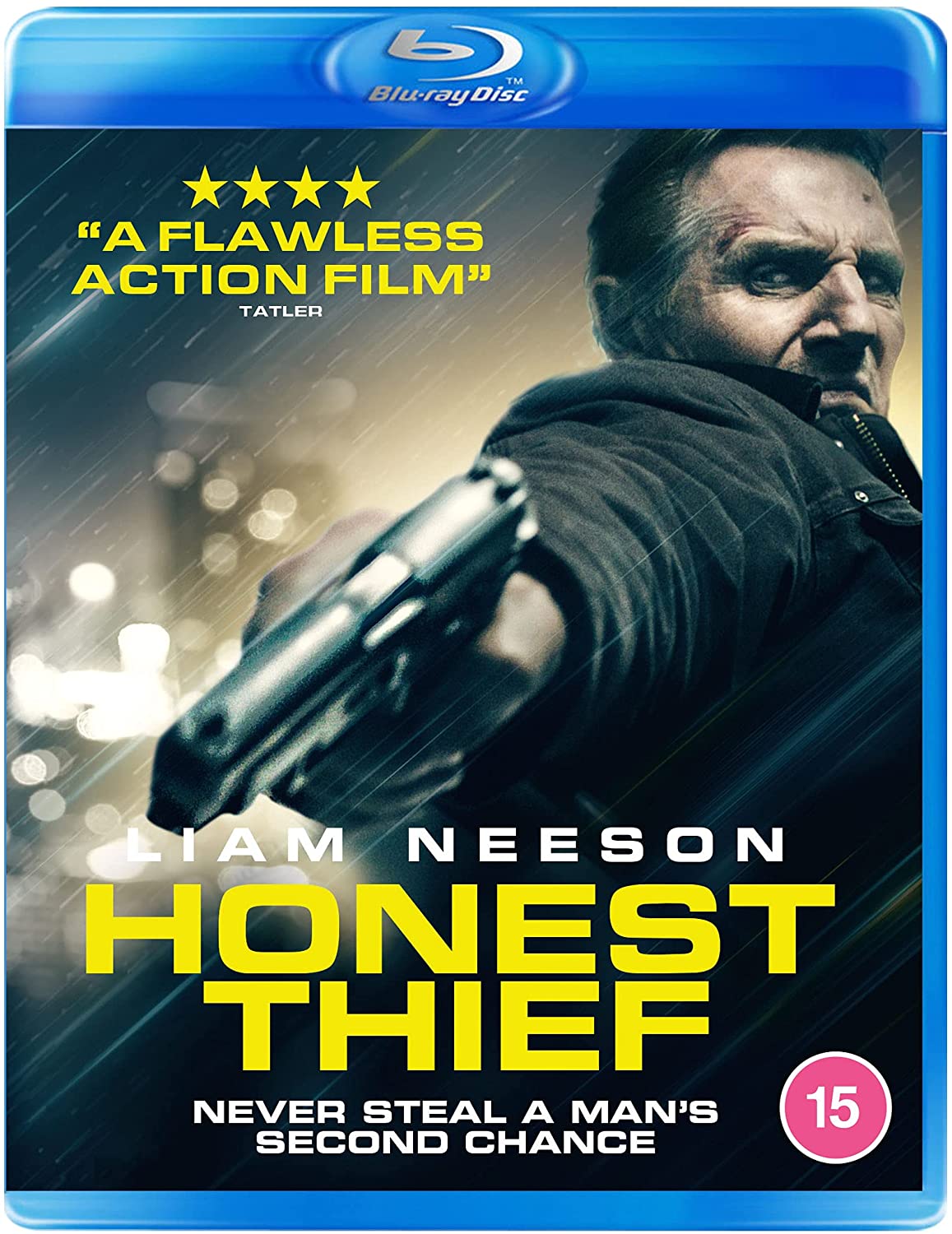 Action-packed thrills, edge-of-your-seat car chases and high-stakes explosions are up for grabs in HONEST THIEF. Starring Liam Neeson (Taken) as a career criminal turned good-guy who is double crossed by a corrupt FBI agent (Jai Courtney) and framed for murder.

Directed by Mark Williams (Ozark, The Accountant), Honest Thief follows Tom (Neeson), a bank robber who tries to turn himself in after falling for Annie (Kate Walsh) who works at the storage facility where he's stashed his money. Complications ensue when his case is turned over to ruthless FBI Agent Nivens (Courtney) and Tom must go underground to save both himself and Annie.

Video


Tom Dolan (Liam Neeson) is a former US Marine bomb disposal expert turned bank robber who meets a woman, Annie Wilkins (Kate Walsh). One year later he wants to turn himself and all $9 million in return for a reduced two-year sentence so he can live out his days with Annie.

The FBI agent he initially deals with Sam Baker (Robert Patrick) believes he's another crank and has two other junior agents - Nivens (Jai Courtney) and Hall (Anthony Ramos) - handle the case and to see if Dolan is legit.

They find that he is and with Nivens as the main driving force they decide to take the money for themselves, killing Baker in the process and making Dolan look guilty. Dolan doesn't take this well and sets out to clear his name.

Slick, professional action film does nothing new but does what it does well. Neeson is always good value and the supporting cast are all up to the chllenge with Courtney a good villain. Jeffrey Donovan is excellent as agent Meyers, Baker's partner who gets involved ... with his cute dog.

Technical specifications of the original production:

Camera: Arri Alexa Mini, Panavision Primo Lenses.
Laboratory: Company 3 (color and finish), Company 3, Los Angeles (CA), USA (digital intermediate), Periscope Post & Audio, Chicago (IL), USA (dailies).
Negative format: Codex.
Cinematographic process: ARRIRAW (source format), Dolby Vision.
Printed film format: Digital (Digital Cinema Package DCP).

Another in the recent line of Liam Neeson starring action films and it's about as good as the others. This career strand seemed to start with Taken (2008) and continued with The A-Team (2010), Unknown (2011), Taken 2 (2012), Non-Stop, Taken 3 (both 2014), Run All Night (2015), The Commuter (2018) and Cold Pursuit (2019). After The Honest Thief he recently made The Marksman, The Ice Road (both 2021) with Blacklight, Retribution and Marlowe all just completed or in production and awaiting release. A one-man action film industry!

The Honest Thief has a cool, professional sheen favouring blues, greys and blacks with an overall orange and teal grade. It's a very digital looking production with a fine sheen of haze that my be inherent in the process or has been added in an attempt to make it look more filmic. On the whole it works pretty well with a soft overall cast. The encode is professional and ensures no splats or other egregious visual distractions.

Black levels and contrast work well with no crush and no blown out highlights; it's a soft, mellow looking film. Obviously no print damage and no signs of digital tinkering. The image is not quite top drawer for the format but comes pretty close (A).

1080/24p / AVC MPEG-4 / BD50 / 2.39:1 / 98:50

Audio


English DTS-HD Master Audio 5.1
English LPCM 2.0 Surround (48K)
Subtitles: English HoH

This is a very active soundtrack that was designed for Dolby Atmos which sadly hasn't been ported over to this disc. The LPCM 2.0 surround track is very good and encoded for surround without being played through an amp boost; it's native surround encoded.

The 5.1 is obviously the way to go and is fairly constant with low level ambiance but really fires up in the action scenes. The surround field creates an enveloping sound stage that becomes more involving as score wraps itself around you. Dialogue is front and centre but occasionally has some special direction; it has no distortion when cranked up and the subwoofer kicks in pleasingly at times in the expected moments. It's a strong track but it's mystifying as to why the original Atmos is not here.

Hard of hearing subtitles are welcome.

Extras


Cast Interviews (50:00):
- Jai Courtney
- Kate Walsh
- Mark Vanselow

Pretty standard EPK interviews presented in 1080/24p 1.78:1 with uncompressed LPCM 2.0:stereo sound.

Introduction by Liam Neeson (0:19)

A brief introduction from the leading man for a festival screening; presented in 1080/24p 1.78:1 with uncompressed LPCM 2.0 stereo sound.

Startup Trailers:
- Rise of the Footsoldier: Origins (2:14)
- The Ice Road (0:43)

Stndard promos in 1080/24p 2.39:1 with uncompressed 2.0 stereo sound.

Packaging


Standard blue Blu-ray Keepcase.

Overall


A pleasingly involving action thriller string Liam Neeson who seems to have made it his retirement plan to make such films and I enjoy them as much the next man. The image and sound are very strong if not quite demo material; extras are adequate EPK stuff. Recommended.
| | | | | |
| --- | --- | --- | --- | --- |
| The Film: B | Video: A | Audio: A | Extras: C+ | Overall: B |

---
Rewind DVDCompare is a participant in the Amazon Services LLC Associates Program and the Amazon Europe S.a.r.l. Associates Programme, an affiliate advertising program designed to provide a means for sites to earn advertising fees by advertising and linking to amazon.co.uk, amazon.com, amazon.ca, amazon.fr, amazon.de, amazon.it and amazon.es . As an Amazon Associate, we earn from qualifying purchases.