Phantom of the Monastery (The) AKA El fantasma del convento (Blu-ray) [Blu-ray]
Blu-ray ALL - America - Powerhouse Films
Review written by and copyright: Rick Curzon (8th March 2022).
The Film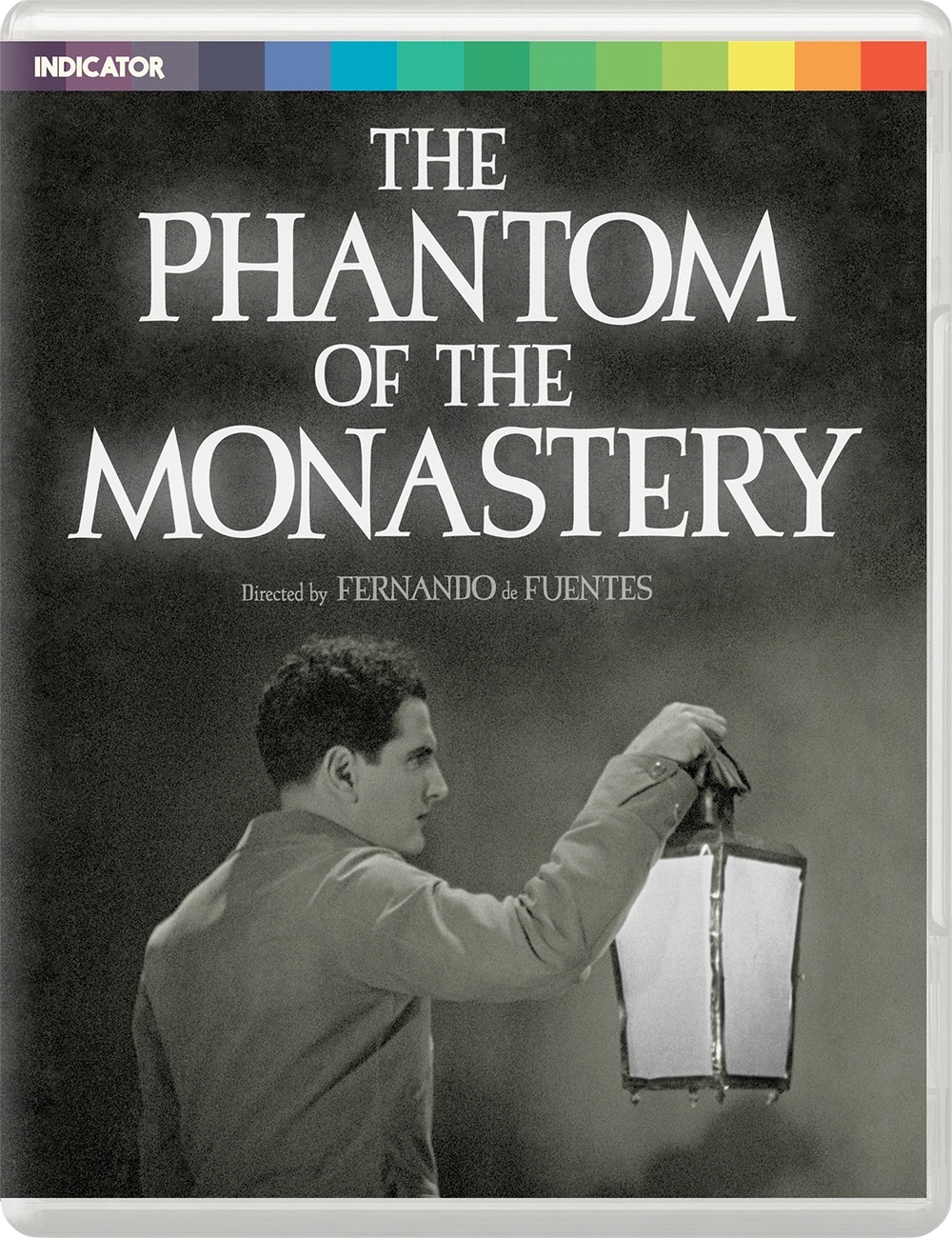 Made in the wake of La Llorona's success and directed with flair by Fernando de Fuentes (regarded as one of the masters of early Mexican cinema), The Phantom of the Monastery (El fantasma del convento) tells the macabre tale of a troupe of hikers who become lost in a forest and take refuge in a haunted monastery. There, they encounter shape-shifting shadows, ominous sealed doorways, and a cellar crowded with coffins ...

An expressionistic Gothic triumph which has tragically languished in obscurity outside of Mexico, The Phantom of the Monastery has now been lovingly restored and is presented on Blu-ray at long last in a world debut edition, along with a selection of illuminating extras.

Video


Powerhouse have restored The Phantom of the Monastery (1934) alongside the seminal The Weeping Woman (1933). It's another rare and largely unseen Mexican horror (outside of Spanish speaking territories). Unlike The Weeping Woman, which was taken from the sole, surviving 16mm print, The Phantom of the Monastery restoration has been sourced from a mixture of mostly 35mm negative and a 16mm dupe negative. According to the booklet:



The Phantom of the Monastery was restored in 4K by the UCLA Film & Television Archive, whose restoration used as source the 35mm nitrate picture and track negative provided by Permanencia Voluntaria, and a 16mm acetate composite dupe negative provided by Filmoteca UNAM. For more details, please see page 31 of this booklet.



Gamma is perfectly balanced so there's no colour bias creeping in and black levels and contrast are perfectly matched to ensure that the maximum amount of possible detail in shadow and in highlights is available. One must remember that this is a film shot in 1934 and film stocks back then were hardly as refined as they would become. Grain is ever present and some sections have been taken from 16mm causing a noticeable drop in quality. The image has that soft, hazy, grainy look typical of the 1930s. Don't expect the clean sharpness of 1940s films and you'll be quite pleased with the image.

The restoration team have done their level best and it's light years better than The Weeping Woman (1933) disc simultaneusly released by Powerhouse Films. It's beautifully encoded so it all looks very filmic and satisfying. Odd patches of 16mm not withstanding a very strong image that probably isn't going to be bettered shy of a UHD BD release with HDR ('A-').

1080p24 / AVC MPEG-4 / BD25 / 1.37:1 / 85:14

Audio


Spanish LPCM 1.0 (48 kHz)
Subtitles: English (optional), English HoH

The single mono track is very reedy and thin but I suspect that it always has been. There's no base at all but dialogue is front and centre if distant sounding. Despite the restoration there is a small amount of hiss, especially when the volume is cranked up. Mild distortion is present but nothing that ought to bother the viewer.

Subtitles in English are available for the Spanish language track and also there's subtitles for the hearing impaired as well. Both are excellent and faithful ('C+').

Extras


Audio commentary with Stephen Jones and Kim Newman (2022)

The initial focus is on the fact that this is a film both have never seen before and on the largely virgin territory Mexican genre is in terms of analysis. Lots of discussion of the technical merits of the film as well as the usual coverage of cast and crew. Other subjects discussed are Monks in horror, the embracing of the supernatural in the film, ambiguities that are not explained by the end, influences on the film like German silent films, comparisons to Algernon Blackwood and other writers' work, where the film sits in the pantheon of both world horror and Mexican horror cinema. Jones and Newman are old pros and mates and the track is warm and engaging. Presented in lossy Dolby Digital 2.0 mono.

"The Devil in the Detail: Abraham Castillo Flores on Fernando de Fuentes and The Phantom of the Monastery" 2022 interview (18:01)

Another wonderful little piece with the eccentric Flores who captures our attention with his confident delivery and obvious passion and knowledge. He sets the scene for Phantom of the Monastery amongst other Spanish language horror films and how the Mexican industry came about partially due to the Spanish speaking world's dissatisfaction with Hollywood's Spanish language efforts which mixed accents and verbiage from different territories to unsatisfactory effect. The real life influences on the story are also covered as well as the key creatives. Flores is a great storyteller and I hope to see and hear more from him on DVD / BD extras in the future. Presented in 1080p24 1.78:1 with lossy Dolby Digital 2.0 stereo.

36-page liner notes booklet with a new essay by Maricruz Castro-Ricalde, screenwriter Juan Bustillo Oro on the making of The Phantom of the Monastery, an archival production report, a look at the film's original promotion, an overview of contemporary critical responses, Jan-Christopher Horak of the UCLA Film & Television Archive on the restoration, and film credits

Another excellent hardcopy companion to the film.

Packaging


Clear BD Keepcase.

Overall


Phantom of the Monastery is a much more confident and successful film than The Weeping Woman (La Lorona) simultaneously released on BD by Powerhouse Films. This is a superb release of fine film that can hold it's own with the best of Universal Horror. Image is very strong having been restored from higher quality source elements than The Weeping Woman. The sound is less impressive being rather reedy but, again, it's down to the original sources available. In any case the extras are great bringing huge added value. Highly recommended ('B').
| | | | | |
| --- | --- | --- | --- | --- |
| The Film: B- | Video: A- | Audio: C+ | Extras: B+ | Overall: B |

---
Rewind DVDCompare is a participant in the Amazon Services LLC Associates Program and the Amazon Europe S.a.r.l. Associates Programme, an affiliate advertising program designed to provide a means for sites to earn advertising fees by advertising and linking to amazon.co.uk, amazon.com, amazon.ca, amazon.fr, amazon.de, amazon.it and amazon.es . As an Amazon Associate, we earn from qualifying purchases.