Time for Dying (A) (Blu-ray) [Blu-ray]
Blu-ray ALL - America - Powerhouse Films
Review written by and copyright: Rick Curzon (18th March 2022).
The Film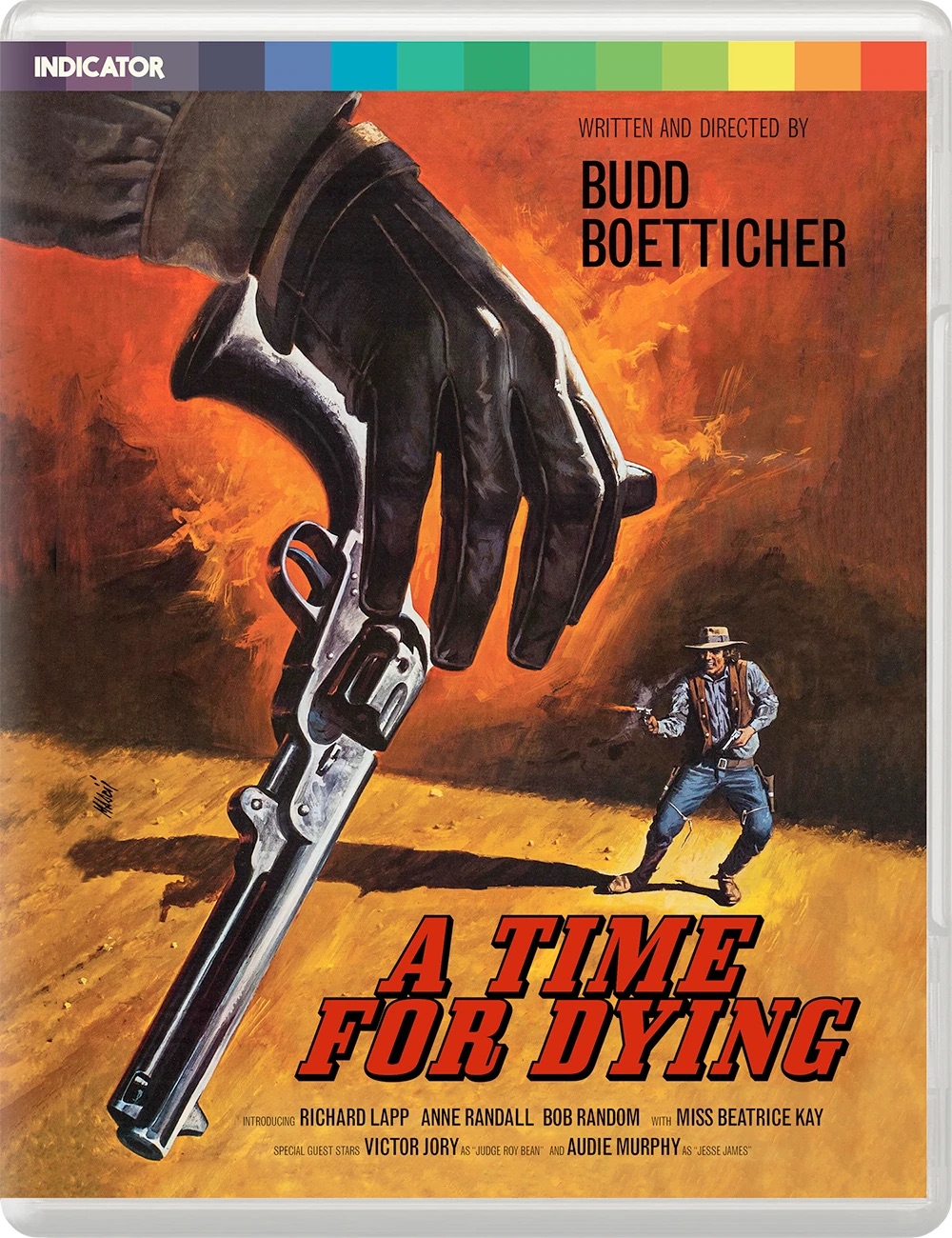 The final western from one of the genre's greatest directors, Budd Boetticher (Ride Lonesome), and the last screen appearance of war hero-turned-movie star Audie Murphy (To Hell and Back), A Time for Dying is an offbeat, elegiac look at the Old West, prefiguring Don Siegel's classic western, and John Wayne's final picture, The Shootist.

Richard Lapp stars as a young man with fine shooting skills who crosses paths with real-life figures, such as Jesse James (played by Murphy) and Judge Roy Bean (Victor Jory), only to discover the true violence of the West.

Beset by post-production and distribution problems, A Time for Dying is overdue the recognition it deserves. This world Blu-ray debut, featuring an all-new restoration and a host of insightful extras, will finally enable the film to find its rightful audience.

Video


Budd Boetticher's last film has proven somewhat controversial and doesn't seem to have had a wide release. It struck me as being a bit clunky in both writing and performance and rather slight. At times it's even goofy which meant the tonal shifts were a trifle jarring. The ending also didn't sit well with me and to find out what I mean by that you'll just have to watch it.

It's a vividly coloured little film - gorgeously photographed by Lucien Ballard - that is presented in two differing aspect ratios. The primary ratio as far as I'm concerned is the 1.85:1 matte which was how the film was projected upon theatrical release and it certainly frames nicely in that format. However, we also have the open aperture full frame version presented in 1.37:1 which has plenty of space above and below the 1.85:1 image.

There are plenty of primary colours on display, vivid reds lavenders, blues in the skies and flesh tones are strong and well defined. Black levels and contrast are well handled with plenty of detail on all focal planes. Detail in closeups is exceptional and equally background detail kicks out nicely, especially in daylight exteriors. This is an exceptional restoration (2K scan off the OCN) and transfer with a typically wonderful encode. Grain is natural, plentiful and wonderfully filmic.

The open matte 1.37:1 is obviously a little sharper with the matted 1.85:1 zoom cropped with image loss top and bottom and as a result a shade softer but in either version this is a great disc with an image as good as can be with a hefty bitrate on a dual layered disc letting it really breathe. The only was to improve would be 4K and HDR ('A+').

1080p24 / AVC MPEG-4 / BD25 / 1.85:1, 1.37:1 / 72:50

Audio


English LPCM 1.0 (48 kHz)
Subtitles: English HoH

We have simple mono track that gets the job done cleanly and clearly. It holds its own with minimal distortion even when cranked up although it gets more brittle. Dialogue is always clear, score never intrusive and it's about as good a track as we can expect given the source. Hard of hearing subs are meticulous and welcome ('B+').

Extras


Audio commentary by C. Courtney Joyner and Henry Parke (2022)

A detailed track by a couple of pros who between them met Budd Boetticher and others who worked on the film. Plenty of detail about the cast and key creatives, the use of rough zooms and other technical aspects, the fast and crew, the opening killing of a rattlesnake, but the most interesting aspect is that how this film came to be (produced by Audie Murphy) and that it may not have been intended for release. The cynicism of the script is addressed and the controversial aspects. Presented in lossy Dolby Digital 2.0 mono.

"A Sense of Poetry: Christopher Petit on A Time for Dying and the Anti-Pantheon" 2022 interview (13:59)
"The Man Who Shot Jesse James: Kim Newman on the Life and Depictions of Jesse James" 2022 interview (20:05)

Petit appears as a fan talking about the film which he first saw on DVD. He discusses how the film is not a great film but is somehow a perfect film and he illustrates this dichotomy by analysing various aspects and it's a very interesting discussion of an odd, imperfect film set in a nasty, exploitative world with gauche leads. He he also discusses how he programmed the film on a BFI list of films to be screened as worthwhile but where off centre choices rather than the usual classics. He ends by saying he'd rather watch A Time for Dying than Citizen Kane or Vertigo. Newman gives us a twinkle in his eye and an overview of Jesse James (played in A Time for Dying by producer Audie Murphy) both his life and portrayals in film, the first of which was by his own son! Both presented in 1080p24 1.78:1 with lossy Dolby Digital 2.0 stereo.

36-page liner notes booklet with a new essay by Paul Duane, archival interviews with director Budd Boetticher and actor Audie Murphy, and film credits

Things kick off with a wide ranging essay that discusses both Boetticher's and Murphy's lives and careers up to 1969 when they made this unloved, scrappy little western. The making of the film, Dune's feelings about the film and the two men's lives post 1969 and the sparse release. It's a great primer for the film itself but be warned it's best read afterwards as it spoilers the ending. Other archival articles provide plenty of additional context and value.

Packaging


Clear BD Keepcase.

Overall


This rarely seen all but forgotten western has probed generally pretty controversial over the years. It gets a lavish release from Powerhouse Films in the UK (also distributed in the USA) showcasing a stunning 2K restoration using the OCN. Image and sound are first class and the extras are strong and very choice. For some this will be one of THE discs of the year.
| | | | | |
| --- | --- | --- | --- | --- |
| The Film: C | Video: A+ | Audio: B | Extras: B+ | Overall: A- |

---
Rewind DVDCompare is a participant in the Amazon Services LLC Associates Program and the Amazon Europe S.a.r.l. Associates Programme, an affiliate advertising program designed to provide a means for sites to earn advertising fees by advertising and linking to amazon.co.uk, amazon.com, amazon.ca, amazon.fr, amazon.de, amazon.it and amazon.es . As an Amazon Associate, we earn from qualifying purchases.