The Film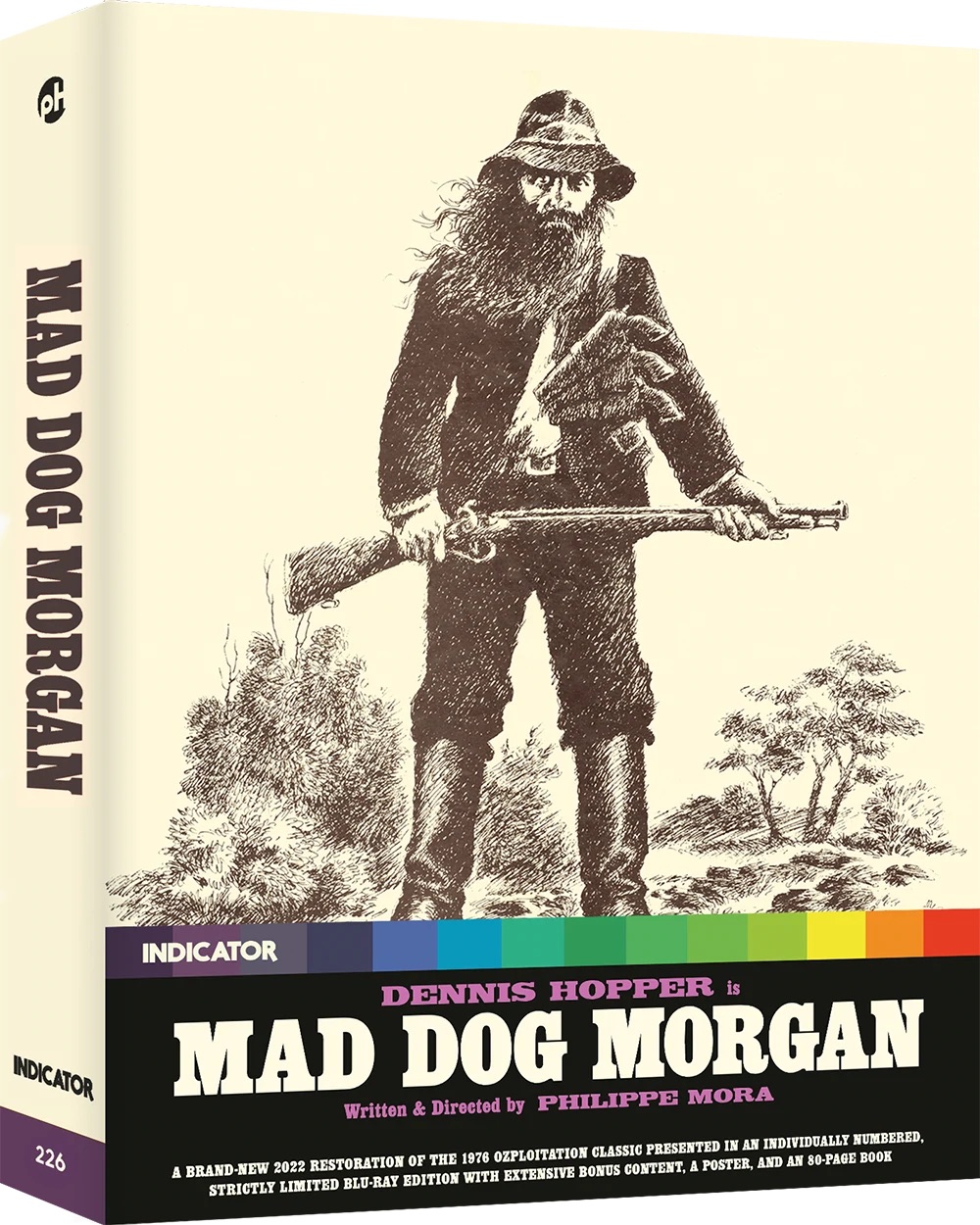 Based on the true story of Dan Morgan – the infamous Australian outlaw once described as 'the most bloodthirsty ruffian that ever took to the bush' – Mad Dog Morgan provides the perfect showcase for the unique star quality of Dennis Hopper (Night Tide, The Last Movie).

After witnessing a bloody massacre of Chinese workers on Australia's goldfields, Morgan turns to a life of crime, becoming a bushranger and the scourge of the vicious authorities – and, ultimately, a local legend – leaving a bloody legacy in his wake.

Nominated for two Australian Film Institute Awards, including one for director Philippe Mora (The Beast Within), Mad Dog Morgan is a brutal and uncompromising slice of Ozploitation.

Video


A bloodthirsaty Australian western written and directed by Philippe Mora who would go on to make The Beast Within (1981), Howling II: Your Sister is a Werewolf (1984), Death of a Soldier (1986) and The Marsupials: The Howling III (1987). Quite a batch of cult films. Here he's seemingly attempting to ape Sam Peckinpah in a rough and brutal fictionalised take on the life of a real Australian-Irish Bushranger played by Dennis Hopper.

Mike Molly's Panavision (2.39:1) cinematography makes the most of the sun drenched and sun bleached Aussie landscape. Earthy colours are the order of the day with bright splashes of red, red blood, gore and entrails here and there. Skies are pleasingly blue and cloudy with fine delineation of colours and detail is string throughout. The grade is naturalistic with no bias that I could determine.

Black levels and contrast work hard to produce a strong image with pleasing shadows full of detail and no unintended crush. Highlights occasionally have a mildly blown out quality (white shirts in the sun particularly) but in my view this was probably intended. Indeed, the dynamic range between light and dark is generally superb although overall the image is slightly soft. I put this down to the use of the anamorphic lens.

Encoding is top-class as usual and what little grain and texture there is, is well handled. It's a filmic transfer but I was expecting a much courser image than what we have. Still, this is a very pleasing and strong transfer. This has been restored by Powerhouse Films in 2K (from a 4K scan of the interpositive) ('A').

1080p24 / AVC MPEG-4 / BD50 / 2.39:1 / 102:59, 94:24

Audio


English DTS-HD Master Audio 1.0
Subtiltes: English HoH

We have a fairly limited if robust mono track that gets the job done. Dialogue is front and centre the main focus but sound effects are florid and pleasing, gunfire being the main attraction. The score by Patrick Flynn is superb and well balanced in the mix never becoming intrusive or overbearing. A mix of didgeridoo and ominous dies irae soundalike tones and chanting ... an evocative soundtrack presented restored and about as good as can be given the source and uncompressed presentation.

Hard of hearing subtitles are provided ('A-').

Extras


Audio commentary by Philippe Mora and Jake Wilson (2019)
Audio commentary by Phlippe Mora (2009)

Two tracks, both vintage carried over from prior releases. The older heralds from the 2009 Umbrella DVD edition. The newer from the 2019 BD special edition, also from Umbrella. The newer track has Jake Wilson to bounce off and it's a slightly livelier track as a result. However, it's been recorded in an echoey room but that ought not to hinder any enjoyment. There is some crossover of information obviously but not as much as you'd think. The solo track is naturally more intimate in tone. Both are presented in lossy Dolby Digital 2.0 stereo. Both provide oodles of trivia about the film and the historical figure on which it's based. There's also plenty of on the set anecdotes with much devoted to Hopper and his method and antics.

"To Shoot a Mad Dog" 1976 documentary (24:36)

A vintage documentary made alongside the film itself most likely for TV broadcast. Seems to be shot on 16mm in the 1.37:1 aspect ratio. It's in good condition and presented in 1080p24 1.37:1 with no print damage. Colours are pretty strong and well delineated with solid black levels and contrast. Detail is present but limited by the 16mm format and grain is present if fairly fine. Sound is lossy Dolby Digital 2.0 mono.

Cast and Crew Interviews:
- "Hopping Mad: Philippe Mora on Dennis Hopper and Mad Dog Morgan" (2019) (33:48)
- "That's Our Mad Dog: A Conversation with Dennis Hopper & Philippe Mora" (2008) (28:57)
- "Not Quite Hollywood Interview Excerpts" (2008) (66:29):
-- Philippe Mora, writer / director
-- Jeremy Thomas, producer
-- John Seale, camera operator
-- Jack Thompson, Mainwaring
-- Roger Ward, Trooper
-- Graeme Blundell, Italian Jack
- 2009 Interview with Mike Molloy, Cinematographer & Philippe Mora, director (7:34)
- "Associate Producer Richard Brennan Interviewed by Philippe Mora" (2009) (5:30)
- 1976 Radio interview with Philippe Mora (14:21)

A whopping 156:39 of interviews! Need I say more. All are interesting and packed with information no self respecting Mad Dog Morgan fan should be without. Most are in 1080p24 1.78:1 although some material is pillarboxed 1.37:1. There is some standard material here as well, although imge and sound are strong. Sound is lossy Dolby Digital 2.0 stereo. All ported over from prior releases.

"Mad Country: Revisiting the Locations of Mad Dog Morgan" (with optional commentary by Philippe Mora) 2019 featurette (13:54)

Archival Intro / Outro with Phlippe Mora (2009) (7:52)

A short intro and outro from the 2009 DVD where Mora isn't taking things entirely seriously but in a good way. Presented 1.78:1 standard definition with lossy Dolby Digital. In the outro he reads an essay he's wrote bout his experience making the film.

Theatrical Trailer (4:06)

Vintage promo piece presented in 1080p24 2.39:1 with lossy Dolby Digital 2.0 mono.

Image Galleries:
- Mad Mod Morgan Image Gallery: Original Promotional Material (54 images)
- Mad Mod Morgan Image Gallery: The Filming of Mad Dog Morgan (19 images)

Two hefty galleries in HD.

An 80-page liner notes book with a new essay by Tara Judah, Philippe Mora's pre-production notes on Mad Dog Morgan, archival interview with Mora, archival article by Mora on the making of the film, Jeremy Thomas on Mad Dog Morgan, an overview of contemporary critical responses, and film credits

A chunkier tome than we usually get from Powerhouse Films, entirely devoted to Mora's western. Plenty of contextual added value to be had here.

Limited edition exclusive double-sided poster

This wasn't provided for review but having seen such posters from Powerhouse Films in the past, it'll be printed on decent paper stock.

Packaging


Special packaging. At the time of writing it's not entirely clear but seems to be hard card slip case holding clear BD Keepcase.

Overall


Philippe Mora's most celebrated film is this Australian western patterned after Sam Peckinpah's bloodbaths gets the deluxe treatment and full on restoration pid for by Powerhouse Films in London, scanned in 4K and restored in 2K. Image and sound are bout as good as can be given the source and format. Extras are superlative and cobble together just about everything a fn could want off prior releases. Most Likely this will be on many reviewer's best discs of the year released.
| | | | | |
| --- | --- | --- | --- | --- |
| The Film: B | Video: A | Audio: A- | Extras: A+ | Overall: A |