Doctors (The): Jon Pertwee Years (The) - Behind the Scenes, Vol. 2
R0 - United Kingdom - Reeltime Pictures
Review written by and copyright: Rick Curzon (20th May 2022).
The Show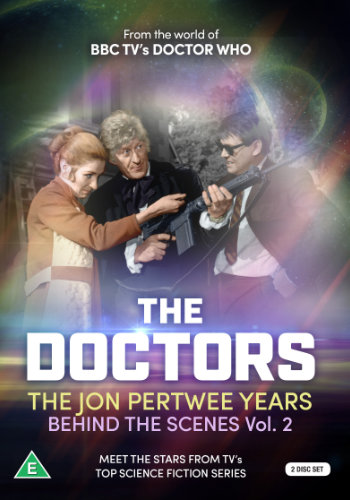 This is the definitive set of interviews with the production team who brought Doctor Who to life and sent you "behind the sofa"!

These six documentaries are the best in-depth interviews with Bob Baker & Dave Martin (writers), Robert Sloman (writer), Louis Marks (writer), Tim Combe (director) and Dudley Simpson (composer) ever undertaken! Plus special productions featuring actors Sonny Caldinez, Shirley Cooklin, Prentis Hancock and David Spenser!

Presented by "voice of the Daleks" Nicholas Briggs.

For all Doctor Who fans, this special collector's edition is over 5 hours of pure nostalgia, which will give you a whole new insight into the making of your favourite science fiction series!

Video


This superb set is another winner from Reeltime Pictures and highly recommended as usual.

Image is adequate, sometimes strong and sometimes weak but always clear and watchable. Nothing on this set is as problematic as the interview with Graham Williams n a previous release. All are professional shot and recorded. Colours are solid if a little muted at times but they're always natural.

Black levels are solid with some occasional mild crush but nothing that is not intended or typical of productions shot in this way. Contrast is supportive, detail adequate (this is standard definition after all). There are occasional artefacts (combing) that are most likely down to conversion of the older material to a newer format.

The release comes highly recommended.

2 x DVD9 / MPEG-2 / 1.33:1, 1.78:1 / 325:20 NTSC

Audio


English Dolby Digital 2.0 Mono / Stereo
Subtitles: None

The Dolby Digital track just gets the job done. The interviews are always clear and easy to hear and I could detect no major issues worth mentioning. Older material is 2.0 mono and remains at the front at all times, range is limited. The 2.0 stereo tracks obviously plays wider, has some separation and a greater range. If it's played through ProLogic II or similar it will have some modest surround activity although predominantly score with some occasional sound bleed from the front. Stick to just playing it straight without any surround. There are sadly no subtitles for the hard of hearing.

Extras


"Myth Makers: Bob Baker and Dave Martin" 2000 interview also with Nicholas Briggs (54:52)
"Myth Makers: Robert Sloman" 2004 interview also with Nicolas Briggs (47:45)
"Myth Makers: Louis Marks" 2005 interview also with Nicholas Briggs (51:55)
"Myth Makers: Tim Combe" 2006 interview also with Terrance Dicks, Barry Letts and Gary Russell (54:52)
"Myth Makers: Dudley Simpson" 2005 interview (55:03)
"Myth Makers: Flight Through Eternity Vol. 2" 2010 interviews with Sonny Caldinez, David Spenser, Shirley Cooklin, Prentis Hancock also with Nicolas Briggs (59:53)

As usual, many of the people who appear on camera here are no longer with us:

- Bob Baker (1939-2021)
- Dave Martin (1935-2007)
- Robert Sloman (1926-2005)
- Louis Marks (1928-2010)
- Dudley Simpson (1922-2017)
- Sonny Caldinez (1932-2022)
- David Spencer (1934-2013)

Consequently, this release is another valuable addition to any Doctor Who fan's collection. These releases offer terrific value for money especially when you consider that back in the day one tape would have one interview programme and probably cost about £20 then to buy. Each is packed to the gills with anecdotes and trivia and offers incredible contextual added value to the episodes themselves, all of which are available fully restored on DVD and are currently being re-released in season sets on BD.

Packaging


Standard, 2-disc, black DVD Keepcase.

Overall


Another essential edition in Reeltime Pictures ongoing transcription of their old interview tapes to DVD. Many of the interview subjects are no longer with us and some died before the DVD range could get round to them.

Highly recommended!
| | | | | |
| --- | --- | --- | --- | --- |
| The Show: A+ | Video: C+ | Audio: B- | Extras: A+ | Overall: B+ |

---
Rewind DVDCompare is a participant in the Amazon Services LLC Associates Program and the Amazon Europe S.a.r.l. Associates Programme, an affiliate advertising program designed to provide a means for sites to earn advertising fees by advertising and linking to amazon.co.uk, amazon.com, amazon.ca, amazon.fr, amazon.de, amazon.it and amazon.es . As an Amazon Associate, we earn from qualifying purchases.