The Film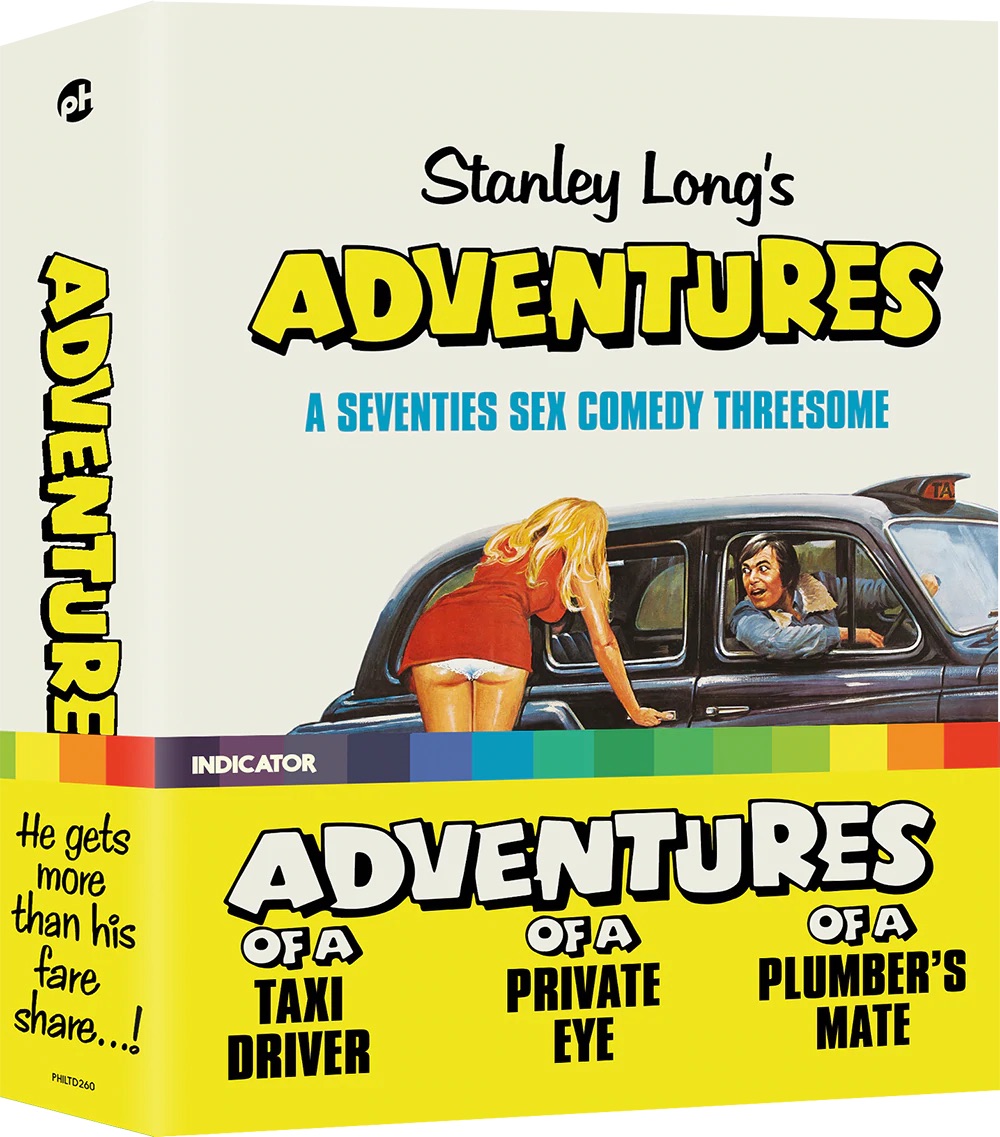 Once dubbed the 'King of Sexploitation' by the tabloid press, Stanley Long was the godfather of the British sex film. Starting out with 8mm striptease reels in the 1950s before moving into nudist documentaries, Long went on to produce and direct a string of extremely popular X-rated movies which told tales of wife swapping, groupies and other saucy goings on. He reached the pinnacle of commercial success with this trio of incredibly successful 'on the job' sex comedies.

Adventures of a Taxi Driver, starring sitcom actor Barry Evans, set the template with the antics of a cabbie who 'gets more than his fare share'. Securing international distribution – as well as becoming the most successful comedy at the British box office in 1976 – it prompted two sequels, each featuring more of the same but with a different lead actor (future hit-record producer Christopher Neil).

Boasting supporting casts which burst with top-tier British acting talent – including Harry H Corbett (Steptoe and Son), Diana Dors (Berserk), Judy Geeson (Inseminoid), Suzy Kendall (To Sir, with Love), future musical theatre sensation Elaine Paige, and former Doctor Who Jon Pertwee – the Adventures series represents British popular filmmaking at its most unashamedly cheeky.

Video


Ultimately, British sex comedies from the kate '60s through the late '70s are an acquired taste. These days they're chauvinistic, cartoonish charms aren't for everyone and in the 21st century they're definitely a dated relic of the era. I had seen Taxi Driver once on VHS and I just recall that it wasn't terribly funny, not terribly sexy and looked rather dull. The former is subjective, the latter is down to how it was shot and the dodgy, limited nature of early '80s video transfers. I found it more amusing now as a timepiece that represented it's era and lead Barry Evans is a cheeky, charismatic lead and his breaking of the fourth wall lends the film a more breezy vibe. It's still horrifyingly sexist but what do you expect?

I think it's brilliant that Powerhouse Films are releasing these three popular classics (and one video era compilation film) with contextual material to please film buffs and fans of such fare. Taxi was shot full aperture 1.37:1 and designed to be matted in projection to 1.851:1 and that's how it's presented here.

In the essay in the booklet with this release, Simon Sheridan states that the film was shot in 16mm which was fairly unusual for a feature film at the time although in the US it seems to have been popular for films in the low budget end of the spectrum (The Texas Chainsaw Massacre, The Hills Have Eyes, Last House on the Left). This would explain why the VHS I saw looked pretty flat, soft and dull ... even for VHS. Fans will be over the moon with Screenbound's HD master / restoration which has been beautifully encoded by Fidelity in Motion for this very welcome .

The colour palette is rather pallid but that's to be expected for an ultra low budget film like this shot on the fly with pinkish, pale flesh tones. The production design of beige, orange and the occasional red comes off nicely given the grainier look of the flatly lit, quickly shot cinematography. Interiors are flat with even contrast, exteriors look better with stronger dynamic range. Being a 16mm production, detail isn't going to be strong but it is there although it's obviously strongest in closeups. Backgrounds are soft but they always have been.

Black levels are rich and satisfying with no greyish shadows to be had. There is some baked in crush but it's par for the course for 16mm. Contrast is strong and supportive allowing grain to feel natural and the encode maintains a filmic look. Adventures of Taxi Driver probably hasn't looked as good as this since it was wet from the lab and perhaps not even then given the superior nature of technology and restoration techniques in the 21st century.

The second film on this disc - The Best of the Adventures (1981) - is a direct to video compilation feature presented by Peter Noble in video taped linking footage. He presents clips from all three films in open matte format with the 16mm Taxi Driver looking slightly lesser and the two 35mm shot sequels looking better. That said, the whole film is in standard definition but upscaled to HD for this release. The image is stable, colours and production design for each feature come off as above (and in the reviews of the sequels to follow) only warmer and much softer. Detail is obviously a notable step down and the taped links look sharper and cleaner but they also have the PAL video look of material seen on BBC TV productions shot in studio and on tape (or via outside broadcast video). The superior AVC codec means that this standard def upscale looks better than it ever has.

The image for the main feature is as good as it can be and the support looks better than it ever has as well ('A' for Taxi, B- for the Best of compilation).

1080p24 / AVC MPEG-4 / BD50 / 1.85:1, 1.33:1 / 89:34, 86:25

Audio


English LPCM 1.0 (48kHz) (Adventures of a Taxi Driver)
English Dolby Digital 2.0 Mono (The Best of the Adventures)
Subtitles: English HoH (both features)

The main feature has a very decent, uncompressed robust version of the films limited 1.0 track heard in cinemas with no signs of audio damage or age related wear and tear. There is some very mild hiss but that's to be expected given the nature of the track under discussion which is a very low budget 1.0 track that remains front and centre with little LFE boost ('B+')

The video feature gets a lossy, compressed 2.0 mono track which gets the job done well. It is what it is and has no major issues but is less robust than the uncompressed one for the main feature ('C+').

Hard of hearing subs are present and correct for both films.

Extras


Audio commentary on "Adventures of a Taxi Driver" with Stanley Long (2008)
"The British Entertainment History Project (BHEP): Interview with Stanley Long, Part One - 1933-1963 Conducted by Denis Gifford and Emmanuel Yospa on 24 November 1999" plays as an alternate audio track over the film (87:29)

I've seen, met and had a group dinner with Long and he was a great raconteur on that occasion (a fantasy film festival at the Bradford Media Museum circa 2010 and dinner at Omar Khan's with several others). Both of the commentaries are excellent and packed with a huge mount of detail about the subjects under discussion.

The older track covers his early life and career (puppeteer at school, his great love was photography) up to the early '60s, with the rest of his life and career to follow in part two and three on the sequels. The more recent commentary which was done for the 2008 three DVD set from Icon films. It focusses specifically on Taxi Driver so works in much more detail about that film rather than his overall career. An excellent companion to the film and fans will not be disappointed.

"Peter Sinclair's Camera" 2022 interview (14:54)

Newly shot featurette which presents an interview with Taxi Driver's cinematographer. It covers his career as well as the film and is packed with interesting info despite being a little short. Presented in 1080p24 1.78:1 with LPCM 2.0 stereo (48kHz) sound.

Theatrical Trailer (3:11)

Vintage trailer presented open matte 1.37:1 in 1080p24 with LPCM 2.0 mono sound (48kHz).

Adventures of a Taxi Driver Image Galleries:
- Original Promotional Material (44 images)
- Original Screenplay (32 images)

Chunky, extensive HD galleries.

80-page liner notes book with a new essay by Simon Sheridan, archival interviews with Stanley Long and actor-composer Christopher Neil, a letter from the producers complaining about the Adventures films' treatment in the British press, newspaper articles, a look at the three films' novelisations, an overview of contemporary critical responses, Manthey on his short films, and film credits

From my perspective not being a big fan of the films, this book was the whole show along with the commentaries. Packed with a massive amounts of contextual added value with pride of place going to Simon Sheridan's history of the films. He knew Long and wrote Long's biography (which I've read) and seems to be the go-to historian whenever a British sex comedy of the period gets a curated release on BD (see also Screenbound's celebrated Mary Millington BD set). All of the additional articles have equal value.

Packaging


Unknown at this time.

Overall


From some quarters, the choice by Powerhouse Films to release these Stanley Long sex comedies has been a controversial one given the nature of most of Powerhouse's Indicator titles. However, I think it's a fabulous sign that they're widening their remit and range. Image and sound are as good as can be given the source elements and the extras are superb. For some, this set may be on the best of at year's end and I can't say I'd disagree with that assessment.
| | | | | |
| --- | --- | --- | --- | --- |
| The Film: D+ | Video: B- | Audio: B- | Extras: A+ | Overall: B+ |