The Film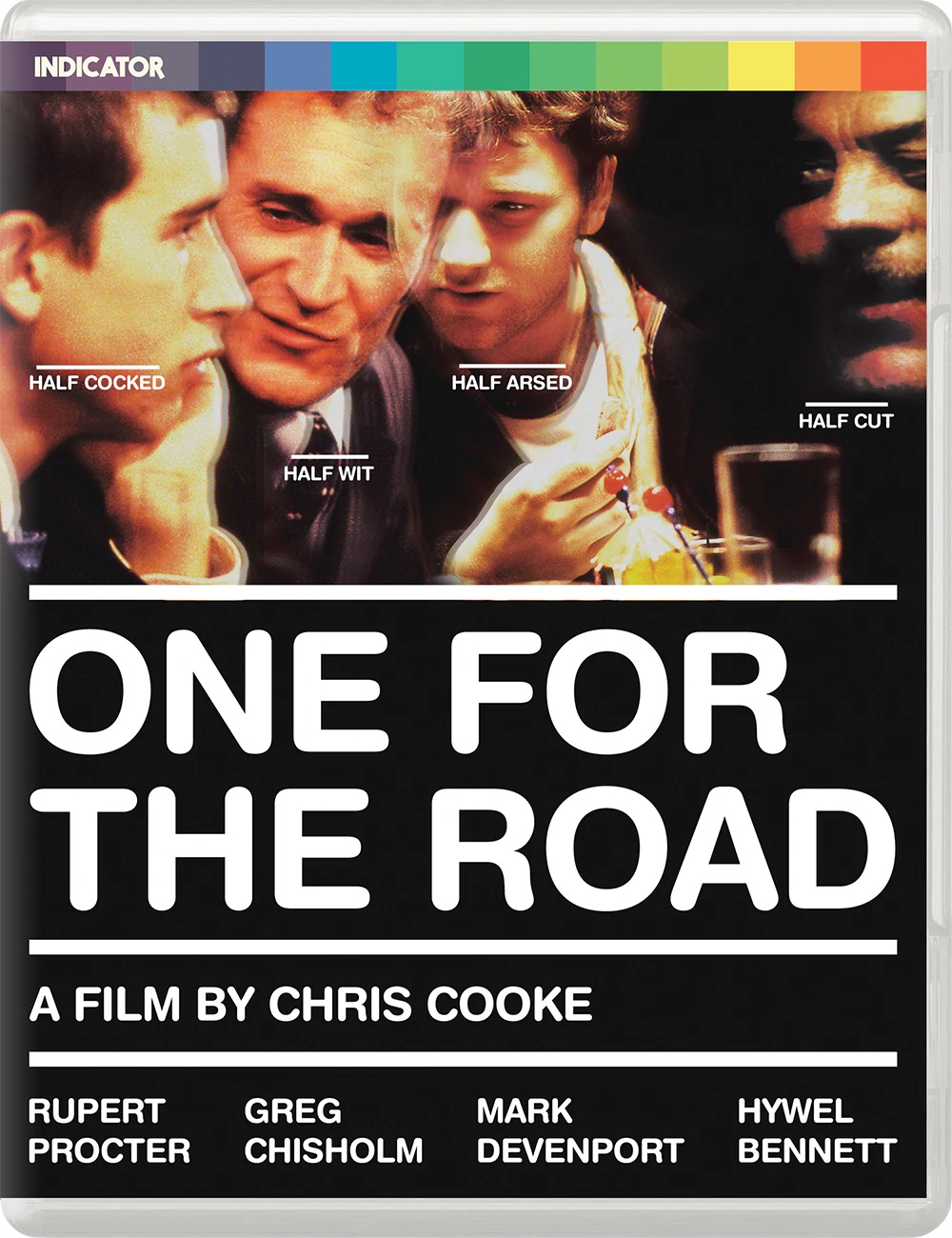 Four men with little in common, other than their attendance of an alcohol rehabilitation course, bond over their love of booze at a nearby pub between sessions. Between pints and bouts of delusion and depression, three of the men hatch a plan to get money out of the fourth – a mansion-dwelling millionaire played by the great Hywel Bennett (Endless Night) in his final feature-film role.

A darkly comic satire on male fragility, Chris Cooke's One for the Road is one of the great, unsung British films of the twenty-first century. Made in Nottingham using early digital cameras – utilising a beer-soaked, cigarette-stained palette – it avoids the clichés associated with British cinema and embraces the do-anything nature of its chosen format to become its own, distinct work. The film also showcases a fine ensemble of acting talent in not only Bennett, but also Rupert Procter, Greg Chisholm, Mark Devenport, Micaiah Dring and Johann Myers.

Video


An times amusing if somewhat gritty Nottingham-set drama and one I had never heard of before about a bunch of mostly working class men attending alcoholics anonymous type courses and team building exercises punctuated by sessions in the boozer and an act of violence escalates the situation. It reminded me very much of a BBC Play for Today character study from the 1970s by way of Shane Meadows.

Unusually it was shot on lossy standard definition DVCAM digital video. This was before hard drive recording so was recorded onto tape. This was quite a number of years after the first film made on this kind of format (Julia and Julia, 1987). It was a stylistic choice that the director (Chris Cooke) made to give the thing the look of a more lived in non-glossy ambiance of booze, fag packets, brightly lit meeting rooms and home video like location work. Lots of stark lighting and hand held camerawork.

It's a soft, desaturated standard definition image that has been upscaled to 1080p24 and matted to 1.85:1. Colours are very muted and have a sort of sepia tone look, flesh tones are not strong and foreheads are frequently blown out slightly due to overhead lighting in interiors although it must be stressed that this is by design. Even primaries are less bold than usual. Black levels are rich and solid which is surprising given the way this was made.

The image has a waxy standard def quality inherent in the format it was shot on and although detail is present it's rarely strong with faces close to the camera coming off best. This is frequent as Cooke favours shooting in that edgy hand-held quality with the frame constantly shifting and favouring faces in closeup to create a more intimate feel to the drama and character interactions.

There is some grain but it's mostly fairly smeary but the encode is superb ensuring that there are no unintended artefacts creeping in. Typical of the peerless work of Fidelity in Motion.

Overall this is as strong an image as can be expected given the nature of it's standard def video lensing ('C+').

1080p24 / AVC MPEG-4 / BD50 / 1.85:1 / 95:54

Audio


English DTS-HD Master Audio 5.1
English LPCM 2.0 Surround (48kHz)
Subtitles: English HoH

The 5.1 has a bit more depth and was the one I chose to watch accompany the film. I sampled the LPCM 2.0 track which is encoded for surround but neither is going to win any BAFTAs for sound design. It's a straight forward stereo track given a boost with some range and depth. On both the surround channels are't used much but do come alive with wallah (a term to describe background noise conversation and air) in the pub scenes and in the paint balling sequence with squibs going off and whizzing from behind the viewer. Songs on the soundtrack fill the sound field nicely on occasion. It's mostly unadventurous and extremely front centric but this is all by design and the lossless and uncompressed presentations are about as good as can be ('B-').

Superb hard of hearing subtitles work overtime translating all the incredibly profane dialogue!

Extras


(1.) Audio commentary with writer-director Chris Cooke and producers Kate Ogborn and Helen Solomon (2004)
(2.) Audio commentary with actors Greg Chisholm, Mark Devenport and Rupert Procter (2004)

The first track is made up of key behind the scenes creative personnel and as you'd expect is more about how the film came to be made based on Cooke's short film Shifting Units (2000) and also his desire to create a Nottingham-based film. The second track focusses on the actors and as such is more about how they got cast, their motivation for the characters and how they approached their roles with some having quite a bit in common with the parts they played. Both commentaries date from the initial DVD release of the film are are presented in lossy Dolby Digital 2.0 stereo.

"One for the Road: An Oral History" 2022 documentary (41:44)

Newly produced documentary made specifically for Powerhouse Films with writer-director Chris Cooke, camera operator Steve Sheil, composer Steve Blackman, actors Mark Devenport, Steve Chisholm, Rupert Proctor and Johann Myers. Presented in 1080p24 1.78:1 with lossy Dolby Digital 2.0 stereo sound.

Workshop Footage (6:21)

Vintage material shot during production with actors Mark Devenport, Rupert Procter and Penny Linfield. Presented in standard definition 1.33:1 with lossy Dolby Digital 2.0 mono sound.

Character Studies (14:46)

More vintage footage this time being improvisation exercises with actors Mark Devenport and Rupert Procter. Presented in standard definition 1.33:1 with lossy Dolby Digital 2.0 mono sound.

Video Diaries (18:53)

Chris Cooke video diaries discussing various other projects that never came to be. Presented in standard definition 1.33:1 with lossy Dolby Digital 2.0 mono sound.

Theatrical Trailer (2:03)

Vintage promo piece presented in 1080p24 1.85:1 with LPCM 2.0 stereo sound.

One for the Road Image Galleries:
- Original Promotional Material (45 images)
- Original Screenplay (52 images)

Extensive HD image galleries.

Short Films:
- "Map of the Scars" (1998) (with optional commentary with Chris Cooke) (SD 1.66:1, LPCM 2.0 Surround) (11:06)
- "Shifting Units" (2000) (with optional commentary with Chris Cooke, Helen Solomon and Kate Ogborn) (SD 1.78:1, LPCM 2.0 Surround) (8:28)
- "Why I Hate Parties (But Pretend to Love Them)" (2003) (1080p24 1.78:1, LPCM 2.0 Stereo) (10:32)
- "Gary the Rapper vs. Stefan Blix" (2014) (Monochrome, 1080p24 1.78:1, LPCM 2.0 Stereo) 13:56)
- "Whiskers and Jane" (2016) (1080p24 1.78:1, LPCM 2.0 stereo) 13:32)

A clutch of short films with optional commentary on the two directed by Chris Cooke, the others were directed by Mark Devenport. Image quality is largely excellent with the first two standard def pieces coming off obviously as less robust. Soft, muddy but clean although I did see some natural artefacts. The HD pieces look great if obviously done on a shoestring.

36-page liner notes booklet with a new essay by Thirza Wakefield, archival interviews with Chris Cooke, an overview of contemporary critical responses, and film credits and information on the short films

Extensive essay on the film itself and a couple of great interviews with writer-director Cooke plus information on cast and crew for the main feature and the shorts.

Packaging


Standard clear BD Keepcase.

Overall


A technically problematic, theatrically released film made on standard definition video gets a technically impeccable release from Powerhouse films in the UK and distributed in the USA. Image and sound reflect the production methods but are solid considering and are unlikely to ever be better. Extras are extensive and wide ranging. A no brainer recommendation for those who're interested.
| | | | | |
| --- | --- | --- | --- | --- |
| The Film: B- | Video: C+ | Audio: B- | Extras: A+ | Overall: B+ |