The Film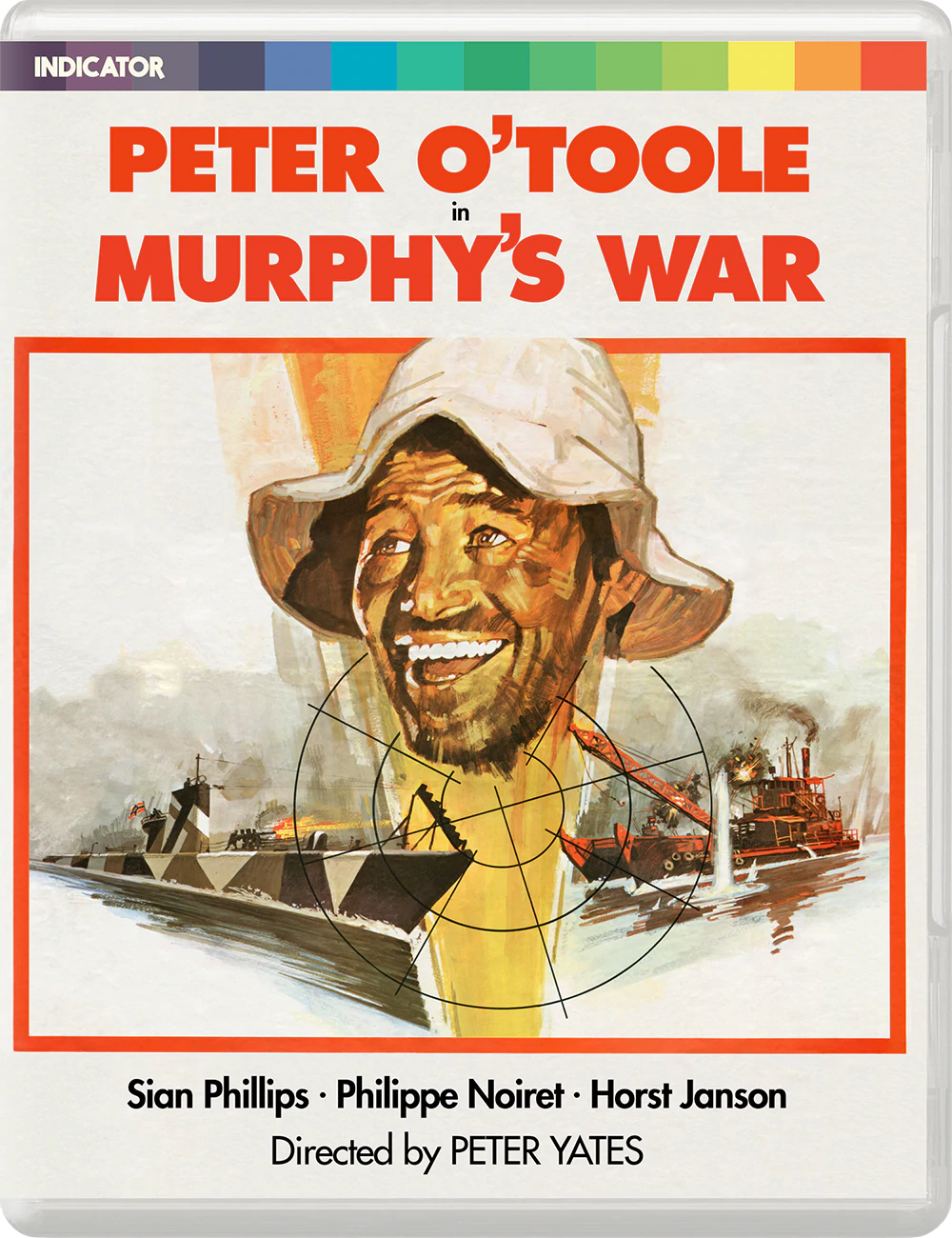 Peter O'Toole (The Ruling Class) gives one of his most spirited and memorable performances in Murphy's War, a blood-and-thunder adventure film directed with grit by Peter Yates (The Friends of Eddie Coyle, The Deep).

O'Toole is the titular Irish merchant seaman, whose ship is attacked by a German U-boat on the Orinoco river in Venezuela during the dying days of World War II. The sole survivor, Murphy is picked up by a French oil engineer (Philippe Noiret, Cinema Paradiso) and taken to a native village hospital where he is treated by the pacifist Quaker Dr Hayden (Siân Phillips, Becket, Dune). During his convalescence, Murphy plots his one man war on the enemy U-boat that callously slaughtered his shipmates…

Filmed on location in infamously uncompromising conditions, Murphy's War combines impressively staged action with harsh realism and good humour. Presented on Blu-ray for the first time, and accompanied by a wealth of new and archival extras, along with a booklet containing new writing on the film.

Video


This cynical, eccentric WWII adventure film was one that I had seen many years ago in the early 1980s but hadn't managed to see it again since until now. O'Toole plays a character who isn't entirely sympathetic but who's righteous fury at the murder of his entire crew - by a German submarine commander (Horst Janson, Captain Kronos himself!) and his crew - is completely understandable and than empathy drives audience involvement in his plight most of the way. It's not a masterpiece but it is a very good relic of the era that deserves to be much more widely seen.

Ultimately the film's cynical, downbeat ending wasn't to my taste and indeed the film changed a great deal from the book on which it was based (1969, Max Catto) and not for the better. Still, a good film.

The DVDs passed me by and looking back some early ones were panned and scanned and / or censored (the use of fuck in an early scene between Siân Phillips and Peter O'Toole). Thankfully, Studio Canal have restored the bad language and obviously the full Panavision aspect ratio (the original 2.35:1, later in '71 it would become 2.39:1). Powerhouse Films have then used their excellent master for this wonder full disc.

This is a gorgeous looking, full bodied film with wonderful Scope cinematography and a rich colour palette with lots of browns and greens. The navel plane used in the film is a rich blue and little spots of primaries shine through nicely in this sparkling transfer. Flesh tones are warm and healthy, black levels deep and rich and contrast is punchy and supportive. I really wish mainstream Hollywood filmmaking would return to the filmic values we see here rather than the dull, low contrast rather flat modern digital look we've been suffering from (just look at the recent Dune, Part One for instance).

The encode is superb as usual allowing the natural grain to shine through in this photochemically lensed production. There's no signs of age related wear and tear, it looks spotless and like it was shot yesterday ('A+').

1080p24 / AVC MPEG-4 / BD50 / 2.35:1 / 106:12

Audio


English LPCM 1.0 (48kHz)
Subtitles: English HoH

A florid, solid mono track despite the odd moment of baked in distortion as the track gets louder. 98% of the time this is as strong a mono track of the kind from this era that I've heard. The seaplane's engine really rips through the sound field despite being front and centre and even managed to tickle by subwoofer a little. We also have some excellent English subtitles for any non-English language sections as per the original theatrical release although they're player generated they look very like the vintage subs did when I last saw the film in the mid 1980s on UK TV. They're easily removable via the remote should anyone wish to do so.

Excellent hard of hearing subtitles are provided and very welcome ('A-').

Extras


"Michael Deeley in Conversation: Conducted by Matthew Field, at BFI Southbank, London on 29 September 2008" audio track only (41:38)

Presented against a black screen, this is lossy Dolby Digital 2.0 mono and is a tad boomy. Films discussed are Blade Runner, The Wicker Man (1973), Don't Look Now, The Italian Job (1969), Convoy, The Deer Hunter and The Man Who Fell to Earth (1976). The talk was in support of a book - "Blade Runners, Deer Hunters and Blowing the Bloody Doors Off" - that both men had worked on and had been published the week of the talk. Plenty of interest under discussion kicking off a discussion of Deeley's career origins working in the cutting rooms working in TV. It covers the whole nine yards starting with his first film The Case of the Muckkinese Battle-Horn (1956).

"Philippe Noiret on Murphy's War" 1971 interview extract from Bulletin d'information (5:59)

Vintage interview with the venerable French actor who discusses working with various directors including Peter Yates, how he came to do Murphy's War, why Noiret was so beloved of British and American filmmakers, Presented in 1080p24 1.37:1 with lossy French Dolby Digital 2.0 mono sound with optional English subtitles.

"A Great Adventure: John Glen on Murphy's War" 2022 interview (31:08)
"Dougie, Chic and Me: Focus Puller Robin Vidgeon on Murphy's War" 2022 interview (17:18)
"One Man Army: Sheldon Hall on Murphy's War" 2022 interview (17:17)

65:43 worth of new interviews with two survivors of the original production and a contextual piece from the inestimable Dr. Sheldon Hall who wrote a fabulous book on the classic film Zulu. His day job is as a Reader in Film and television at Sheffield Hallam University. He covers the films origins, themes, the cast and crew and their other credits leading up them working on Murphy's War, the changes taking hold of the industry at the time whereby Hollywood was struggling.

John Glen (who's career began in 1945) is most famous for his work on the Bond films as second unit and or action director (On Her Majesty's Secret Service, The Spy Who Loved Me, Moonraker) and then for becoming the main director on all five of EON productions' Bond films in the '80s. He also had a pretty extensive career working on ITC TV series as well as many other thick ear productions. The main focus here is on Murphy's War and we get plenty of great anecdotes with plenty of interest and plenty of humour. Glen was responsible for much of the stuff involving the submarine scenes.

Although a focus puller on Murphy's War, Vidgeon has since become a director of photography of note (Hellraiser, Nightbreed and a lot of TV). He talks about working with Douglas Slocombe who was extremely experienced and especially good at photographing women. He discusses the role of the focus puller, the director Peter Yates and scouting and then shooting on location. All three pieces are presented in 1080p24 1.78:1 with lossy Dolby Digital 2.0 stereo sound with no subtitles.

"Behind the Camera: Douglas Slocombe" 1999 featurette (12:46)

A vintage piece (narrated by actor Samuel West) in which we get a pretty good overview and celebration of Slocombe and some of his career. It's a brief piece but does it job adequately. Interview subjects in addition to Slocombe himself being Richard Attenborough, Alan Parker, Ken Russell and Frank Marshall. We also see clips from Guns at Batasi (1964) which have been sadly cropped from the original 2.35:1 to fit the 1.78:1 ratio of the documentary. Rather ironic considering it's celebrating the art of a cinematographer. Presented in 1080i60 1.78:1 with lossy Dolby Digital 2.0 stereo and with no subtitles.

Super 8 version (20:15)

This early home video version is one fifth of the length of the whole film presented in 1080p24 1.37:1 panned and scanned with squeezed credits. English hard of hearing subtitles are provided. Colours are warm, black levels are solid, contrast is a little overblown nd there some blowouts. Detail is limited.

Alternative US Ending Credits (1:19)

Presented in 1080p24 2.35:1 with lossy Dolby Digital 2.0 mono sound, no subtitles (although it doesn't need them unless you want to red the lyrics of the song that plays over them).

Textless Theatrical Trailer (3:20)

Vintage promo sans text. Presented in 1080p24 2.35:1 with lossy Dolby Digital 2.0 mono sound, no subtitles.

Murphy's Way Image Gallery: Original Promotional Material (116 images)

Very substantial HD gallery with plenty of interest.

36-page liner notes booklet with a new essay by Julian Wheeler, a look at the production of the film, an archival interview with Peter O'Toole, an overview of contemporary critical responses and film credits

Packaging


The usual clear ND Keepcase.

Overall


Another fine film from the Silver Age that has languished in obscurity for far too long gets the deluxe treatment from Powerhouse Films with topnotch image and sound. The extras package is a huge dollop of icing on the already fabulous cake and together we have an unmissable package that even Murphy himself would endorse!

Highly recommended!
| | | | | |
| --- | --- | --- | --- | --- |
| The Film: B- | Video: A+ | Audio: A- | Extras: A+ | Overall: A+ |