Doctor on Display: The Museum of Classic Sci-Fi
R0 - United Kingdom - Reeltime Pictures
Review written by and copyright: Rick Curzon (7th May 2022).
The Film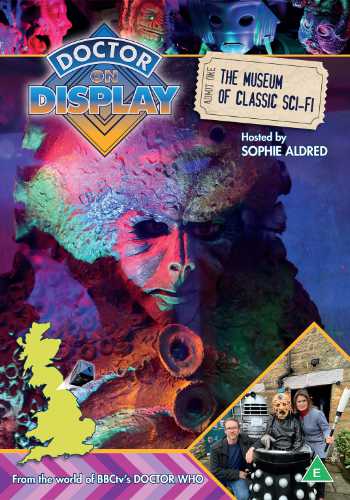 In the early 1970s, the BBC decided to launch a series of exhibitions featuring monsters and props from Doctor Who.
Over the next three decades, untold thousands of children (and adults too!) were thrilled by a mix of innovative, exciting and stunning extravaganzas!

For many fans, these exhibitions were their first and only real chance to get close-up to their favourite TV programme … and the memories they share in this innovative documentary series are bound together by interviews with experts and people who actually worked at them!

The Museum of Classic Sci-Fi is, in many ways, a personal tribute by Neil Cole to the halcyon days of science fiction on film and TV. Built in his basement under a Georgian house in the sleepy village of Allendale in Northumberland, it's an unlikely home for one of the most incredible modern-day exhibitions of Doctor Who props and monsters – many of which came from older exhibitions and had been saved from destruction! The museum re-opened in 2021 after extensive restoration work and we tell the story of that opening … and the incredible journey that led to that memorable day!

Video


Producer Keith Barnfather is mainly known for interviewing Doctor Who (and Blake's 7) alumni for his long running Myth Makers range of behind the scenes discussions on VHS and latterly DVD. His company, Reeltime Pictures, has been doing this fabulous work since 1984 or thereabouts documenting all this for posterity (a great many of his subjects have died since). He's also made other programmes connected to the show and here we have one of his latest which acts as a promo for Neil Cole's Museum of Classic Sci-Fi in Northumberland and also as a companion piece to his Lockdown: The Doctor Who Fans' Survival Guide (2021).

Roger Christopher Stevens' very enjoyable documentary is presented and narrated by actor Sophie Aldred and features onscreen interviews with curator Neil Cole, writer Bedwyr Gullidge, publisher and writer David J. Howe, illustrator Alex Storer, editor John Collier, fan Chris Bale, actor John Levene, fan (and Evil Dalek Genius) SP Rowling, fundraiser Kevin Taylor, Julie Whitfield partner of a former Doctor Who exhibition owner - the late David Boyle - and several unnamed fans ... and music by Neil Cole & Hal Townsend!

If had to guess, I'd say that this is an HD lensed production and it has been given the very odd aspect ratio of 2:1. The first uses of this format, that I'm aware of, were the now defunct VistaVision and SuperScope widescreen formats in the mid '50s. In recent hears it's been championed by the likes of Netflix and the BBC for their productions (i.e. current Doctor Who). Personally, I don't get why anyone would use that ratio for anything designed for playback on 1.78:1 displays, but hey ho.

Image quality is pretty standard for an HD production presented in standard definition on a single layered DVDR. Colours are naturalistic with solid flesh tones. Everything is as it ought to be with little by way of colour correction to spin the bias in any particular direction, so no orange and teal leanings. Primaries when they show up kick out nicely.

Black levels and contrast are fairly low key and allow as much detail as possible to creep through with no blowouts and no crush. The encode seems pretty decent and there doesn't seem to be any artefacts. There's little or no grain and the image is overall soft but that's not surprising given how it's being presented. There is some old home video footge that has been cropped significantly from the original 1.33:1 or 1.78:1 ratios and is blurry, smeary and washed out at times ('B-').

A shame that this is on a DVDR and not a proper, pressed DVD. I suspect that this is due to budget constraints.

NTSC / MPEG-2 / DVDR / 2:1 / 50:24

Audio


English LPCM 2.0 Surround (48kHz / 16 bit)

Sound is robust but unadventurous with surrounds handling mainly score. This is after all a documentary and not a feature film designed to throw the viewer into another fictional world. Not much more to say really. The track gets the job done but is otherwise unremarkable. Dialogue is clear and music never interferes. I heard no distortion even when played at a loud volume. It is encoded for surround although as I said it's modest ('C+').

No subtitles are provided.

Extras


"Tales from the Museum Archive ... Museum of Classic Sci-Fi: Neil Cole's Adventures in Science-Fiction" 2022 featurette (29:47)

Behind the scenes look at how Neil Cole started his labour of love museum and how he restores the exhibits. Presented in 1.78:1 with Dolby Digital 2.0 surround sound.

Contact Us (1 text page)

What it says on the tin, how to contact Reeltime Pictures.

Packaging


Standard, black single disc DVD Keepcase.

Overall


Another must-have Reeltime Pictures release that will be essential for Doctor Who fans. Sadly, although image and sound are decent with no major issues, it's presented on a burn on demand DVDR. That means keep it away from bright light and heat if you want it to last. The one extra is an interesting behind the scenes piece showing how Neil Cole restores his exhibits.

Highly recommended!

This can only he purchased directly from Reeltime Pictures:

https://timetraveltv.com/programme/565
| | | | | |
| --- | --- | --- | --- | --- |
| The Film: B+ | Video: B- | Audio: C+ | Extras: C+ | Overall: B- |

---
Rewind DVDCompare is a participant in the Amazon Services LLC Associates Program and the Amazon Europe S.a.r.l. Associates Programme, an affiliate advertising program designed to provide a means for sites to earn advertising fees by advertising and linking to amazon.co.uk, amazon.com, amazon.ca, amazon.fr, amazon.de, amazon.it and amazon.es . As an Amazon Associate, we earn from qualifying purchases.