The Film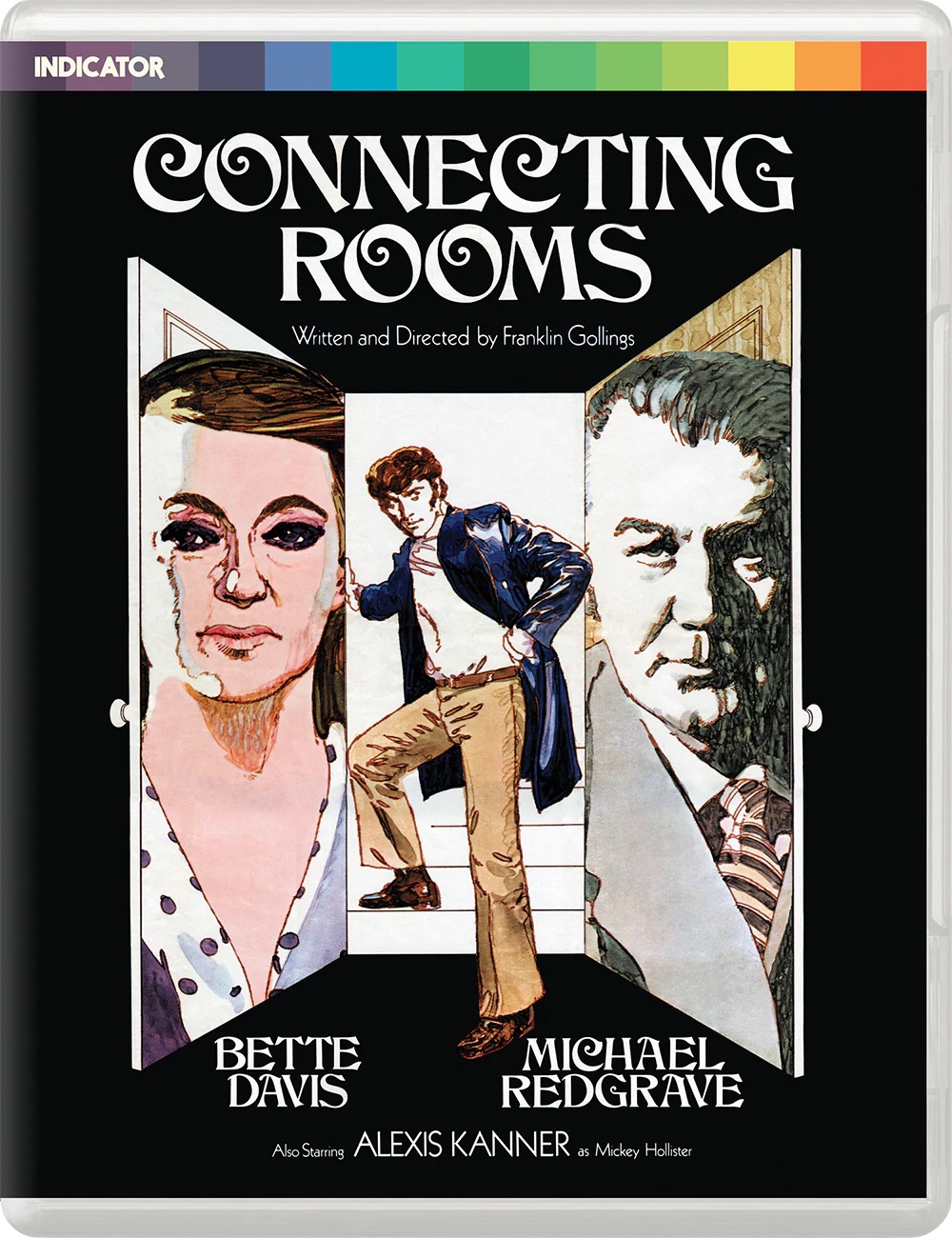 When enigmatic school master James Wallraven (Michael Redgrave, Time Without Pity) rents a small room adjacent to Wanda's (Bette Davis, The Nanny), an ageing cellist, he soon realises that the privacy he seeks is clearly unattainable. From there begins a parade of revolving doors through which the occupants of this seedy West London boarding house – a sleazy young musician (Alexis Kanner, Goodbye Gemini), a snooping landlady (Kay Walsh, The Rainbow Jacket) – all seemingly stuck in purgatories of their own making, desperately attempt to find their place in a tainted society.

Featuring a pair of screen legends and based on the stage play The Cellist by Marion Hart, Connecting Rooms is presented on Blu-ray for the first time in the UK, and is accompanied by a wealth of archival extras, including a rare recording of Bette Davis in conversation, and two short films by director Franklin Gollings.

Video


An ensemble piece mosaic of lives that intersect in a boarding house run by the bitter Kay Walsh, whom I know as the arch witch in the unsung but really rather excellent Hammer Horror The Witches (1966). Stars Bette Davis as a busker posing as a top flight musician, and Michael Redgrave as a disgraced school master working as a janitor headline and finally we have Alixis Kanner is the younger, hip lead. A sponger would-be musician and songwriter who just wants to be rich. Ingenues featured are Olga Georges-Picot (The Man Who Haunted Himself, 1970) and Gabrielle Drake (Gerry & Sylvia Anderson's UFO, 1969-70).

This rather good, largely forgotten drama gets the lush Powerhouse Films Indicator treatment and it's good to see it back in the public arena. Reviews in the past have been indifferent to sniffy but hopefully it'll pick up more notice and positives for those who like it's stars Whose performances are easily amongst their best and least typical. I found it surprisingly uplifting in the end, beautifully acted and impeccably directed. It's a film shot predominantly in interiors and as such feels like a photographed stage play. It reminded be a shade of the early '60s British New Wave films set in bedsitter land. Although very different, Hammer's psycho thriller Straight on Till Morning (1972) strikes me as a tonally different double bill mate for this film.

The colour palette is fairly varied with some strong browns and oranges typical of the era with some pastel blue wallpaper to make one blanche! Flesh tones are healthy and natural and there are some warmly rendered reds mainly books on shelves. It's a fairly standard look for the period and for naturalistic drama. Black levels are very deep and solid with plenty of shadow detail allowing one to appreciate the agreeably cluttered settings and background details. Contrast is modest and low key allowing highlights to shine and detail to show through with no blowouts. No print damage or digital tinkering.

It's a matter of fact looking film with lots of lovely fine grain lending it all a very filmic appearance and texture. Encoding is strong and the whole thing impeccably presented from a superb 4K Studio Canal restoration. This disc looks about as good as we can expect short of Connecting Rooms getting the ultra high definition disc treatment which is frankly highly unlikely to ever happen in these dying days of hard copy formats ('A').

1080p24 / AVC MPEG-4 / BD50 / 1.66:1 / 104:57

Audio


English LPCM 1.0 (48kHz)
Subtitles: English HoH

Not a great deal to say on this one. A very solid mono track which lacks range but suits the story being told to a T. Dialogue is the name of the game with this film and it's always the main focus, always clear. Music plays a role in the drama but it never distorts or warbles.

Hard of hearing subtitles are excellent and very comprehensive ('B').

Extras


"The John Player Lecture with Bette Davis: Conducted by Joan Bakewell at the National Film Theatre, London 12 September 1971" 1971 audio interview (32:01)

Vintage interview with the formidable and irrepressible Davis, an actress who once allegedly chased writer-producer-director Jimmy Sangster around a table. Topics discussed with Bakewell (and very amused audience) are fame, longevity, her early life, her theatre work, thoughts on the acting profession, the Actor's Studio, ambitions to produce but not to direct. She has an infectious laugh! Presented as a black screen and in lossy Dolby Digital 2.0 mono sound.

Theatrical Trailer (2:59)

Vintage promo in 1080p24 1.66:1 with uncompressed 2.0 mono sound.

Connecting Rooms Image Gallery: Original Promotional Material (30 images)

A decent HD gallery highlighting promo images.

"The Bette Davis Eulogy by Franklin Gollings" 1989 radio excerpt (7 text pages)

Text screen transcript of a radio piece from when Davis died by the writer-director of Connecting Rooms. Presented in lossy Dolby Digital 2.0 mono.

"Spotlight at the Fair" 1951 short film (18:26)
"The Way to Wimbledon" 1952 short film (17:00)

The 1951 film is an HD restored piece on fairgrounds by the BFI in a greyish looking rather soft presentation with flat contrast. Beautifully encoded and with plenty of grain. Presented in 1080p24 1.37:1 with uncompressed 2.0 mono sound.

The second film is about Wimbledon, as it says in the tin. A standard definition transfer from British Pathé, upscaled to 1080p24 1.37:1 with uncompressed LPCM 1.0 sound.

36-page liner notes booklet with a new essay by Laura Mayne, extracts from the film's press kit, archival interviews with Bette Davis and Franklin Gollings, an overview of contemporary critical responses, new writing on Spotlight at the Fair and The Way to Wimbledon and film credits

The usual excellent hardcopy companion kicks off with a fine essay from Laura Mayne that covers the origins of the film in the unproduced play The Cellist by Marion Hart, information on Davis, the mixed critical reception, the themes of generational divide and finally the career of American director Gollings. A selecting of quotes from the 1970 promotional material is interesting and the usual collation of vintage interviews and critical responses. Two brief but interesting essays on the accompanying shirt films are also valuable.

Packaging


The usual clear BD Keepcase.

Overall


Another modest, beautifully acted little drama dug up from obscurity gets the lavish Powerhouse Treatment with the usual magic woven to present an excellent 4K restoration on it's best behaviour. Sound and image are topnotch and the extras first rate with pride of place going to a wonderful interview from 1971 with Bette Davis. Strongly recommended!
| | | | | |
| --- | --- | --- | --- | --- |
| The Film: A- | Video: A | Audio: B | Extras: A | Overall: B+ |