The Film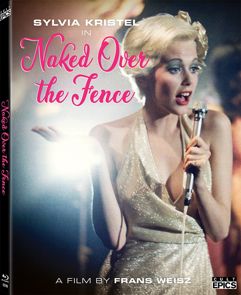 Rick Lemming (The Wilby Conspiracy's Rijk de Gooyer) runs a small pinball arcade in the center of Amsterdam and spends his leisure time flying carrier pigeons from his roof. He tries to supplement his income from machines his customers repeatedly break to give up more change by renting out a room to schoolteacher Penny (Katie Tippel's Jennifer Willems), however she is always late with her rent and tries to make up fro it from the very same machines. Penny is taking karate classes from Eddy Swann (Modesty Blaise's Jon Bluming) and badgers Rick into attending Eddy's television expedition where they discover that Eddy has a new girlfriend in TV singer Lilly Marischka (Dracula's Widow's Sylvia Kristel) who Penny believes leads him around by the nose.

In class the next day, Eddy confesses that he is in love with Lilly and that she is making a film in the studio next door and offered him a small role in it. Penny is immediately suspicious when Eddy describes it as an "arty" film in which he is expected to show off his muscles. She is even more alarmed when she catches a glimpse through the window into the studio and sees Lilly's music journalist/manager Lou Syler (Jerome Reehuis) and TV director Fred Turpin (Ton Lensink) forcibly tearing off the clothes of a young woman to be shot by photographer Hank (Marc Maalderink). When Eddy will not listen to her, Penny tries to warn Rick but he dismisses her concerns. Later on, however, Rick wanders over to Eddy's studio and spies through the fence the film shoot in which a reluctant Lilly is coerced into caressing a naked woman, and naked Eddy draws the lines spiked leatherwear. In spite of Fred's and Lou's claims that the film is not some average porno film and will be shown for exclusive audiences, Lilly refuses to continue and demands all of her footage. When Eddy steps up in her defense, he is attacked by a pair of twin pimps (Hans Sijses and Lodewijk Sijses) but fights them off with his karate and flees with Lilly "naked over the fence."

Rick drives them back to his place, believing it to be unsafe for Lilly to return to her apartment. When they discover Lilly gone the next morning, Rick and Eddy head over to Hank's studio to retriever hers and Eddy's clothes as well as the film only to discover Hank's body hanging from the tramway cables. When Rick and Eddy discover that Lilly is keeping her commitments to a television interview and concert even though it requires her to be in the company of Frank and Lou, they surmise that she is trying in her own way to get the film back. While Eddy searches for the film, Rick surmises that if Hank's murderer is not Frank or Lou then it is whoever is financing the film, but the search for the film takes on more twists when someone makes an attempt on Lilly's life and Rick makes the acquaintance of a comic book publisher (My Nights with Susan, Sandra, Olga & Julie's Jerry Brouer) who dabbles in porn and Frank's wealthy and charming fiancee Celia (Adθle Bloemendaal) who is either trying to warn him or seduce him. When the twin pimps' attempts to intimidate Rick with threats and physical violence do not work, they decide to use Penny as a bargaining chip when the film exchanges hands one time too many.

Coming just before Kristel would achieve worldwide fame as Emmanuelle – and subsequently retitled in some territories to cash in on that recognition, with one such title translating as "Emmanuelle Jumped Over the Fence" – Naked Over the Fence is not technically a Kristel vehicle but she does have sort of a "special guest star" status in spite of her fifth billing as part of the first block of actors who do not get a title card to themselves. She is given the "star" treatment – literally with the sort of star filters not unfamiliar to the film's camera operator-later-cinematographer Theo van de Sande (Blade) – with a glamorous introductory shot, her nudity is strategically-shot compared to the only other female nude in the film – she goes through a handful of wardrobe changes, and gets to perform her character's hit song "A Letter Came Today" twice. In spite of the oddly-specific title, it is actually rather tame as a film from the period known as the "Dutch Sex Wave" that included Kristel's previous film Pim de la Parra's Frank & Eva: Living Apart Together as well as Wim Verstappen's Blue Movie and Paul Verhoeven's Turkish Delight among others. As a comic thriller, it is not really that comical until late in the film and rather too leisurely in tracking Rick as he navigates his way through a web of intrigue, violence, and murder. The climactic action involving a warehouse fight and a tram chase is actually quite thrilling – although not quite Puppet on a Chain or Amsterdamned – but one wonders why there is so much emphasis on Rick's pigeon hobby if it is not put into use at a crucial moment. Seasoned actor Ko van Dijk appears as the inspector investigating the murders and Lilly's attack, but his scenes actually have little bearing on the action. Director Frans Weisz later helmed the Dutch/West German/Italian/British World War II prestige drama Charlotte and would move back and for the between film, television, and documentary throughout his subsequent career (with his last credit so far being in 2019, but that may have more to do with the pandemic than his age).

Video


One of the few recent Eye Museum restorations to make use of the original camera negative, Cult Epics' 1080p24 MPEG-4 AVC 1.37:1 pillarboxed fullscreen transfer is stunning from the start with saturated colors popping against the city aerial shots with only a few star-filter shots looking softer and possible one or two shots either optically-enlarged or sourced from a dupe.

Audio


Audio options include lossless Dutch DTS-HD Master Audio 2.0 mono and lossless Dutch LPCM 2.0 mono tracks which sound the same and are also spectacular due not only to any cleanup but to the original mix which has some vivid presence in the music and effects tracks. Post-synched dialogue is always clear but what really surprises is Kristel's song performances. All too often in older films when there is such a performance, the vocalist is lip-synching to the fully-mixed song while it is apparent here that Kristel's vocal track stands apart from the backing vocals and instruments. Optional English subtitles Anglicize the character names ("Rick" for "Rijk", "Lou" for "Lodes" and so on).

Extras


In addition to discussing Weisz's education as a filmmaker, critic, and even an independent producer, and revealing that Kristel got her role through self-promotion in which she appeared in interviews professing her desire to work on the film – and that Weisz cast her after seeing her in the still-in-editing Frank & Eva – Hosman also provides some cultural information about the hobby of "pigeon fancying" in Holland, the air of illegality that surrounded the legal pinball arcades, Weisz screening a pair of Frank Sinatra (de Gooyer's favorite actor) crime films for the cast and crew before the start of production, as well as Weisz's attitude towards novelist and journalist characters after a pair of flops.

The behind the scenes with Sylvia Kristel (14:56) piece is made up of a newly-edited distillation of two hours of raw footage shot by a 16mm documentary crew during production but never used, focusing here primarily on the shoot of Kristel's scenes in the TV studio with a look at Weisz directing and making comments to the camera, as well as Kristel relaxing with her co-stars. Of the title choice, he recalls the story of a writer acquaintance whose married mistress hopped a fence naked when her husband turned up. The KRO radio interview with director Frans Weisz (8:17) is a telephone interview from 2014 in which he reveals his bittersweet attitude towards the film and indeed his first group of "BC" or "before Charlotte" films. The B-Movie Orchestra and VPRO interview with composer Ruud Bos (11:41) has him discussing his working methods – preferring to produce a package of themes rather than spot cues and adjust their length – and performing life with the titular orchestra two cues from the soundtrack ("Naked Plus" and "Model Session" on the limited edition CD). Also included is a promotional gallery (1:32), the film's theatrical trailer (4:01), and some Cult Epic Sylvia Kristel film trailers.

Packaging


The limited edition of 1,000 copies includes a slipcover and a stereo CD soundtrack (the track listing of which is printed on the inside of the cover which also has the more explicit Dutch poster art).

Overall


For Dutch audiences, Naked Over the Fence is a vehicle for the successful acting trio of The Burglar while for international viewers it may seem like an unintentional Sylvia Kristel vehicle.