The Film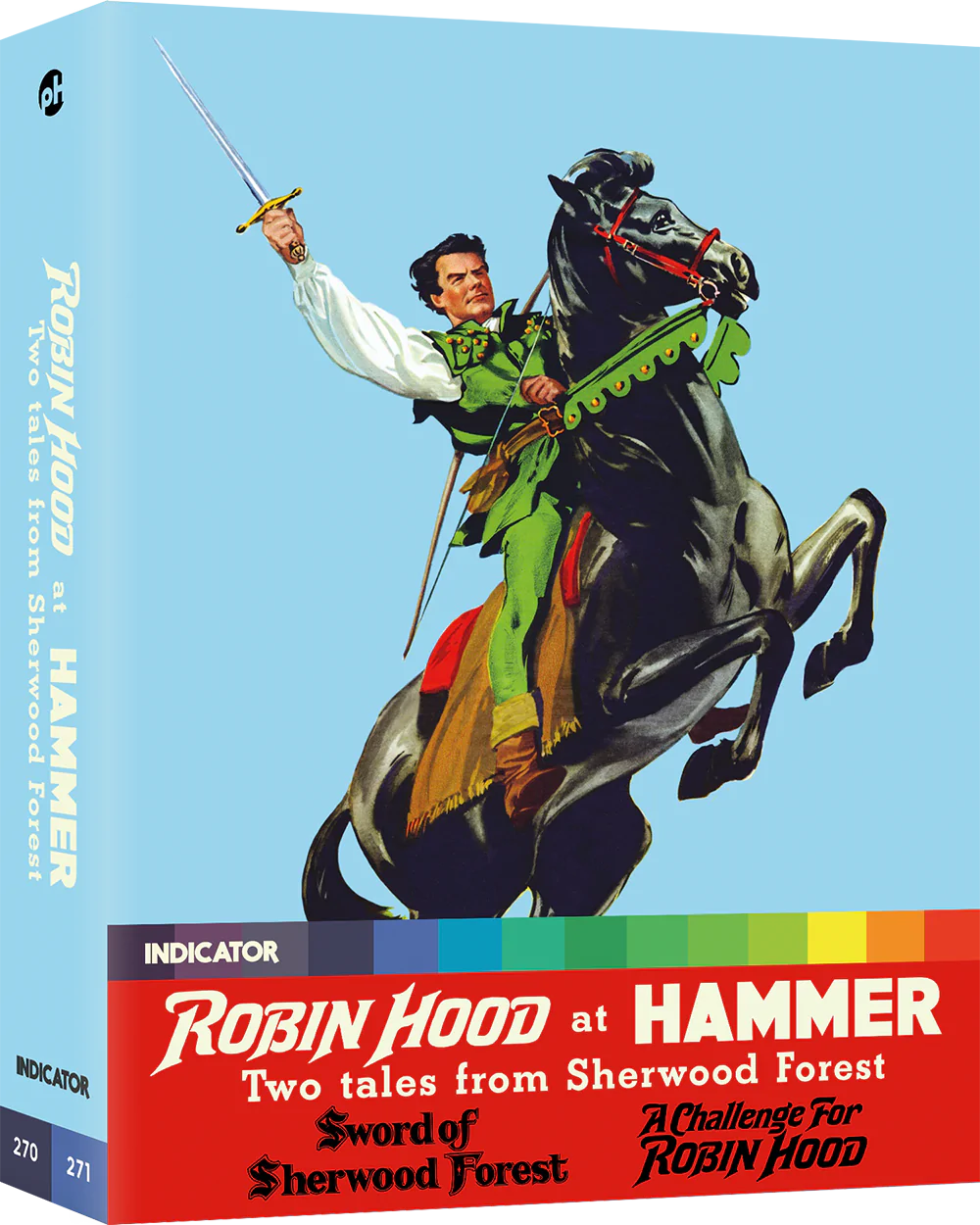 Britainís best-loved outlaw gets the Hammer treatment in Robin Hood at Hammer: Two Tales from Sherwood Forest.

For 1960ís Sword of Sherwood Forest, Richard Greene (The Blood of Fu Manchu, The Castle of Fu Manchu) reprises the role he made famous in the classic television series The Adventures of Robin Hood. Directed by Terence Fisher (The Gorgon, The Revenge of Frankenstein), and starring Peter Cushing (The Devilís Men, Corruption) as the dastardly Sheriff of Nottingham, the film sees Robin Hood thwart a plot to assassinate the Archbishop of Canterbury (Jack Gwillm, Jason and the Argonauts, The Curse of the Mummyís Tomb). The film also boasts an uncredited early role for Oliver Reed (The System, The Damned).

In 1967ís A Challenge for Robin Hood, Barrie Ingham (The Day of the Jackal) dons the Lincoln green as he and his merrie men hide out in Sherwood Forest after his cousin (Peter Blythe, Frankenstein Created Woman) frames him for murder. This action-packed adventure features acting support from Gay Hamilton (Barry Lyndon, The Duellists) and Leon Greene (Adventures of a Private Eye, Adventures of a Plumberís Mate).

This 2-disc Limited Edition set contains a double-sided poster, an 80-page book, and extensive new and archival extra features, including the much-loved Childrenís Film Foundation film Robin Hood Junior (1975), starring Keith Chegwin (Multi-Coloured Swap Shop, Cheggers Plays Pop) as the diminutive hero.

Video


Hammer had made one Robin Hood adventure prior to Sword of Sherwood Forest (1960), which had actually been their first colour production: Val Guest's Men of Sherwood Forest (1954). Sadly, the rights to that entertaining little film lie elsewhere (Network?). Hopefully we'll see a restored BD at some point.

The Sword of Sherwood Forest was made as a spin off from the popular ITC television series The Adventures of Robin Hood which had lasted for 143 25 minute episodes between 1955 and 1959. It had been a global success and was considered the definitive TV portrayal in certain quarters (at least until the 1983-85 Robin of Sherwood series). This enjoyable film essentially stands alone and only has the programme's Robin Hood ported over, the fore-square, charismatic Richard Greene. Sadly, all other lead roles were recast. That said, the film's cast are topnotch.

The film premiered on Boxing Day 1960 (coupled with the brisk espionage drama Visa to Canton) and was a perfect tonic for stressed families to pack off the small fry to the cinema for the afternoon thus granting the adults some peace and quiet after the Christmas festivities of the previous few days. Terence Fisher, one of Hammer's primary directors, uses the widescreen frame extremely well, filling it with colour and spectacle. The cast are all excellent, Alun Hoddinott's score the perfect accompaniment to Fisher's well-staged action set pieces. A gem, filmmaking from a more innocent era when the grim sat side by side with humour, adventure, wit and most importantly they rarely outstayed their welcome with bloated running times (Sword runs a mere 80 minutes).

Lincoln Green never looked so vivid! After the monochrome 1.37:1 antics of the TV production this widescreen MegaScope, full-colour feature must've blown many little minds. Hammer were known for their vivid colour cinematography, colourful production design and locations. Their swashbucklers were all shot in anamorphic widescreen processes and MegaScope was the one chosen for Sword. To quote the American Widescreen Museum:


There are two different versions of this particular format. If 'anamorphic' is listed in parentheses directly afterward, then the film was shot in 4-perf 35mm anamorphic. If 'spherical' is listed directly afterward, that means the 2.35:1 image was extracted from an Academy frame and printed 4-perf 35mm anamorphic. Where no such designation is given, that means the photographic configuration is unknown and the entry will be marked with an asterisk, awaiting confirmation one way or the other.


In the case of this film, they list it with the 'A' for anamorphic, se we're dealing with a 4-perf, 35mm production shot using anamorphic lenses. There are some telltale signs of mild distortion towards the left and right edges of the wide frame but technically minded viewers will know this, others need not worry as they're very mild and most wouldn't notice them.

Colours are vivid but green is especially noteworthy, outfits, trees, grass ... all very lush. Flesh tones are warm, primaries such as red (check out Desmond Llewelyn's cloak!) are striking and it's all very well defined with no bleed. Purples such as the sherif's men's outfits are velvety and textured. This is a beautifully shot film given a fabulous Sony master and a beautifully encoded transfer. Despite what some reviewers have reported black levels and contrast are perfect creating an image that almost has 3D qualities. Grain and grain management are filmic and provide the widescreen image with a lovely texture.

About as good a presentation of this film as I have seen and I've watched it many times starting with panned and scanned television broadcasts, sell thru VHS releases and DVDs ('A').

1080p24 / MPEG-4 / BD50 / 2.35:1 / 79:56

Audio


English LPCM 1.0 (48kHz)
Subtitles: English HoH

A strong, clear mono track that has been restored as well as the image. It lacks range and depth obviously but it's robust, dialogue is very clear and sound effects and score never intrude on clarity. When cranked up loud in volume distortion only occurs with large musical crescendos, but nothing to get het up bout. Pretty standard for a soundtrack of this vintage and budget. The usual excellent hard of hearing subtitles are provided and they translate every shred of dialogue and nuance, at least in the sections I sample ('B+').

Extras


Audio commentary by historians Barry Forshaw and Kim Newman (2022)

This commentary from two familiar names covers all the bases one would expect: casting, key crew, Hammer and their approach to these swashbucklers. An excellent track presented in lossy Dolby Digital 2.0 mono.

"Interview with Terence Fisher" 1967 interview that plays as an alternate audio track over the film (75:51)

The jewel in this set's crown! A rare and fascinating chance to hear Fisher speak (1904-80) and the track covers such topics as the types of people who like horror films, the appeal of horror, critical vs public recognition, artistic approaches, the popularity of the Dracula stories, belief and superstition, the nature of vampire stories and the psychological approaches to telling them and the way the audience reacts to them. We also get some interesting anecdotes about how Fisher got into the business working for Michael Balcon. Sound is less than optimal with some hiss, but it was made as a record or for a print interview. There's road sounds and other ambient noise as well from time to time. There is some distortion but the rarity of recordings of Fisher more than make up for the shortcomings. Presented in lossy Dolby Digital 2.0 mono.

"The British History Entertainment Project (BHEP) Interview with Sidney Cole conducted by Alan Lawson, Arthur Graham, and Rodney Glesler" 1987 interview that plays as an alternate audio track over the film (79:40)

Producer Cole gets the limelight here in another superb vintage screentalk that covers his career in depth. Presented in lossy Dolby Digital 2.0 mono, this track has far less issues to report than the Fisher talk, but it was recorded with technology twenty years more advanced as is obviously also younger.

Isolated Music and Effects Track in LPCM 1.0 (48kHz)

Alan Hoddinott's score and the film's sound effects in uncompressed LPCM 1.0.

"Riding Through the Glen: Jonathan Rigby on Sword of Sherwood Forest" 2022 interview (28:48)
"A Hero's Fanfare: David Huckvale on Composer Alun Hoddinott and Sword of Sherwood Forest" 2022 interview (22:40)
"All in a Quiver: Continuity Supervisor Pauline Wise on Sword of Sherwood Forest" 2022 interview (6:15)
"Merry Memories: Dennis Lotis on Sword of Sherwood Forest" 2022 interview (3:52)

61:35 worth of new retrospective interviews presented in 1080p24 1.78:1 with uncompressed LPCM 2.0 stereo sound. Rigby covers the whole Hammer swashbuckler thing, Huckvale the composer Hoddinott and Wise about working on the films themselves. All are well known commentaries and interview subjects on these releases. Also, we have great interview with the much less seen Lotis (also in proto-Amicus' City of the Dead) who is extremely engaging and informative in his short piece.

"Play it Again with Tony Bilbow: Richard Greene" 1981 TV episode (22:59)

A vintage London Weekend Television production with all the usual issues of vintage PAL videotaped production taken off the shelf. Colours can have some very mild bleed but are fairly solid, perhaps a shade washed out but that's probably how they've always looked and not helped by the bright studio lights (tjis is an interview in front of an audience). It's a treat to see Greene talking about his career, especially considering he was not long for this world at that point (1918-85). Lots of great stories and anecdotes here. Presented in standard definition with uncompressed LPCM 2.0 mono sound.

Theatrical Trailer (1:53)

Vintage promo piece presented in 1080p24 2.35:1 and with LPCM 1.0 sound.

Sword of Sherwood Forest Image Gallery: Original Promotional Material (63 images)

An 80-page liner notes book by Frank Collins, an article on Richard Greene, archival materials, contemporary reviews, and film credits

The usual superb hardcopy companion in which Sword of Sherwood Forest is obviously covered extensively throughout along with Hammer's other Robin Hood projects although the two main films and Robin Hood Jr. get the lions share of the coverage. There's also a fine article on the real Robin Hood legends.

A limited edition exclusive poster

Alas, this wasn't provided for review but having had some of Powerhouse's posters in the past it's on good quality paper, great colour reproduction.

Packaging


At the time of writing, unknown.

Overall


Disc one of Powerhouse's superb and very welcome Hammer Robin .hood double bill is one of the discs of the year fo me. I have always loved Hammer swashbucklers and the two on this set are among their very best. Sword of Sherwood Forest is one of the earliest TV spinoffs, a subset of filmmaking Hammer excelled at (Quatermass to On the Buses). The film looks and sounds superb considering it's modest origins and age. This sounds like Im damning with faint praise, but I'm not. The transfer here is demo level for an early '60s period action spectacular and the fine locations and production values look a peach. I wouldn't be surprised to find that modern children would be surprisingly captivated by this jolly outing. Extras are absolutely topnotch and of the highest quality with vintage screen-talks rubbing shoulders with a superb commentary and a clutch of mainly new interviews (and one priceless vintage one) all lf which are essential for Hammer buffs. Highly recommended!
| | | | | |
| --- | --- | --- | --- | --- |
| The Film: A- | Video: A | Audio: B+ | Extras: A+ | Overall: A |