No Blood No Tears
R1 - America - Genius Products
Review written by and copyright: Jeremiah Chin (11th November 2008).
The Film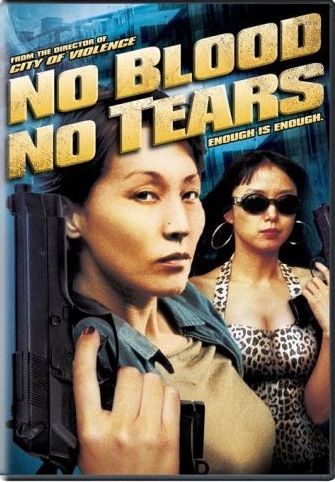 The heist and mob movies aren't my particular favorite mainly since it feels like most of the time they've been done before and almost every time you have to see the charming crooks get away with a clever crime. And while it can be formulaic, it can also be incredibly entertaining, if done well and done right, taking a more unique look at the encounter with some great directing or style or just being well enough written and directed to make it enjoyable to watch. Not only does "No Blood No Tears" (2002) accomplish an exciting and fairly fresh take on the mob/heist movie, but it's got some great action and characters to go along with it; though it's hard to expect less from "City of Violence" (2006) director Ryu Seung-wan.

With a DVD cover that looks like it could easily be a remake of an old blaxploitation movie, "No Blood No Tears" follows wearied taxi cab driver Keyong-seon (Hye-yeong Lee) who has a constantly gets bothered with drunks trying to harass her or throw up in the back of her cab. Even once she tries to find some peace and quiet at home she's frequently bothered by a couple of incompetent mobsters because of her fairly deep debt. So once Soo-Jin (Jeon Do-Yeon) the girlfriend of a gangster comes along with a tantalizing offer to get away with some money, Keyong gets drawn in deeper to the crime world.

First and foremost with an action movie should be the action, which definitely does justice to the promise of the film. About half way through there's a near 10 minute constant fight scene between a pair of gangsters that's incredible to watch thanks to the great fight co-ordinating. What makes this even better though is Ryu's keen visual style that doesn't do too much of the shaky-cam dance around the scene that has a tendancy to obscure the action. Instead Ryu's focus on the inteinsity of the fight in all of the different scenes brings a great edge to the film.

The rest of the story surrounding the heist, the mob and gangsters keep the story moving, using the action to a great extent to really push the movie to another level. Though it's sometimes viewed as a bonus, or even frivolous, part of the action or heist-drama are the characters, which in this case are not only well played but enjoyable to watch as well. The twist and heist itself are fine enough, but the film does a good job of not using it as a crutch to try and make the rest of the plot revolve around it alone. Perhaps the most pleasant surprise of the film is its comedy, ranging from some really clever jokes to some funny bumbling low-level gangsters who could almost be the Korean doppelgangers of the trio from "Survive Style 5+" (2004) though not nearly as memorable or funny. Complimenting the story is a well put together cast that helps to carry both the action and more ridiculous humor scenes of the movie, though Jeon Do-Yeon does an especially good job.

Overall "No Blood No Tears" is an incredibly entertaining action film that has some great fights and a surprising amount of comedy, despite a few plot lines that seem a little thrown together. There's more than enough to make up for any confusions or odd choices in the film, the fight scene in the dog-fighting arena is truly a sight to behold and worth a look for anyone looking for some good action.

Video


Presented in 1.85:1 anamorphic widescreen, "No Blood No Tears" is really nice to look at in terms of the director's style and the overall composition of the film. Unfortunately the transfer isn't quite as good as it could be with some grain and artifacts that show up here and there that are noticeable but not too upsetting to the movie itself.

Audio


The Korean Dolby Digital 5.1 audio track has some good sound mixing and all the levels within the film sound right. The soundtrack of the movie has a great feel that adds to the movie with a borderline ridiculous jazzy soundtrack that's almost a throwback to 70's exploitation crime movies.
There are English Subtitles to compliment the Korean audio.

Extras


Nothing whatsoever.

Overall



| | | | | |
| --- | --- | --- | --- | --- |
| The Film: A- | Video: B- | Audio: B+ | Extras: F | Overall: B- |

---
DVD Compare is a participant in the Amazon Services LLC Associates Program and the Amazon Europe S.a.r.l. Associates Programme, an affiliate advertising program designed to provide a means for sites to earn advertising fees by advertising and linking to amazon.co.uk, amazon.com, amazon.ca, amazon.fr, and amazon.de.