Lewis Black's Root Of All Evil: Uncensored
R1 - America - Paramount Home Entertainment
Review written by and copyright: James Teitelbaum (14th November 2008).
The Show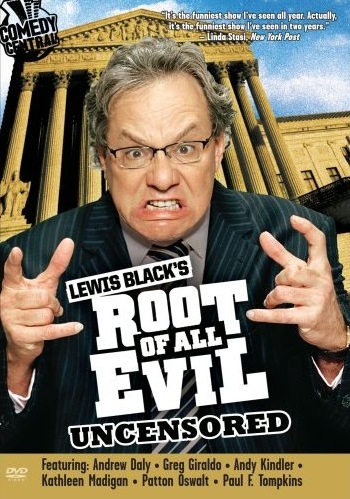 Stand-up comedian Lewis Black takes on the persona of a rather high strung judge in this Comedy Central series. After pitting two things that Lewis finds equally reprehensible against each other, and then briefly introducing each of the people or cultural phenomenon to be 'tried', a pair of guest comedians will show up in the guise of lawyers to state their case. These lawyers are both prosecutors however; the arguments are always scathing indictments, and never contain a word of praise. The lawyers will also conduct interviews with random people n the street to bolster their cases, and will use free-association to produce scenarios about what might happen if the people or situations on trial are left unchecked.

Black will eventually declare one of the people or things under scrutiny to be the more evil of the two. This two disc set contains four episodes per disc. Squaring off against each other are "Oprah vs. The Catholic Church", "Weed vs. Beer", "Donald Trump vs. Viagra", "YouTube vs. Porn", "Las Vegas vs. The Human Body", "American Idol vs. High School", "Kim Jong-Il vs. Tila Tequila" and "Paris Hilton vs. Dick Cheney".

The humor here is almost without boundaries as the battle for what is most loathsome in our world goes into some pretty outrageous places. In particular, the Catholic Church versus Oprah episode pits one of the world's major religions against a real human being; the possibility for either mass outrage or lawsuits are legion. That said, Paris Hilton versus Dick Cheney involves real people too, but they're two of the most widely made fun of people in America anyway, so they're probably used to it.

Humor, of course, is among the most subjective things in the world, so I can't tell you if you'll find this funny. I chuckled a few times and found some of the writing to be clever. Black's persona can become grating at times; he is high-strung, truculent, and loud. He must be particularly exhausted at the end of each day of filming - if I had his enegry, I'd be running the country by now.

Video


Aspect ratio is 4:3. Video quality is fine; the courtroom trial parts are filmed on a standard television stage set and have no technical problems. Found footage and things shot on the streets (interviews, et cetera) vary widely, of course. No cause for complaints, no need for praise.

Audio


"The Root of All Evil: Uncensored" is presented in English Dolby Digital 2.0 stereo, with no subtitles or alternate languages. The only way to describe the audio here is "loud". Black likes to shout, and even when he is whispering, he is shouting. This man is full of aggression, and his voice comes through loud and clear.

Extras


Paramount has released this film with a collection of interviews, featurettes, some Comedy Central quickies and bonus trailers. Below is a closer look at these supplements which are all featured on the first disc.

Post Show interviews runs for 33 minutes; and is a collection of expanded takes of interviews that normally appear during the closing credits of each episode.

"Your Day In Court" runs for 3 minutes 11 seconds; and is a parody of a 1950's-style educational film about courtrooms.

"Meet Judge Black" featurette runs for 1 minute 30 seconds; and is a short interview with Black about the show.

"Meet the Lawyers" featurette runs for 2 minutes 47 seconds; Black talks about his guest stars.

"Politibit" featurette runs for 1 minute 4 seconds; in this clip Black gives advice to politicians.

There are four Comedy Central quickies for:

- "Reno 911: Prostitution Sting" which runs for 2 minutes 8 seconds.
- "South Park: It's Just Gone" which runs for 2 minutes 31 seconds.
- "The Daily Show: Baracknophobia" which runs for 2 minutes 11 seconds.
- "The Colbert Report: Cookie Monster" which runs for 2 minutes 12 seconds.

Rounding out the extras are bonus trailers for:

- "Reno 911: Season 5" which runs for 16 seconds.
- "South Park: Complete 11th Season" which runs for 1 minute 22 seconds.
- "Kenny vs. Spenny" which runs for 1 minute 22 seconds.

Overall



| | | | | |
| --- | --- | --- | --- | --- |
| The Show: B | Video: B | Audio: B+ | Extras: C | Overall: C- |

---
DVD Compare is a participant in the Amazon Services LLC Associates Program and the Amazon Europe S.a.r.l. Associates Programme, an affiliate advertising program designed to provide a means for sites to earn advertising fees by advertising and linking to amazon.co.uk, amazon.com, amazon.ca, amazon.fr, and amazon.de.