Magnum Force: Deluxe Edition
R4 - Australia - Warner Home Video
Review written by and copyright: Shane Roberts & Noor Razzak (18th November 2008).
The Film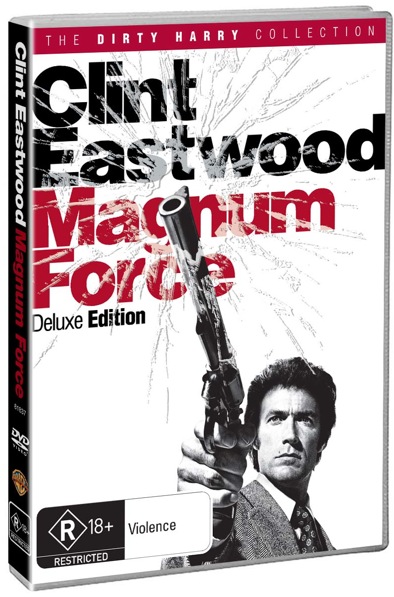 Underworld criminals of San Francisco who have escaped prosecution through technicalities have starting becoming victims of a string of vigilante assassinations. With the killers leaving no clues or witnesses city officials are forced to assign the case to the best man for the job, the controversial but always effective 'Dirty Harry' Callahan (Clint Eastwood). In one of its references to the western genre that it was so obviously influenced by, "Dirty Harry" ended with homage to "High Noon" (1952). That film ended with Gary Cooper throwing his sheriff's badge away because the townspeople who had expected him to protect them were too gutless to support him. Harry threw his away because he felt his superiors and the court didn't have the guts to support him in doing his job the way it needed to be done. Not much has changed for Harry in "Magnum Force" – he's still back on the job because, while he despises the bureaucracy in the system, he also still believes in its original ideals… and, there are still plenty of punks running loose.

Sequels are always compared to the originals and usually don't measure up. This one however is definitely equal to and in some ways better than its predecessor. The plot is more complex and contains some surprising twists, there's great character development and a lot more action. People have questioned and criticised Ted Post being chosen as director because he had mostly worked in TV and his highest profile film was badly received ("Beneath the Planet of the Apes" (1970)). A bit closer look at his credits shows one key thing he had in common with "Dirty Harry" director Don Siegel, he'd already worked with Clint several times. He'd directed 24 episodes of Clint's TV show "Rawhide" (1959-1966) and then in 1968 he directed "Hang 'em High", Clint's first western in the US after he became famous in the Sergio Leone spaghetti westerns. During filming one of the producers tried to fire Post but Clint threatened to quit if it happened so he was obviously someone Clint respected and enjoyed working with. He did a great job on this and it is easily his best film and a perfect example of a classic 70's cop thriller. It's fast moving and action packed but very well paced with great cinematography (lots of great angled shots), editing and another stylish Lalo Schifrin score.

Clint of course couldn't be better or cooler as Harry. He's as naturally comfortable in the role as Sean Connery as Bond or Harrison Ford as Indiana Jones, and he makes Harry a very human character as well as a larger than life one. We see a bit more of his lonely private life in this film and how he really won't let himself have anything outside of his job. The rest of the solid cast is made up of well known character actors including Mitchel Ryan as a burnt out cop, Hal Holbrook (who recently was nominated for an Oscar for his supporting role in 2007's "Into the Wild") as Harry's new disapproving boss and then-future stars David Soul, Robert Urich and Tim Matherson as a group of hot shot young cops who Harry hopes will carry on his tradition.

"Magnum Force" is one of the best sequels to one of the best films and another Clint classic.

Video


Presented in the film's original theatrical ratio of 2.35:1 this film has been newly restored and remastered for this edition from the film's original elements. And much like the original film in the series this looks pretty good for a film of its age. There are occasional soft shots and some specks that pop up but overall the image is clean, mostly sharp and color remains well rendered. Skin tones appear natural and blacks look deep although grain does impact on the black levels at times.

Audio


Three audio tracks are included in English Dolby Digital 5.1 surround as well as German Dolby Digital 1.0 mono and Spanish Dolby Digital 1.0 mono. For the purposes of this review I chose to view the film with its English soundtrack. Like the previous film, this one has been up-mixed from the original mono track (which sadly has not been included on this disc, which will annoy purists). The dialogue is strong, crisp and clear and the film's score also comes across well. However the track lacks suitable depth and range, at times it's a bit hollow which is a problem with up-mixed tracks. Overall it's an OK track with some flaws based on the fact that it's been expanded into a 5.1 mix.
Optional subtitles are included in English, English for the hearing impaired, Czech, Danish, Estonian, Finnish, German, German for the hearing impaired, Norwegian, Spanish and Swedish.

Extras


Warner Brothers has released this film with an audio commentary, a couple of featurettes and a series of theatrical trailers. Below is a closer look at these supplements.

First up is a feature-length audio commentary by co-screenwriterJohn Milius. While Milius is an excellent writer and competent director he's a bit bland as a commentator. While he provides a lot of decent information about the film, it's script and development which offers fans an insight into the sequel there are far too many gaps to make this track worth listening to. Warner Brothers would have benefitted by including other participants to carry the track with Milius such as the film's director perhaps...

"A Moral Right: The Politics of Dirty Harry" featurette runs for 24 minutes 11 seconds, takes a look at the times in which these films where made and how they are reflected in the films as the clip features interviews with various cast, crew and historians. The clip features an in-depth look at the social impact of the films and their relevance.

"The Hero Cop: Yesterday and Today" featurette runs for 8 minutes 4 seconds and is a vintage EPK clip used to promote the film. It looks at the character of Dirty Harry and other screen cops. It's short and fairly interesting but nothing worthy or repeat viewing.

There's a "Dirty Harry" trailer gallery that features:

- The original theatrical trailer for "Magnum Force" which runs for 2 minutes 13 seconds.
- "Dirty Harry" which runs for 3 minutes 19 seconds.
- "The Enforcer" which runs for 2 minutes 9 seconds.
- "Sudden Impact" which runs for 1 minute 22 seconds.
- "The Dead Pool" which runs for 1 minute 24 seconds.

Overall



| | | | | |
| --- | --- | --- | --- | --- |
| The Film: A- | Video: B- | Audio: B- | Extras: C | Overall: C+ |

---
DVD Compare is a participant in the Amazon Services LLC Associates Program and the Amazon Europe S.a.r.l. Associates Programme, an affiliate advertising program designed to provide a means for sites to earn advertising fees by advertising and linking to amazon.co.uk, amazon.com, amazon.ca, amazon.fr, and amazon.de.