Live Free or Die
R4 - Australia - Warner Home Video
Review written by and copyright: Pat Pilon & Noor Razzak (20th December 2008).
The Film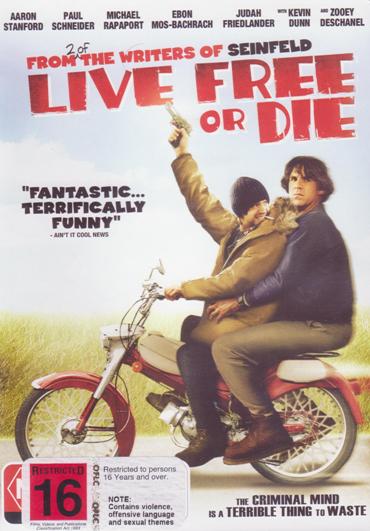 For an indie comedy, this movie is pretty funny. I don't mean to be facetious, but sometimes indie comedies try very hard to be funny only to fail miserably in self-importance and faux-witty dialogue. This movie has none of that. It's simple and funny, with quirky, yet believable, characters going through their own quirky lives.

The movie follows petty crook John Rudgate (Aaron Stanford) as he tries to make his way to the top, which, given his current location of New Hampshire, seems to be a little bit on the difficult side. He manages to get himself into more trouble than he wanted, which is fine by him. He always manages to bounce back and find a way to exploit the situation for himself.

Aaron Stanford brings out this character perfectly. 'Rugged' Rudgate is an interesting guy. How menacing can you be when nobody knows you're doing bad things and everybody laughs at you? His ambitions are high and Mr. Stanford's performance is a spot-on mix of desperation and geeky cluelessness. Mention also has to go to Paul Schneider, who's slow-witted lackey, Legrand, is a perfect complement to Mr. Stanford's Rugged. The team works great together.

Directors Gregg Kavet and Andy Robin (who both worked on the famous Soup Nazi episode of 'Seinfeld') do a nice job with their theatrical debut. They give the perfect mix of comedy, drama and quirkiness. The dialogue is nothing special but the performances make everything work together. The directors are going to be a team to watch.

The movie is a joy from start to finish. Though on first viewing it may not seem all that great, the movie stays with you and gets better after a while. This is how I felt and I realised how original and intelligent it was. Everything gels together and ends up being a lot of fun. It's a smart movie that doesn't try to overstep its bounds, which is why I like it so much.

Video


Presented in a widescreen ratio of 1.78:1 this anamorphic transfer is a fairly decent effort for a small independent picture. The image is mostly sharp, although there are some (but only few) soft spots. There's light grain but never distracting, overall the image is clean and dirt free. The image looks good with excellent amount of detail shown, colors look good although muted, blacks are deep and shadow detail remains consistently good and skin tones appear natural.

Audio


The film features a single audio track, an English Dolby Digital 2.0 stereo. The film's audio seems a bit limited, and could have used more depth to immerse the viewer, but the film is mainly dialogue based and the stereo track, although limited, does the trick. The US Region 1 features a 5.1 track which would have been nice of Warners to port over but they chose not to. Score, music and what little ambient sound makes decent enough use of the 2.0 sound space.
The film doesn't feature any optional subtitles.

Extras


The only extra feature that Warner Brothers has included on this disc is the film's original theatrical trailer which runs for 1 minute 47 seconds.

Overall



| | | | | |
| --- | --- | --- | --- | --- |
| The Film: A- | Video: A | Audio: B | Extras: F | Overall: C- |

---
DVD Compare is a participant in the Amazon Services LLC Associates Program and the Amazon Europe S.a.r.l. Associates Programme, an affiliate advertising program designed to provide a means for sites to earn advertising fees by advertising and linking to amazon.co.uk, amazon.com, amazon.ca, amazon.fr, and amazon.de.