The Film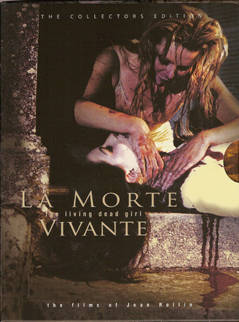 If you´re used to seeing the more artistic and gothic horror films by the French director/co-writer Jean Rollin, the opening scene of "The Living Dead Girl" might surprise you; three men are bringing some kind of "toxic waste" barrels to a cemetery crypt, for disposal, since people rarely go inside these places. While they´re at it two of them decide also to rob the graves that are located in the cellar of the crypt, since two coffins are lying there. When they go to work, a sudden earthquake hits, and some of the barrels fall to the ground, letting the chemicals and their fumes loose. These chemicals have a sudden and violent effect to one of the bodies, and the body of Catherine Valmont (Françoise Blanchard) is resurrected from the dead. What you have next are not that typical images to Rollin, since Catherine will kill the two of the men in a bloody way (e.g. fingers in the eyes), and a third man is killed when the chemicals burn his face. All is done in a gory way, thanks to the special make-up effects by Benoît Lestang. Ah, another gory horror-film then from the 1980s?

Not quite. Many times in certain films you have to be more open minded and patient than what you see e.g. in the opening scenes, and in this one the scenes after the crypt reveal the other side of the story, which will bring some interesting contrast to the bloodbath that you just saw. Catherine is now "The Living Dead Girl", so she follows her primal instincts and goes to her old house - owned by her family at some point. The mansion is now pretty much empty and is for sale. There she finds her old toys and photos, and old memories are starting to come back, making her sad and confused. Since she is now dead, she has to first learn to understand who she actually was, and the most vivid memory is from her childhood, where she had a very close friendship with the girl named Helene (Marina Pierro). We learn from her flashbacks, that they promised to love each other forever. Again, these sad and haunting memories turn into gore-effects, when Catherine kills the real estate woman and her boyfriend that spend the night in the house. After that Helen herself calls to the house, hearing the theme of the music box played by Catherine, and rushes to the house. She sees the dead bodies and meets again Catherine, and like the old oath of eternal friendship would command her, she hides the bodies and helps her best friend, even the dead one..

"The Living Dead Girl" succeeds where some other films have problems, since it manages to bring a touching and sad story, whilst adding some gore-effects to the film, and these effects don´t make the film any less touching. Usually the films (e.g. slasher-films) that operate heavily with bloody make-up effects and such are not very strong with the storytelling, but in this one Rollin brings some genuine emotions to the screen. Like in any movie, if you feel sad for the "villain", the film has partly succeeded by creating a believable character. But who is the real evildoer in this film? Is it Catherine, who is now a living dead woman, and needs blood to nourish herself, or Helene, who will become obsessed with her old friend, delivering her victims in a cold-blooded way? When the story progress, Catherine will understand more and more of her actions, and at the same time the viewer will feel for her also more. Like in so many times with films by Rollin, two lead women characters will carry the film through, adding a variety of emotions and this time bringing also good acting into the play (let´s face it; Rollin usually uses more amateur actresses in his films, even in the lead roles).

To make the story more interesting (not necessarily better), the American couple Barbara Simon (Carina Barone) and her fiance Greg (Mike Marshall) are intrigued by the mystery of Catherine, since Barbara accidentally shoots a photo of her. She has the determination to find out who is the girl in her photo, and the truth might not be exactly what they had in mind. These two actors (all Americans in the film are carrying a camera, so that´s how you recognize them) actually speak English in the film, so the original French-track also has some scenes in English.

Since Catherine is needing human blood, but is also technically a zombie, we get a very interesting combination of Rollin´s gothic horror, and more modern horror with gore-effects. I personally enjoyed both sides of the story, and the violent scenes are quite effective. Special make-up effects artist Lestang is keeping those scenes very messy, but there are some scenes where his effects are a bit amateurish. From what I undestand, these type of effects were kind of new in France at that time (even when Italians and Americans did those type of films all the time), and this was the first big job for Lestang (he has worked ever since). Locations keep the visual images closer to the style of Rollin, even if the film is a bit different from his usual films and the film is made in 1982 (many films from the 1980s have the tendency to look, well, "1980s"). Both lead actresses do a good job in the film, but it´s still Françoise Blanchard who you´ll remember, and obviously the quite stunning ending sequence will probably stay with you for a while.


Video


The second wave of Rollin CE-releases by Dutch "Encore Filmed Entertainment" have now arrived, and I was really pleased to see that the quality in "The Living Dead Girl" is very good. The film is presented in Anamorphic 1.78:1, and this release is using "dual layer"-discs, which is keeping the bitrate usually at a high level, and there are no problems with compression artifacts. Again there is a certain amount of line shimmering, but the transfer is clean (only occasional film artefacts), colors and skin tones are strong, and although there are some shots that are a bit on the softer side, the transfer is usually sharp. Black levels are also satisfactory. There are some scenes (.e.g in the end on the riverbank) that looked slightly more restless and grainier than others, but I believe those were the results of the age of the source material, rather than the transfer itself. Another solid transfer by "Encore". Dual layer disc is R0, the film runs 86:16 minutes (PAL), and it has 8 chapters.

Audio


This time the disc has two audio tracks; French Dolby Digital 2.0 Mono, and German Dolby Digital 2.0 Mono. Like with the earlier releases, 11 different foreign subtitles are included: English, Dutch, German, Italian, Spanish, Portuguese, Finnish, Danish, Norwegian, Swedish, and Polish. I obviously listened to the French-track, and although the track was a good effort and dialogue most times clear and well balanced, it had a constant "hiss" in the background. This might be a bit distracting, but once you´re drawn into the film, you don´t really notice it that much, and the track is not by any means "bad". Like I said earlier, some scenes (mostly with the American couple) are in English with the French-track, and there are no French subtitles for them. I sampled the German-track also, which is inferior to the French-track (although louder) since it has more background noise. The German-track seemed to be using different musical cues at least in some scenes, and the English parts were dubbed in German. Since the German track is included, it would´ve been fun to hear the full English dubbed track for reference, since what I understood from the extras, the film was also at least partly dubbed in English by the actors from the film. I believe it was also technically dubbed in French also, since the old camera was stolen, and the new camera was so noisy, that they couldn´t always use the production sound.

Extras


Like the earlier releases, "The Living Dead Girl" is a 3-disc set, packaged in a quality foldout digi-pack, which is placed in a cardboard slipcase. Along with the discs there´s a 64-page book in English. This time the "Disc 3" is actually a soundtrack CD.

Disc 1
The first disc has the film in Anamorphic 1.78:1. Before the film you can watch a brief "Introduction" -featurette from the actress Françoise Blanchard, which run 28 seconds (it´s in French, and with optional English subtitles). The disc has also the original French Theatrical trailer (1.28 min), which is actually a very good one (don´t watch it before the film though).

Disc 2
The second disc starts with an "Introduction" -featurette from Jean Rollin, which runs 13:11 minutes (it´s in English, and no subtitles). Rollin tells how he (and also the producers) wanted to do something different, a more horror-orientated film, and he also revels how afraid he was confronting the lead actresses at first, since they were real professional actresses this time. He also tells about the story and special make-up effects.

Audio commentary by actress Françoise Blanchard with moderator (recorded in May, 2005) is next, and it´s in French and with optional English subtitles. The commentary covers only 26:55 minutes of the film, roughly 10 scenes from it. Blanchard is relaxed and funny, telling about Rollin and giving some background of certain scenes. She e.g. reveals that the other body in the coffin at the opening scene is the wife of the producer, and that her co-actress Marina Pierro was dubbed in the French version by the other actress, since her French wasn´t very good (she was Italian). She also talks about her method not to blink her eyes, and is keen to point out all the amateur actors in the film. She tells about her tetanic fits during the ending scene, and she also talks about the "American ending" that they shot (too bad that it´s not included in this release as an extra). There are some gaps in the commentary, so in the end we don´t get that much information, but it´s interesting to hear that she still likes to talk about the film such a good way.

Next we have the first of three interviews on the disc, and we get the interview -featurette with, surprise, the actress Françoise Blanchard (in French, with optional English subtitles). This time the still beautiful actress speaks about her acting career, and how she worked with such a legendary cult directors like Rollin and Jess Franco, and she also tells about the times in "Eurocine" (which was the successful production house of the low budget European horror and erotic films at the time). She also tells about the special make-up effects, and how she had to cope with those issues during certain scenes. Based on her, many of those scenes were also improvised. Blanchard is honest and has a witty personality; who obviously isn´t in the least bit embarrassed by her involvement in these more low budget movies (and why should she be?). Interview was conducted in Amsterdam, May 2005, and it runs 22:00 minutes.

Then there´s an interview -featurette with Jean-Pierre Bouyxou, which was done in Paris, August 2005, and it runs 30:14 minutes (it´s in French, with optional English subtitles). Bouyxou has been part of several films by Rollin, as an actor, assistant director, and "general assistant" (probably also uncredited sometimes, not sure), and he has also been working with Jess Franco. He´s clearly enthusiastic about working with Rollin (he calls Rollin a "poet and visionary") and seems to love the low budget and exploitation -movies generally. He´s a bit too much of a "french intellectual" at times, but you can´t help but find this interview interesting and warm. He has also some funny stories about the "Train spécial pour SS AKA Love Train for SS (1977)"-film, which is truly what some of the "Z-films" are all about.

Last interview -featurette is with composer Philippe d' Aram, recorded in Paris, October 2005. It runs 15:38 minutes, and is again in French, with optional English subtitles. He talks about his background and his history as a film composer, and of course his relationship with Rollin. Like many others who have worked with Jean Rollin, d' Aram is also saying many very nice things about the director, and Rollin liked the way that in some cases d' Aram could start to compose the music based on the screenplay. He also tells that he played most of the instruments by himself in the score of "The Living Dead Girl". On a side note, there were some audio dropouts during the interview, but nothing major.

Next we have a little vague and random collection of -alternate scenes presented anamorphically, which are bundled together and run 3:17 minutes. This section includes 3 scenes, which don´t offer that much for me at least. No, "alternate American ending" is not included, but we have a scene from the dance at the village near the end, where the American couple have a conversation; then we have a scene of the real estate woman on the phone, this time speaking in broken English; and last we have a B&W scene where the real estate woman and two American clients are looking at the mansion (which ends in color by the way). A brief text introduction to these scenes would´ve been nice, but I guess these are just random "alternate scenes", with no special meaning. Obviously this addition doesn´t hurt.

Photo gallery is included (4:09 min), which has the score in the background, and which includes some stills and behind the scenes-photos.

Disc 3

Last disc is actually a soundtrack CD, which includes the "Original musical score by Philippe d' Aram" as follows:
1. La Morte Vivante (3:18 min)
2. La Découverte Des Caveaux (2:53 min)
3. La Boite à Musique (1:28 min)
4. Frottements (1:31 min)
5. Dans La Crypte (1:19 min)
6. Le Bal – Slow (3:24 min)
7. Le Suicide (1:45 min)
Total running time is only 15:45 minutes, but the subtle and sad music by d' Aram on a proper CD is a very welcome addition to the disc, even if the CD is very short (maybe next time they could dig deeper, and add "alternate takes" of the soundtrack etc).

64-page book in English is also included, which includes mainly color photos, and an essay from Jean Rollin (October 2005), where he tells about the production and actors. The quality of the book is again high, and it´s always nice to read stories from the man himself.


Overall


Another great package from "Encore", where the quality and extras will probably satisfy even the biggest fans. The film itself also offers something for many different viewers, so the film is also recommended.

For more info, please visit the homepage of Encore Filmed Entertainment.
| | | | | |
| --- | --- | --- | --- | --- |
| The Film: | Video: | Audio: | Extras: | Overall: |