The Show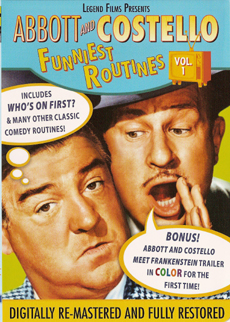 "The Colgate Comedy Hour (1950-1955)" (its final season was known as "The Colgate Variety Hour") is one of the best-known, live musical-variety TV-shows in America, where it runs on the "NBC network" on a weekly basis. Originally it was hosted (rotating) by Eddie Cantor, "Martin and Lewis" (Dean Martin and Jerry Lewis) and Fred Allen, but later on several "guest hosts" were introduced. One of them was a popular duo "Abbott and Costello", including Bud Abbott and Lou Costello. By the time "Abbott and Costello" first appeared on television in 1951 on "The Colgate Comedy Hour", they had already made over 25 movies (the majority at "Universal Studios"), along with several radio shows. It´s safe to say, that they were the comedy superstars through the 1940s.

The success of "Abbott and Costello" was based on the familiar comedy-formula during the "golden days"; Abbott was the smart and witty "straight-man", while Costello being the goofy, comical "funny man". It was also the chubby Costello, who usually handled the "slapstick"-humour, bumping on doors, getting constantly wet or just being slapped in the face by his partner. The trademark of the duo was also a series of different comedy "routines", short sequences that they could add (with slight changes) to almost any project. And that they did. "Who's on First?" was their most famous routine and they performed it many times during their career. It was also one routine among the many that was included in the "The Colgate Comedy Hour" show (and eventually to this DVD compilation). "Abbott and Costello" were a skillful comedy team, that could easily carry the majority of the whole movie (since they couldn´t really sing or dance, musical numbers were usually added by the featuring singers or acts), but it was those "routines" that made them truly memorable. It didn´t even matter that the same (or similar) routines circulated over the years in the different "Abbott and Costello"-projects, so many people heard them first on the radio, then on the feature films and eventually also on TV. If it isn´t broke, why fix it?

"Abbott & Costello: Funniest Routines - Vol. 1" is a compilation of their most famous performances on "The Colgate Comedy Hour", all in front of the live studio audience. Like the introduction states, it includes several "bloopers" also. Sets and fake walls are near collapsing when Costello goes really physical, lemon bursts into everyone´s face during one routine and sometimes both of the men are near laughter. Performing "live" makes all comedy more exciting and unpredictable, and improvising unavoidable. With "Abbott & Costello", those "bloopers" only make the gags even funnier and eventually the show always continues smoothly after a few hiccups.

Here´s the list of the routines that are included on the DVD (sometimes they´re just one part of the bigger comedy number), and you can find more info about "The Colgate Comedy Hour" episodes HERE and HERE.

1 - "Hole in the Wall" and "Mustard"
2 - "The Magic Act Bit" (including "Silver Not Tin")
3 - "The Mother Bit", featuring Sid Fields (who played the landlord Mr. Fields in "The Abbott and Costello Show (1952-1953)") and "Aspirin"
4 - "Army Drill" (only one performed outdoors)
5 - "Niagara Falls" A.K.A. "Slowly I Turned", featuring Errol Flynn (e.g. "The Adventures of Robin Hood (1938)")
6 - "Jonah and the Whale"
7 - "7 x 13 is 28"
8 - "The Piano Bit" A.K.A. "Alright", featuring actress Gale Storm (e.g. "My Little Margie (1952-1955)" and "The Gale Storm Show (1956-1960)" TV-series)
9 - "The Lemon Bit" (including "The Money Changing Routine")
10 - "The Dice Game"
11 - "Who's on First?" (boys also saying "good night" to the audience at the end)

"Abbott and Costello" is probably my favourite comedy pairing, since the two just work so well together. Costello is a totally loveable and very enthusiastic performer, who didn´t shy away from putting his whole body in the play when necessary. He really goes that "extra mile" for his audience. Costello didn´t really do quick imitations like Jerry Lewis at his best (when he was pretending to a gangster, British and such), but he could always keep the audience entertained and amused. Abbott was undoubtably one of the best "straight-mans" in the history of comedy, with great timing and sense of space. On stage or TV, he was always natural performer. Although Dean Martin later took his place as the most popular "stooge" in America (and Martin could also sing), Abbott left the permanent mark on the genre. The cleaver and rapid dialogue changes between "Abbott and Costello" have influenced many future comedians (most famously Jerry Seinfeld) and continue to do so. It´s of course debatable how well the team would´ve worked without each other (probably not that well), but as you can easily see from this TV-compilation alone, together they were often pure magic. For all ages? "Certainly!"

Video


"Legend Films" is known for film colourisation and it has re-done several classic films in colour over the recent years. They have also special tools for film restoration. Old TV-shows like "The Colgate Comedy Hour" are not entirely ideal for DVD-format, since they´re usually taken from the old "Kinescope" sources ("a recording of a TV program made by filming the picture from a video monitor with 16 mm or 35 mm film camera"). As such, it´s nowhere near todays standards, even in preserved form. Even the best and remastered Kinescope-source can´t match the look of the proper film elements. For the record, "I Love Lucy" in 1951 (along with "The Amos 'n Andy Show") were the first TV sitcoms shot with multiple cameras in film. This wasn´t the case with live TV shows, which used Kinescope long after that.

"Abbott & Costello: Funniest Routines - Vol. 1" is presented in 4:3. The B&W footage can be soft, grainy, and partly murky, with some film artifacts and minor print damage. There is also strange "ghosting" that I´ve seen in the other Kinescope-sources, which means that you get some occasional "black halos" around the object during movement. Minor distortion can occur around the edges. As expected, some of the footage fares better than others. I still have to say, that the footage generally looks probably as good as it eventually can, and the print damage or film artifacts are not very severe. The cover states that the material is "re-mastered and fully restored" and with this DVD I could believe it. Definitely good work from "Legend Films", even when the results ultimately can´t look "pristine" in any way. "Single layer" disc is coded "R1" and runs 78:08 minutes (NTSC). There are 13 chapters.

Audio


English Dolby Digital 2.0 Mono is the only audio choice and there´re no subtitles, nor closed captions. Audio is actually quite decent in the majority of the routines, but there is hiss and muffled dialogue. Like the visual quality, the audio is better in some and more mediocre on the others (e.g. "Niagara Falls" has some "metallic" sounds and some have heavy hiss on the background). All things considered, still a good effort.

Extras


A few minor, but interesting extras are included. Since "Legend Films" is in the film colourisation business, we get two "samples" of their work:

-"Bud Abbott and Lou Costello Meet Frankenstein (1948)" theatrical trailer (2:37 minutes) is included, for the first time in colour. I have to say that I enjoyed this curiosity, even when I´m not really a fan of "film colourisation" (if the film was originally shot in B&W, like this one).

-"Campbell Soup" commercial (1:42 minutes) also includes the boys and is a colourised version. For the fans this is a real gem. Note, that the running times also include new credits after the trailer/commercial (so this commercial actually runs 44 seconds), probably due to copyright reasons.

Overall


There seems to be several DVD-releases out there from various "budget-labels", including material from "The Colgate Comedy Hour". I haven´t personally seen many of them. That being said, I can´t really say how well "Abbott & Costello: Funniest Routines - Vol. 1" compares to these other releases quality wise. Based on the very decent quality, I still assume that this is one of the "better releases" out there and a few interesting extras keep the curious fans happy. An ideal way would be to release full season-sets of "The Colgate Comedy Hour" (not sure if that is really possible?), but as a "best of"-collection this DVD works very well.

For more info, please visit the homepage of Legend Films.
| | | | | |
| --- | --- | --- | --- | --- |
| The Show: | Video: | Audio: | Extras: | Overall: |