The Film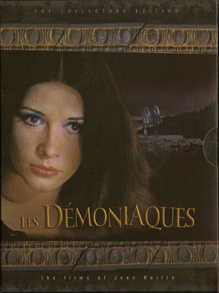 The characters are introduced: Captain (John Rico), Le Bosco (Willy Braque), Paul (Paul Bisciglia), and Tina (Joëlle Coeur), all mean-spirited "wreckers", pirates, who´ll first try to get the ships to crash ashore of the little island, and then rob the cargo. Then the opening scene, with basically no dialogue, at night in the beach. Two girls (Lieva Lone and Patricia Hermenier), survivors from one of the boats that fell victim of the rocks are washed ashore. They´re cold and scared. Pirates are on the beach, and quite suddenly they rape and kill the girls. Before death comes, the other girl reach the hand of her friend, and that is the final shot of the scene. "Demoniacs AKA Les Démoniaques", a film by Jean Rollin, has started.

French director and writer Jean Rollin is one of those directors that has a big cult following among his fans, but who is quite unknown to the mainstream audiences. One could assume that since his favourite themes in the films are vampires, beautiful women, eroticism, fantasy, gothic and artistic elements, and of course blood, his films would be very similar to many other low-budget horror movies that originated from Europe in the 60´s and 70´s. In many ways however, this is not the case, and his films are often unique pieces of work and challenge the viewer with beautiful and haunting imaginary, sexuality, complex storytelling, and horror. Like several people have said, the best scenes in the films by Jean Rollin are like paintings, that suddenly come to life. There are also those who think that his films are amateurish, too complicated and too artistic, even boring. His first feature film was "The Rape of the Vampire AKA Le Viol du vampire (1967)", and after that he has directed over 40 movies (also hardcore).

"Demoniacs" is a film that is inspired from Rollin´s childhood, when he watched American pirate and adventure-movies, and spend a lot of time on the beach. It was a French-Belgium co-production, and it had a bigger budget than usual (at the time) when it comes to films by Rollin. It was shot on a small island, a perfect location for this film. This time there are no vampires, but there´s still life after death: Two girls that pirates have killed come back to the beach, and after they´re introduced to the strange clown and a man in the ruins of a big castle, they´ll find out that in these ruins lives also an "evil spirit" imprisoned, in the form of a young man. This man can help them to have their revenge, but there´s a price to pay. Captain of the pirates has already had visions of these death girls, and soon pirates are coming after them, when some sailor spots the girls at the beach.

The plot of the movie, written, doesn´t give full justice to the film. Visual imagery of the films by Rollin is something that will affect the viewer, even if the story doesn´t sound that interesting - or it´ll have some elements that some people might find too harsh (in this case the rape-scenes). Rollin himself calls "Demoniacs" an "expressionist film", and you have probably many ways to make different judgments of the imagination and storytelling in this film (and many others by him). Compositions of the shots are often wide, with people, ruins, boat wrecks, rocks, and cliffs blending in very nicely, creating haunting images and moody atmosphere. Shots are many times actually quite basic, but Rollin and his cinematographer have a way to make them interesting. "Haunting" doesn´t necessarily mean "scaring" in the films by Rollin, and many times you have the feeling that you´re in the middle of someones fairytale or a dream. Even with rough material, "Demoniacs" is not very graphic or offensive, since that "dreamlike" feeling smoothes the edges a little bit. Still, pirates are plain evil in the film, no question about that.

Basically the only interior scenes in the film, in the pub, are also very well set, with the feeling that you´re in the only place in that island, where sailors drink, fight, and meet women. At the same time (like I said earlier) it´s like from a painting, so the art director has done a good job with it. Rollin has said that he is not that keen about the whole editing process, and he basically likes a slow editing pace, putting the shots together to make the movie ready, not making the movie again in the editing suite. This slow pace suits the movie just fine, and you´ve also got a couple of scenes that are more speedy in the film. Rollin also uses a certain style in the film, where the actors sometimes speak their lines like they would look almost straight to the camera. This gives a certain "menacing" feeling to some of their lines.

A good and challenging film by Jean Rollin, which stays in your head, at least for a while. It´s certainly not for everyone, but that can probably be said of all his films.

Video


A new Dutch company named "Encore Filmed Entertainment" has started to release very nice "Collector Edition"-versions of Jean Rollin-films. "Demoniacs" is the first (followed by "Requiem for a Vampire AKA Requiem pour un vampire (1971)"), and it offers an Anamorphic 1.78:1 transfer. Transfer comes from a good source, but since there are some film artifacts in the transfer, full blown restoration is not the case here. However, there are no actual print damage and colors and black levels are quite strong, so the overall presentation is fine and undoubtably will please the fans (and others too for that matter). Along with the French-release (which doesn´t have English subtitles) this seems to be the only Anamorphic-release of this film, so that issue alone is worthy of an extra smile. There might be a few imperfections with the transfer (mainly some softness in some of the wider shots and some "low level noise" in a few darker scenes), but these are probably due the source of the negatives. Single Layer disc is R0, the film runs 91:10 minutes, and it has 11 chapters.

Audio


The film has one audio track, and it´s French Dolby Digital 2.0 mono. What you have also is an impressive list of foreign subtitles, 11 of them: English, Dutch, German, Italian, Spanish, Portuguese, Finnish, Danish, Norwegian, Swedish, and Polish. Kudos to "Encore" for providing a great opportunity to see Jean Rollin-films subtitled in many languages, other smaller companies should take note of that. The audio is a bit of a mixed bag. Generally it´s okay and dialogue is clear, but there is some "hissing" present in the track (with a few "audio clicks"), and with some of the louder dialogue, the sound is just "too loud" sometimes. In the end it does the job, but like with the picture, full restoration of the sound could´ve made the difference (obviously it depends on the source material on hand).

Extras


"Demoniacs" is a 3-disc set, packaged in a very nice foldout Digi-pack, which is placed in a cardboard Slip cover. Along with the discs there´s a 64-page book (more of that later) in English. Now, the truth is that this could´ve quite easily been a 2-disc set, but since the audio commentary is not "full length", maybe the decision was done because of that (to add the "audio commentary-version" of the film on "Disc 2").

Disc 1
First disc has the film in Anamorphic 1.78:1. There are no extras.

Disc 2
Second disc has the audio commentary with director/writer Jean Rollin and the moderator, in English (no subtitles). It should be noted that the audio commentary is for 9 selected scenes only, and it covers 48:59 minutes of the movie. This is the time to raise the question again, that which one is better: To let the director speak in his own language (this time French) and then add the subtitles in English, or let the director just speak English? Well, in this case Mr.Rollin speaks such a broken English, that the audio commentary probably would´ve covered more ground if Rollin had spoken French. Anyway, it´s always interesting to hear when a director speaks about his work (this commentary was recorded in Amsterdam, May 2005), and here good mooded Rollin remembers his childhood and pirate-films, speaks about the actors, and even when he doesn´t remember the names of the two girls in the film, he tells us how he didn´t like the other girl and there were couple of "issues" on the set with Rollin and her. He also tells more about a couple of scenes in the film, mainly the "boat cemetery"-scene and the ending, and we also learn how difficult it was to light the opening scene at the beach. He also tells a funny anecdote, how producer used to call him during the film, asking that how many minutes of sex-scenes they have shot in that particular day. Those who want to hear Rollin explaining what he meant with certain scenes and how they should be interpreted, he doesn´t really give any answers. Note, that some of these stories from the audio commentary can be found from the book also. Film is non-Anamorphic on "Disc 2".

Then we have the interview -featurette with actor Willy Braque, who played Le Bosco-character in the film. Featurette runs 12:19 minutes, and was shot in Paris, May 2005. It´s in French, but it has "forced" English subtitles. Braque speaks about his career and Rollin, but is brief in many of his answers, and doesn´t really tell that interesting stories. Interview is a nice touch though, since his character is kind of memorable in the film. Finally there´s a French Theatrical trailer (2:57 min), which basically has no dialogue.

Disc 3
On the final disc, we have 4 Deleted scenes, that are basically all additional sex-scenes. All are presented in Anamorphic 1.78:1, and they all include part of the scene from the film, with extended sex-scene (mainly softcore) then following (so the actual "deleted footage" is not that long as the time indicates). Note, that this time there are no subtitles, but quite frankly there aren´t that much of additional dialogue anyway. Scenes are:
1) After a brief fight with young sailor, and Le Bosco and Paul, the sailor goes upstairs with the waitress, and they have a "good time" there (3:40 min).
2) Extended sex-scene between Tina and the Captain in the room (6:37 min).
3) Extended scenes of Tina "pleasuring herself" in the scene where they have tied up the girls (6:22 min).
4) This one is also from the same scene as the earlier, but this time there is a "hardcore shot" included, where you can see the close-up of Tina´s private part (probably shot with the other actress) (1:52 min).
These sequences were probably shot for a more explicit version to make the producers happy, and apparently Rollin didn´t want them to be included in the actual film. They are in the same quality as the main film, so they could´ve included them and called this an "extended version" or something similar, but it´s probably better that they´re in the extras (since Rollin apparently is not that big fan of those scenes).

Next there´s a Photo gallery, which runs 4:00 min. To me it seems that these are just shots taken from the film, rather than "Behind-the-scenes"-photos or poster art. Last but not least we have an exclusive Short film called "Les Pays Loins AKA The Far Country" from 1965, and it runs 15:42 min. This little Short film is probably the best extra on the set, and it also includes an optional Audio commentary by Jean Rollin and moderator in English (the actual film is Anamorphic 1.78:1, French Dolby Digital 2.0 mono, and with optional English subtitles). The film tells a story of a young couple, that are lost in a different universe (locations are still in the city and people are normal people), where all speak a language that they don´t understand. This black and white film was the second film (short) that Rollin made, and already you can see that his visual eye was in the right place while they made this film (and cinematographers eye too obviously). The film is in good condition, and it´s taken from the original negatives.

64-page Book in English is also included, which includes color and b&w photos, essays on "Les Démoniaques" (May 2005) and "Les Pays Loins" (July 2005) by Jean Rollin, and "Lascivious Vampires, Deep Melancholy: An interview with Jean Rollin" article by Mike Lebbing (first appeared in "Schokkend Nieuws" #56). It also has a brief Rollin filmography. The book looks very good and well made, and "Encore" should be proud of their work on that. A good and informative addition to the set.


Overall


If you´re a Rollin-fan, there really isn´t a reason to pass this up. This may not be the "definitive release" of this film, nor is it perfect, but quite a good DVD-package nevertheless.

For more info, please visit the homepage of Encore Filmed Entertainment.
| | | | | |
| --- | --- | --- | --- | --- |
| The Film: | Video: | Audio: | Extras: | Overall: |