The Film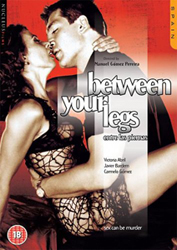 The new UK-based company "Nucleus Films" have released the first two films from their catalogue. The first one is a Spanish film "Between Your Legs AKA Entre las piernas" from 1999, which gets a fair DVD-treatment from the company.

"Between Your Legs" tells a story of a two sex addicts, who meet in a "sex addicts anonymous"-meeting, and quite soon after start a relationship with each other. Miranda (Victoria Abril) is a married woman, working in a radio talk show, and Javier (Javier Bardem) is a scriptwriter, whose ex-wife has a relationship with Javier´s business partner. This all might sound quite straightforward, but actually it´s far from it. Soon there will be a murder, and since Miranda´s hurband Félix (Carmelo Gómez) is a policeman, he´ll be involved with the story, since there are certain connections with Miranda, Javier and the murder. There are also some phone sex –tapes in circulation, where Javier´s voice can be heard..

The film starts with very effective opening credits, similar to some Bond-films and Vertigo. After that we get the equally effective opening scene, which then leads to the "sex addicts anonymous"-meeting. From the start you´ll notice that the style is dark, with mystery and erotic tones constantly present. Some people say that this is a homage to Hitchcock and some newer films like Verhoeven´s "Basic Instinct" and this may be the case, but unfortunately the film doesn´t have all the qualities to be in the same level. Director Manuel Gómez Pereira does a fairly good job with the film, creating a moody atmosphere, great images, and having very gifted actors around him. At the same time the script feels (based on the novel) a bit too complicated, and that it simply has too many pure dialogue scenes, which sometimes slow the film down. After many lengthy dialogue-driven scenes we get a few steamy erotic scenes, which left me a bit cold (the film is rated "18", which is a bit of an overstatement). I have nothing against those type of scenes, but they don´t go that deep (no pun intended) in the area which is the key in the film (sex addition and eroticism), and do not support the story like in films such as "Basic Instinct".

Like they say in the featurette, the film has about 50 speaking parts and the focus changes from one to another. Many of these parts are small (this is not "Magnolia" of anything like that), but this could´ve worked better with the smaller cast (less people surrounding the main actors). Then again the film is set in Madrid, where the makers wanted to portrait a big city, where these characters can "disappear", and where ordinary people can do strange things. People often have secrets.

"Between Your Legs" is a ambitious film. It´s like a runner that gets a good start, then slows down a bit in the middle of the race, but finally arrives in the finish-line, not in the top 5 but still in a pretty good position.

Video


The film is presented in Anamorphic 2.35:1, and for most parts it´s a good transfer. There are some aliasing (line shimmering), but the transfer is clean and sharp (only a few scenes have some film artifacts) throughout the film. Some scenes looked a bit "pale", but this could just be due the style of film. Good release by "Nucleus Films". Film runs 115:07 min (PAL), and it has 13 chapters.

Audio


There are two audio tracks: Spanish Dolby Digital 5.1, and Spanish Dolby Digital 2.0 surround (the back cover and menu says "stereo"). There are obviously English subtitles, which are optional. I chose the 5.1-track, which was quite pleasant to my ears. Like I said, this is a very dialogue-driven film, so the surround-activity comes mainly in the form of music. I haven´t got any complaints about the track, and since the music is a big part of the movie, it´s great that it fills the room in many scenes. Good, solid soundtrack, but don´t expect any huge surround-experience.

Extras


The main extra on the disc is a Spanish "Making of" -featurette called "Entre las piernas - Asi Se Hizo", and it runs 18:52 min. It mainly includes interviews (from the main cast, and everybody from the director to costume designer), with some making of-footage. It´s a interesting piece of work, but it could´ve been at least 10-15 minutes longer, since now (a bit similar to the film itself) it has too many people involved in a short time. The featurette is in Spanish, with optional English subtitles. Photo gallery (2:21 min) is a slideshow, which includes production stills, publicity shots, and photos from the Spanish premiere of the film. Spanish trailer (2:04 min) and 4 TV-spots (running back-to-back - 1:10 min) are included, with optional English subtitles (nice touch). Then we have biographies/filmographies of the main cast (Bardem, Abril, and Gómez) and director Pereira. I know that some people don´t care about the bios, but I personally like these well made biographies, where you can read about the actors after the film. Finally, we have 2 bonus trailers of the other releases by "Nucleus Films": "The Ugliest Woman in the World AKA La Mujer más fea del mundo" (already out), and "Gwendoline" (which also has a brief text introduction).

Overall


A solid European film, that combines mystery, sex, and murder, but fails to raise the bar in these type of films. The DVD-presentation is good, and it also includes some extras, like the featurette.

For more info, please visit the homepage of Nucleus Films.
| | | | | |
| --- | --- | --- | --- | --- |
| The Film: | Video: | Audio: | Extras: | Overall: |