The Film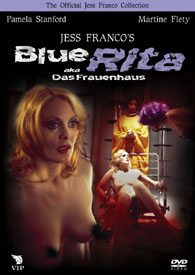 Jess Franco is a Spanish born director who is still active today, and has now directed over 170 movies, starting from the late 50´s. For the mainstream audience Franco is still quite unknown, but for the ever growing Euro cult-community he is a household name. Franco has directed pretty much everything from horror to sex, but often one word is connected to him like a stamp: exploitation.

In 1975 Franco teamed up with Swiz producer Erwin C. Dietrich, when they made "Barbed Wire Dolls AKA Frauengefängnis". This collaboration between Franco and Dietrich continued for about 15 films (all more or less exploitation films), and one of these movies is "Blue Rita AKA Das Frauenhaus (1977)".

"Blue Rita" is a quite typical piece of work by Franco, where he has mixed up elements of erotica, strange characters, a groovy soundtrack, and also some violence (mild in this one though, and this is actually rated "FSK 16" in the Germany). This time we´ve got a night club called "Blue Rita" in Paris, where a woman (also called "Blue Rita", and is played by Martine Flety) works as an erotic dancer with some other women. But, on the side they also work for some mysterious crime organization. From the night club they then seduce "important men", drug them, and take them to a hidden cell. There, with the help of some green "love liquid" (which, when poured upon them their sexual desires will increase drastically), they´ll "torture" them to reveal some information. But, after they kidnap a wrong man, things are starting to go wrong..

Franco is often known to make some of his films in such a way, that there is a lot of shaky camera, out-of-focus shots and plenty of zooming. This time the cinematography (by Rudolf Küttel) is more subtle, and you have a quite smooth and well composed images (there are still some zooms, but they´re not rushed). This is also a very colorful film, and together with a jazzy soundtrack and slow editing, you´ve time to enjoy the images of the film.

Since this is a film directed by Franco and produced by Dietrich, you´ll usually have a lot of nudity, and "Blue Rita" is no exception. There are naked ladies (and men) in many scenes, and since "Blue Rita" is an "erotic night club" (with the same audience in every night, it seems), you have several erotic musical numbers where women are dancing over the music. You might say that there are few soft sex-scenes in the film, but nothing "XX-rated". You´ll also see some rather funky women's clothes.

The film actually work best when there are those subtle erotic scenes with good soundtrack, since with vivid colors and nice art direction, they´ll do the job. Those "torture scenes" on the other hand are kinda phony (bad English dub didn´t help either), but you can tell that Franco has not taken those scenes that seriously. You also have one surprising "fight-scene", where Dietrich-regular Eric Falk shows some karate-moves, for which Bruce Lee would be proud. Or then again maybe not..

As you might have guessed, this is "small budget" all the way, and not for everyone, but if you are into strange European movies from the 70´s, this just might be your thing. It doesn´t bite.

Video


Released by "V.I.P. Entertainment" (from Switzerland) on the part of "The Official Jess Franco Collection", this disc is top notch (almost, see the audio-section). It´s presented in Anamorphic 1.78:1, and you can tell that the transfer is indeed taken from the original negatives (it uses German credits), and that they have also cleaned up the print. The result is a digital transfer (in a dual layer disc), that has strong colors, very little film artifacts, and good contrast throughout the film. I basically saw only 2-3 individual shots, which were slightly inferior (at least to my eyes), but overall a very good transfer. Actually the whole "The Official Jess Franco Collection" is a labor of love to VIP, so it seems, since the quality is very good (I mean it´s not that these films are made by the big studios). Dics is R0, and it´s NTSC (not PAL). The film runs 78:30 min, and has 12 chapters.

Audio


The disc has 3 audio tracks, all Dolby Digital 2.0 mono: English, German and French. As with Franco-films (and other Euro cult-titles) often the case is that this was dubbed in many markets (with actors from Germany, France, etc). I´m afraid there are no subtitles at all with the film, so I had no choice but to choose the English track. Quite frankly the English dub is a disappointment. The back cover says "First time in an English dubbed version", so I assume that this dub is newly made (I can´t be sure though). I tested with some scenes, and both German and especially French –tracks would´ve been a better choice (film is set in France anyway). English dub just sounds akward (yes, there are differences in dub-tracks also, not all of them are generally "bad"), like actors reading their lines from the paper.

As with technical issues goes, the English dub is the best of these three, since it´s clearer. Both German and French-tracks are not bad at all, but they are a bit more inferior still. As with often of older mono-tracks, the dialogue might be kinda low compared to music and sound effects, but this time the results are quite good. Musical soundtrack is also clear and a big part of the film, and I would assume that I have to track down the soundtrack CD from somewhere after seeing the film.


Extras


First we have a "Behind-the-scenes" –featurette, which is actually an interview with producer Erwin C. Dietrich (with some narration). It starts as a PR-featurette of VIP´s "The Official Jess Franco Collection", but you have also some interesting info about Franco´s other film, "Jack The Ripper AKA Der Dirnenmörder von London", and also some stories about the actor Klaus Kinski (he´s not in "Blue Rita"). Dietrich also finds connections between Franco and Dogma-movement, and doesn´t have warm memories of the German censors "FSK" back in the days. Featurette runs 21:22 minutes and is in German (with English subtitles). Then we also have 3 trailers, all in German: "Blue Rita", "Jack The Ripper", and "Me, A Groupie". 2 photo galleries are next, with "production stills" of "Blue Rita", and then "original poster gallery", which includes other (s)exploitation movies by Dietrich (you gotta love those posters from the 70´s). Finally there are bio/filmographies for Franco and Dietrich, and filmographies for Eric Falk, Martine Flety, and Dagmar Bürger (there are no bios of the actors, which is kinda shame). Finally there is some basic info about "The Official Jess Franco Collection" (you can find similar info from the "leaflet" with the case itself), and "DVD credits". Moving menu is stylish.

Extra-features are nice to have, but you can only wonder why they went great lengths with cleaning the transfer and interviewing Franco (there are Franco-interviews in some other VIP-releases), but in "Blue Rita" Mr. Franco is absent.


Overall


"Blue Rita" is not Franco´s best work nor very original, but it has some nice cinematography, interesting art direction, and a good soundtrack, so if you´re into Franco´s work, you may want to check this out. The disc itself is fine, but it lacks English-subtitles (with the other tracks), and it would´ve been nice to hear from Franco itself about how he feels now about this film.

For more info, please visit the homepage of VIP´s The Official Jess Franco Collection.