The Film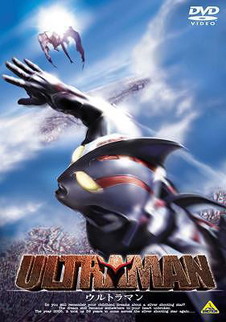 Japanese "Kaiju" (big monsters) and superhero -films have always been very popular in Japan, and they have gained some reputation elsewhere also. There are large fan base of perhaps the greatest monster of all time: Godzilla (Gojira), and the "flying turtle" Gamera is quite well known amongst the fans. Another character that has been a big part of the Japanese culture one way or another from the 1960s is "Ultraman" (Urutoraman). This "superhero" was introduced on Japanese-TV in July 1966, and it was created by the legendary special effects director Eiji Tsuburaya through his production company "Tsuburaya Production" (the show evolved from earlier TV-series like "Ultra Q AKA Urutora Q"). Between the years and different TV-series, the "robotic" Ultraman has also evolved in certain ways (each series has its own "Ultraman"), but the basic idea is pretty much the same; Ultraman (with his silver and red costume) arrives from the distant planet to earth, where it has to fight and protect the earth against the various wicked monsters. Every Ultraman has some special "energy powers" and since it´s a Japanese superhero, it´s an expert with martial arts. It can also grow very big, and when there is no need for Ultraman, it can take a form of a human. Now, after over 15 different "Ultraman"-related TV-series and movies, a bigger budget theatrical feature, "Ultraman: The Next (2004)" has also been released.

The film is part of the "Ultra N Project", like the TV-series "Urutoraman Nekusasu AKA Ultraman Nexus (2004-2005)", which followed after the film (the newest series - now aired in Japan, is "Urutoraman Makkusu AKA Ultraman Max"). The film tells about the skilled fighter pilot Maki (Tetsuya Bessho), who´s flying on the "Air Self-Defense Force". Even though flying planes has always been his biggest dream, starting when he was just a child, he is now planning to retire, since he wants to spend more time with his young son Tsugumu (Ryohei Hirota). Before this can happen, some "unknown object" is spotted in Japanese airspace, and Maki and his co-pilot are sent to investigate. While they´re closing in on their objective, two events suddenly take place; first Maki´s co-pilot has to turn away since his plane starts to malfunction, and soon Maki encounters a strange reddish "fireball", which sucks Maki deep into it. Maki sees a big shape of some kind of entity (with a shape like "Ultraman") and then everything goes black. In the meantime the army finds the crashed plane of Maki, but he´s not dead, finding his way to a remote diner near the woods. What happened? After this strange incident Maki is trying to carry on his life with his family and his new work as a pilot of a small transportation plane, but strange nightmares still haunt him. It won´t be long before the military is coming to get him.

Director Kazuya Konaka (co-director of "The Bodyguard From Beijing AKA Zhong Nan Hai Bao Biao (1994)" and a few other Ultraman-features) probably had some pressure to bring the popular superhero to the big screen and even the wider audience, but he doesn´t fail. "Ultraman: The Next" is a very enjoyable film, creating a mixture of sci-fi, action, and even drama. It offers probably something for everyone; monster-battles for the "Kaiju"-fans, some darker tones for the mature audience, and lighter action for the younger viewers. Plane buffs probably can appreciate the scenes of jet planes, small touring planes and military choppers. All these ingredients make the film, simply put, entertaining. This film is also suitable for the people who are not that familiar with earlier Ultraman-series and films, since the story is quite straightforward and easy to follow (even when some issues are not that well explained).

The nemesis (you have to have one, you know) of Ultraman is introduced during the opening scenes of the film, when the strange mutated monster escapes from the "Anti-Bio Terrorist Lab" by the military. This monster is also born in a similar way to "Ultraman", and is originally a scientist called Udo (Kenya Osumi). Until the escape, it was kept locked up by military, which gave the monster a code name "The One". The monster can absorb different life forms to gain more power (and using their shapes and characteristics to its advantage by shape-shifting), and is a serious thread to mankind. "The One" also wants to destroy Maki (Ultraman), so the military is using him as bate to lure the monster out into the open. Of course something goes wrong, and soon the military is chasing Ultraman and "The One", wanting to destroy them both. With the help of Sara Mizuhara (Kyôko Toyama), the co-scientist and girlfriend of Udo, Ultraman is trying to stop "The One". Can this be done before the military stops Ultraman?

"Ultraman" is effectively using both older and newer techniques to create visually quite vivid images. There are still plenty of "old school" monster-effects and two guys with rubber suits, but they´re spiced with CGI-effects and use of the blue screen and motion capturing. This works very well, since the monster now feels more real, when it´s not some CGI-character climbing on the walls. It has some character now. Film is also using some miniature sets, when the buildings crumble when Ultraman goes head to head with "The One", so there are some similarities with Godzilla-films. Special effects director is very important with these type of films from Japan, and Yûichi Kikuchi has done a good job. Sure, the look of the film is not as dazzling as with some newer big budget films from Hollywood, but I personally didn´t see any real "flaws" either. Although the film is quite suitable for the younger audience, the film has some darker and more serious tones. The film spends some time with pure character development between Maki and his family, also his wife Yoko (Nae Yuuki), when Maki is trying to understand that he´s now "Ultraman". There´s also some sadness to the story, since Maki is trying to be a good father to his son, and now things are even more complicated, since it´s not just his son who needs to be saved, it´s the whole planet. That´s what you could call a burden. Again, the military is both good and bad, and especially the latter since it wants also to destroy Ultraman.

Even when the film is an entertaining piece of work, some people might feel that it lacks "real spectacular action" and "real drama", still leaving both kind of halfway despite the good efforts. Also the typical Japanese "sentimentality" that occurs in the form of flashbacks and family scenes might put some viewers off, at least in a few scenes. One aspect that left me somewhat cold was the cheesy music, and all those "heavy metal guitar"-riffs started to sound more like a low budget TV-series from the 1980s than a respectable sci-fi and action film. You´ll get used to the music, but you probably won´t really enjoy it. To me, "Ultraman: The Next" is mixing some "old school" to "new school", giving a fresh and entertaining film for all the people, who like Japanese monster and superhero –movies. I would say: Recommended.

Video


This Japanese -release is presented in Anamorphic 1.78:1, and it looks really good. You have some minor line shimmering in some scenes, and there might be some edge enhancement, but nothing major to be worried about. Black levels, skin tones, and colours are solid and natural, as well as the bitrate (disc is "dual layer"). Transfer pretty much looks as you would expect from a newer film like this; very nice. The disc runs 97:13 min (NTSC), and is coded "R2". There are 34 chapters.

Audio


The disc has two audio tracks, Japanese Dolby Digital 5.1 and Japanese Dolby Digital 2.0 Surround. Optional English and Japanese subtitles are included. 5.1-track is the obvious choice, and reveals a very active and dynamic surround-track. Scenes with e.g. jet planes and the battle scenes bring the surround-channels alive, and the sound design is at a high level. Sometimes during the dialogue-scenes you have to turn the volume a bit higher compared to the "action scenes", but this can happen sometimes. Overall, the audio is spread out effectively through all five speakers, making it a satisfactory experience.

Extras


The disc has also some extra-features, all being in Japanese (with no subtitles). The menu is also in Japanese only, but easy to navigate. First there´s an "Ultraman - The Making" -featurette, which runs 20:32 minutes. This mainly includes some "behind the scenes"-footage edited together, with a few comments from the cast and crew in between. This fast phased featurette focuses on the effects (both CGI/motion capture and make-up), as well as the battle scenes. There´s also footage of the film´s premiere. There are not that much interviews, so this is quite easy to follow even without the subtitles.

10 deleted and extended scenes are included, with some text notes in Japanese. They´re presented in Anamorphic. They mainly include some additional dialogue (which were trimmed from certain scenes), rather than completely new scenes. Here are the brief descriptions of the scenes:
1) Maki´s son and wife are talking before going to bed. (0:48 sec)
2) Maki´s wife tucks her son in after he has gone to bed. (0:17 sec)
3) Conversation in the control tower. (0:31 sec)
4) Maki and his co-pilot say goodbye at the gate. (0:42 sec)
5) Maki´s new co-workers are fooling around, after Maki has gone to his plane. (0:30 sec)
6) Maki and Sara are talking after Maki has been brought to the military base. (2:01 min)
7) Another conversation scene with Maki and Sara. (1:02 min)
8 ) Maki and Sara are trying to get past the soldiers guarding the doors. (1:37 min)
9) Interior battle scene with Ultraman versus "The One". (1:03 min)
10) Exterior battle scene with Ultraman versus "The One", in the city. (0:42 sec)

A series of Japanese theatrical trailers, teasers and TV-spots are also included:
-Trailer (3:05 min)
-3 teasers (back-to-back, 2:31 min)
-5 TV-spots (back-to-back, 1:40 min)
-Promo trailer of "Ultra N-project" (0:32 sec)

Keep case also includes 8-page booklet (all in Japanese), which includes crew info, story and character background and timeline.


Overall


"Ultraman: The Next" is a good option to get to know this cool superhero, and if you´re a fan of the Japanese Kaiju-films generally, don´t miss this one. The Japanese DVD-release includes a very good transfer and audio, with English subtitles.

This DVD is available at CDJapan.

| | | | | |
| --- | --- | --- | --- | --- |
| The Film: | Video: | Audio: | Extras: | Overall: |