The Film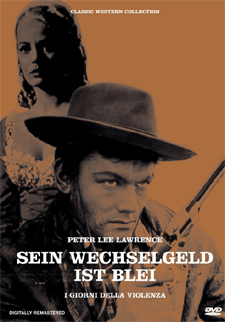 Italian director Alfonso Brescia (here billed as "Al Bradley") has made a big contribution to Italian cult cinema, by working with Peplums; war, sci-fi, and police-films, and also Spaghetti westerns. By only looking at his CV, you´ll find several very interesting films, and the German-release of "Days of Violence AKA I Giorni della violenza" introduces one of his westerns from his early career.

The film opens with an intro, which gives you some background to the story. The American Civil War raged in 1861-1865, between the North ("Union"), and South ("The Confederate States of America"). The border state of Missouri was geographically and in tradition part of the South, but it couldn´t join them since it was already occupied by the Union. Missouri got some protection from the so-called "Guerrillas" - small rebel groups that fought against the Union in the area. Brothers Johs (Peter Lee Lawrence) and Clell (Romano Puppo) are working on a ranch of the landowner Mr. Evans (Andrea Bosic), who hates those "damn Yankees", meaning the Union-troops. Johs has an affair with the daughter of Evans, Christine (Beba Loncar), but Johs hasn´t ask for the approval of her father yet, so it seems. When the part time help Hank (Lucio Rosato) gets thrown away from the ranch after harassing Lizzy (Rosalba Neri), the wife of Clell, he goes straight to the Union Captain Clifford (Luigi Vannucchi), wanting revenge. Clifford approves the plan to steal the horses from Evans, which will be done soon after that. Johs and Clell go after the cattle thieves, only to ride into the trap, and eventually get bogged down between the cliffs, surrounded by gunfire. The help comes from "Butch From Springfield" (Nello Pazzafini), and his guerrilla posse, who also asks Johs to be part of their group. Johs is not really interested to join into the war, and he´s also against the slavery (issue that "South" defends). Johs´ mind will change though, when his brother Clell is killed by Captain Clifford (partly because of the lies told by the bitter Hank), and Clell´s wife also gets killed during the same incident by Hank. Clell joins up with Butch and his crew.

The back-story of the Civil War brings some interesting and historical aspects to the story, but the film doesn´t use them as well as e.g. director Clint Eastwood in "The Outlaw Josey Wales (1976)". It still takes a quick peek to the era which was very traumatic for America, and where "good guys" and "bad guys" were mixed up, depending on the point of view or the motives. Johs is still clearly a "good guy" in the movie, a hard working cowboy who doesn´t want to join the war, since he doesn´t like many of the reasons that caused it in the first place. His true affection is towards Christine, and his brother and her wife. The film does a good job of showing that in the times like the Civil War, both sides can do criminal deeds in the name of the war which has corrupted them. Union Captain Clifford is first and foremost an opportunist, first after the farm of Evans, and then his daughter. Southern Butch is acting to be the protector of his southern fellow man, but in the process he´s ready to steal and rob from the civilians. Johs is too blue-eyed for trusting Butch, and soon he´ll find himself going on the run and fighting for the love of Christine at the same time, when the war is over.

Lead "baby-faced" actor Peter Lee Lawrence has done several Italian westerns during his career (which apparently ended in suicide in 1974 - another sad story there). I liked his presence, although he´s not as memorable an actor as some of his fellow leading men from the same era. From the other actors I could point out Rosalba Neri, who has been in countless movies, and is known actress to the fans of "Euro cult". Her presence usually won´t go unnoticed, at least for the male audience. Actor Nello Pazzafini ("Butch") is also a very familiar face, appearing in over 150 movies from 1958 to 1989. He´s what you could call a trustworthy actor, always doing a good job. Composer Bruno Nicolai has done a few catchy tunes for the film, but I´m sure this is not one of his best work.

There are a few "big" gunfights in the film, which are a bit disappointing. Most of the time people just shoot each other very randomly, creating plenty of action, but lacking realism (hero will get his enemies from big distances, but doesn´t really get hurt himself - not that this is anything that new to the western-films). When things are getting more personal, we get some good duels, which created more intense scenes. The whole pacing of the film doesn´t fully work despite its good efforts, and some scenes e.g. after the war felt simply disappointing, a bit like "you could´ve done better than this with the story you had". The potential at least was there, but something was lacking to make it at the same level of the best of them. Still a relatively enjoyable film to watch on a rainy day, and by no means a bad film.

Video


German "Koch Media" continues their impressive work with their spaghetti westerns, and the film is presented in Anamorphic 2.35:1. The print is looking great, almost completely free from the film artifacts and dirt. It´s boasting strong black levels and colours and natural skin notes, being also quite sharp (apart from a few scenes in the film that are soft, the issue that comes probably from the original negatives). Minor line shimmering and edge enhancement can be probably seen if one looks close enough, and some night scenes looked a bit more "restless", but all in all another fine presentation from this company. The film is using German credits. "Dual layer" disc runs 99:54 min (PAL) and is coded "R2". There are 20 chapters.

Audio


The disc includes two Dolby Digital 2.0 Mono -tracks; Italian and German. Although the Menu and the back cover have only German subtitles listed, also optional English subtitles are again included (I have no idea why English subtitles are not listed with these releases by the company, and it feels a bit like bad promotion to me). Some scenes in the German-track are in Italian, so optional German subtitles are included with those scenes. Both audio tracks are pretty good, clear and without any major hiss or other defects. German-track is again a bit better when it comes to dialogue, but both do their job well, since in the end this film was made in 1967.

Extras


The disc is a little thin when it comes to extras. 2 theatrical trailers are included, both Anamorphic: German (3:02 min) and Italian (3:02 min). Photo gallery includes 32 stills, posters and German lobby cards. DVD credits are also included.

The DVD comes in a digi-pack in a cardboard slipcover. Package also houses a 4-page booklet including liner notes (in German) from Wolfgang Luley. Disc can be found under its German title: "Sein Wechselgeld ist Blei".


Overall


A bit of a mediocre spaghetti western set in the times of the American Civil War, but still well worth a look if you are interested in the genre. This German release of the film is top notch, with a nice transfer, clear Italian audio, and English subtitles.

For more info, please visit the homepage of Koch Media.
| | | | | |
| --- | --- | --- | --- | --- |
| The Film: | Video: | Audio: | Extras: | Overall: |