The Film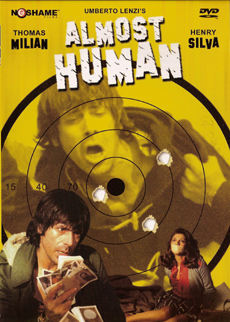 An Italian police film directed by Umberto Lenzi, starring Tomas Milian, Henry Silva, and Ray Lovelock; composed by Ennio Morricone. With that combination, you just can´t fail. Lenzi is best known for his ultra-violent "Cannibal Ferox (1981)", but he did some great "polizia"-movies during the whole 1970s, working with actors such as Maurizio Merli, John Saxon, and of course Tomas Milian, who´s pretty much considered as a legend when it comes to Italian cult cinema. He was a "star", and to many, he still is.

In "Almost Human", Milian plays Giulio Sacchi, a psychotic hoodlum operating in Milan. When he kills a traffic cop in the opening scene during the bank heist, he gets kicked out of the crime organization, forcing him to go licking his wounds to his naïve girlfriend Iona (Anita Strindberg). To get some serious money again, Sacchi has a plan. With his two partners Carmine (Ray Lovelock) and Vittorio (Gino Santercole), he kidnaps the daughter (played by Laura Belli) of a rich businessman, and then asks for a ransom. On their heels is Inspector Walter Grandi (Henry Silva), a tough cop who would shoot down these criminals rather than letting them get away in the law system, if it would be up to him. Now Grandi is facing a real cold-blooded killer, who´s leaving a pile of bodies behind him, wherever he goes. Sacchi has to be stopped.

"Almost Human" is a great "polizia"-film; rugged, violent and full of action and sudden events. Tomas Milian gives a memorable performance of playing a vicious psychopath, ready to kill anyone if they make the mistake of getting him angry. While Sacchi is acting to be a leader of his small gang, he´s at the same time often unsure and nervous. If his demands are not met, he gets frustrated, choosing the only impulsive act he knows best: To kill. Like director Lenzi says in the extras, there are also some social aspects surrounding the character of Sacchi, who are in some ways "a product of our society". Sacchi hates successful and rich people, who are having fun in their mansions and tennis courts. In one scene he suddenly shoots the man who´s offering him some money, since Sacchi will take the money in his own way. Young Carmine is also sucked into his violent world, and when he truly starts to realise what kind of man he´s really dealing with, it´s too late. Ray Lovelock gives a solid supporting performance as a man full of contradictions. He´s clearly not as "lost" as Sacchi, but can´t help but stay in the gang. On the other side of the fence, Henry Silva is also convincing, giving a low-key but strong portrait of a frustrated cop, following the bloody leads from Sacchi. As an experienced director, Lenzi keeps the film nicely together, adding also some hefty amount of violence to the mix. It´s not as nasty as in e.g. "Contraband AKA Luca Il Contrabbandiere (1980)" by Lucio Fulci, but there are a few scenes that are probably making you feel a bit unpleasant. There´s also a great car chase in the beginning of the film, very nicely edited and shot, and Ennio Morricone is providing another winner for his long list of great film scores.

To me, "Almost Human" is a "portrait of a psychopath", where the viewer becomes almost as frustrated as the Inspector Grandi -character during the film, when they have to witness Sacchi´s bodycount and generally violent behaviour. The film does an effective job, since you don´t feel any sympathy toward Sacchi. He´s not some "Hannibal Lecter"-type of sophisticated serial killer, but just a small-time crook on a killing spree. Milian also plays the character in a certain way; Almost every move, line and expression is there for the audience to hate his character. Sacchi is a low life loser with a gun (with some fear from his gang members), and there is very little that would show that he is actually respected in the crime world. He´s not the same character as e.g. Nanni Vitali (awesome performance by Helmut Berger) in "Beast with a Gun AKA La Belva col mitra (1977)", since you aren´t "scared" of Sacchi in a similar, intimidating way. Milian brings his own, sometimes even darkly comical, flavour to the character. He´s the key to making this film truly work, and his performance will be remembered probably for years to come. There´s only one Tomas Milian, and "Almost Human" is a good option to see him in his 1970s prime.

Video


"No Shame" is a quality company, so it´s not exactly a surprise that "Almost Human" is looking in most parts great; presented in Anamorphic 2.35:1. Clean and sharp transfer has strong colours and bold black levels, and occasional line shimmering and edge enhancement didn´t really bother. During the certain panning shots, the picture gets a bit restless, and some people can also be disappointed that the transfer is Interlaced (based on the reports). Some natural film grain is present, but I wouldn´t want it any other way. My copy had a minor "frame jump" at 22:19 minute mark, when the old man is opening the door. Once he´s just to open the door, the picture "freezes" for a second, and then jumps ahead. This is a minor thing, and I´m not sure why it´s there. The film runs 99:16 minutes (NTSC), and it has 12 chapters. Dual layer -disc is coded "R0".

Audio


On the audio front, "No Shame" is usually presenting their films in the ideal way when it comes to these European cult-movies, and this release is no exception. Both English and Italian Dolby Digital 2.0 Mono-tracks are included, and optional English subtitles are reserved for the Italian audio track. When it often is the case with films in this nature, both English and Italian audio were dubbed afterwards, which makes it more difficult to determine which one is the "original audio". Now people can watch the films in both ways, and I chose English. It seems that at least Henry Silva is speaking English for being an American actor, but e.g. Tomas Milian is speaking Italian (and is probably dubbed by another actor).

English-track sounded very clean and well balanced. There are no hisses or pops, so I have no real complaints about it. While sampling the Italian-track, you´ll hear that is has some minor background noise and it´s not as clean as the English-track, but both sound pretty good for the film at this age. Also note, that there are a few scenes with newspaper headlines in Italian, and with those you need to turn on the English subtitles.


Extras


In the extras we´ll find two longer interview-featurettes, among the usual trailers and photo gallery.

"Like a Beast…Almost" -featurette runs 35:28 minutes, and includes interviews from director Umberto Lenzi, actors Ray Lovelock and Gino Santercole, and screenwriter Ernesto Gastaldi. This featurette is in Italian, with optional English subtitles. Lenzi tells how the film was influenced by French film noir, and also tells some background of the actors (actor Marc Porel was the first choice of the lead, and actor Richard Conte unfortunately died and was replaced by Henry Silva). Apart from the director Lenzi, Ray Lovelock does the main talking in this featurette, telling stories about his first meeting with Milian (they became good friends) and their musical involvements. He also tells a few anecdotes how they drank some vodka to prepare for some scenes (apparently Milian drank some more during the production), and also how Lenzi´s style was to shout at everybody during the shoot. Actor Santercole and writer Gastaldi goes a bit to waste in this featurette, since Lovelock and Lenzi speak so much, but these type of interviews are of course great to have on the DVD. A brief phone interview with Milian is also included in this featurette.

"Milian Unleashed" " -featurette includes an interview with the lead actor Tomas Milian, and it runs 28:24 minutes. Milian, now living in the US, is speaking English (there are no subtitles), and is very humorous and witty personality, always knowing his status as a "cult actor", but also joking about it. He´s talking about the actor who has done his dubbing many times, and he also tells some nice things about his fellow actors Lovelock and Silva (and speaks about the sometimes difficult Lenzi). Milian talks about the origins of the character in "Almost Human", and quite genuinely feel that this is one of his best performances as an actor (along with "Traffic (2000)" and that "the best is yet to come"). Film clips are presented in Italian, with optional English subtitles.

2 theatrical trailers are included; International (3:20 min) and Italian (with optional English subtitles - 3:21 min). These are basically similar, but the language is different. What makes these interesting is, that they include some alternate shots of certain scenes (if you look close enough).

Photo gallery runs 2:20 minutes, and includes 28 photos (mainly stills, but also some posters, lobby cards, and CD/VHS-covers are included).

Keep case also includes an 8-page booklet in English, with biographies of Umberto Lenzi and Tomas Milian, and liner notes by Richard Harland Smith.


Overall


"Almost Human" is a fine example of Italian "Polizia"-cinema, including some true legends from that era both in front and behind the camera. This DVD-release from "No Shame" does justice to the film by offering a good transfer and audio, and interesting English friendly extras. Don´t miss this one.

This DVD is available at Sazuma.com.
| | | | | |
| --- | --- | --- | --- | --- |
| The Film: | Video: | Audio: | Extras: | Overall: |