Simpsons: Treehouse Of Horror (The)
R2 - United Kingdom - Twentieth Century Fox Home Entertainment
Review written by and copyright: Movie Mad (17th April 2004).
The Show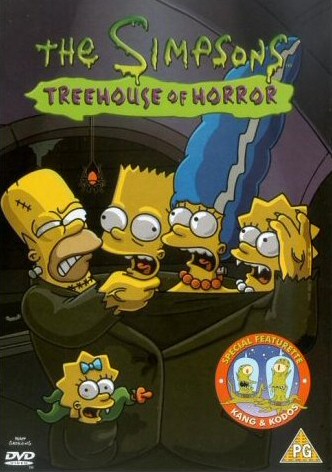 Treehouse Of Horror V
The DVD gets off to a good start with with this hilarious episode where they spoof "The Shining" ("Sssh...wanna get sued?!"), Homer travels through time ("I'm the first non-Brazilian person to travel backwards through time!") and the school starts serving students for lunch. With buckets of gore/blood, the only problem is that it falls apart in the last two minutes and ends with a cheesy musical number.

Treehouse Of Horror VI
The quality of the first episode retains in the episode where advertising mascots attack, the kids are attacked by Willie in their dreams, and Homer sets into the third dimension and can't find his way out. Not quite as the episode before it, but at least it ends better.

Treehouse Of Horror VII
The chink in the armour comes here - this hasn't really clicked. Bart finds he has an evil twin, Lisa creates life in a margarine tub, and Kang and Kodos become Bill Clinton and Bob Dole to take over the world during the 1996 Presidential elections. As you can tell, it's dated badly and again ends really abruptly.

Treehouse Of Horror XII
The DVD makes up for its self with this final episode from Season 13 that plies the laughs and keeps them coming. Here, Homer is cursed by a gypsy bringing bad luck to everyone he knows, the family change their house into one that does all the cleaning/cooking for them, but turns nasty when the computer (voiced by Pierce Brosnan) falls for Marge, and Mr. Burns (or Mr. Montymort) tries to take Lisa's wizard powers in a Harry Potter spoof. Very funny, especially the final segment. Worth the asking price alone.

Video


Again this is average, and no better than the original TV broadcast. Presented in 1.33:1 (or 4:3), the picture ranges from decent (the first episode) to outstanding (the final episode). The score is better than the previous Simpsons disc I reviewed (Christmas With The Simpsons) because the picture is good looking throughout, where as Christmas had a dire looking first episode.

Audio


Again, no better than the TV broadcast. Presented in Dolby Digital 2.0, the languages are in English, French or German. The score is marked up because these are no ordinary Simpsons episodes and they can be suprising aggressive (although you don't have to tape down furniture and invest in a new insurance policy).

Extras


Well, this disc is encoded from regions 2/4, that's a plus. We have a very bad to navigate menu, and finally the usual clips featurette (this time on Kang and Kodos) which are scenes you've seen times before and most of the clips come from a halloween episode not featured on this disc, pratically telling you everything that happens in the story they were featured.

Overall



| | | | | |
| --- | --- | --- | --- | --- |
| The Show: A- | Video: B+ | Audio: B- | Extras: E | Overall: |

---
DVD Compare is a participant in the Amazon Services LLC Associates Program and the Amazon Europe S.a.r.l. Associates Programme, an affiliate advertising program designed to provide a means for sites to earn advertising fees by advertising and linking to amazon.co.uk, amazon.com, amazon.ca, amazon.fr, and amazon.de.