The Film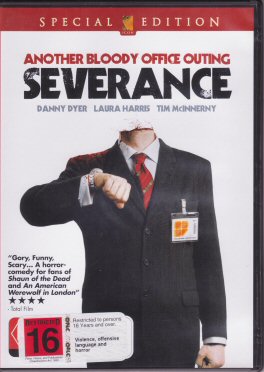 When horror began its comeback with the arrival of "Scream" (1996), there was a brief resurgence of originality followed by lots of blithering crap. But every once in a while you would get films that deliver maybe not a wholly original experience but an entirely enjoyable one. "Severance", baby. It's good times, had by all…except its characters. Just the way it should be.

Referred to as a cross between "The Office" (2001-2003) and "Deliverance" (1972), "Severance" depicts a group of office workers going for a team-building weekend out at a deserted lodge in the woods of Eastern Europe. Sounds fairly standard, yes? From there the viewer is treated in many ways, from out of the blue humour to disgusting horror. It's hard to predict where the trail will lead as the co-workers slowly start getting picked off by…I'll leave that to you. The thing about this film is; you don't want to ruin too much for anybody. The joy is in how it plays out. But let's just say they manage to work in a spider, a flame thrower, paintball, and a rocket launcher. I'm leaving my favourite thing out too, as mentioning it would cause you to see it coming before its time.

Owing much (in my opinion) to "Shaun of the Dead" (2004) and its style, "Severance" is over-the-top and wildly unpredictable. It plays with the conventions of the genre in a delightful fashion and revels in it. If it sounds like I'm a huge fan of this film, then spare me this guilty pleasure. It's been a while since a movie has caused me to laugh and cringe so suddenly…and I mean that in the most complimentary fashion. If you enjoyed films like the aforementioned "Shaun of the Dead" then this will give you a great night of entertainment. I mean it has the actor who played Percy on "Blackadder" (1983), that right there should be enough reason to check it out, as he does a wonderful job of bringing his style of humour on strong without hitting the campy mark. The rest of the cast do a fine job as well, especially Claudie Blakely as Jill, who does a very impressive job in the various scenarios she's presented with. The film is packed with allusions to other films and its fun picking them as you go. Its obvious how much the cast and crew had a fun experience making it.
With a top notch cast alongside a very competent script that most definitely keeps you on your toes, its fun for the whole family…at least the family members with a strong constitution. It's tremendously fun from 'go' to 'whoa'. I heartily recommend.

Video


Presented in a widescreen ratio of 1.78:1 this anamorphic transfer presents the film fairly well, but has a few flaws that knock the rating down a touch. While overall the image looked sharp there were some that appeared a bit soft, some shots also were a bit dark and hard to make out detail. On the plus side colours looked good, skin tones were natural and the image was clean of any dirt. The film was shot digitally so you'd expect a fairly flawless transfer but I believe this image was created using the transfered 35mm elements rather than a straight digital port from the original source.

Audio


Two audio tracks are included in English Dolby Digital 5.1 and English Dolby Digital 2.0 stereo. For the purposes of this review I chose to view the film with its 5.1 soundtrack. This track really packs a punch, the dialogue is clear and distortion free, but the real meat of this track lies in its aggressive nature exhibited during the film's more intense moments. The ambient noise also helps the viewer immerse themselves in the wooded environment the characters find themselves in. Overall it's an active track that makes great use of the surrounds.
The disc does not feature any optional subtitles.

Extras


Warner Brothers has released this 'Special Edition' DVD with extras that include a documentary, a collection of 4 featurettes, some deleted scenes and outtakes. Below is a closer look at these supplements.

First up is "The Making of Severance" a documentary that runs for 33 minutes 47 seconds. This clip plays like a fly-on-the-wall style video but incorporates the standard EPK style interviews with the key cast and crew. Aside from the usual back-patting in the interviews the footage takes you through the grueling production process and adds some substance to what would have otherwise been a rather mundane clip. Judging by the footage the cast seemed to have a great time making the film, and see them getting into character and shooting various scenes from the film.

Next up is "Being Danny Dyer" featurette that runs for 5 minutes 17 seconds, this is another fly-on-the-wall video following the actor during the course of production as he shares various things with the audience including his favorite word..."c**t".

Following that is "Danny Fight Rehearsal" featurette running at 2 minutes 2 seconds and is footage of Danny learning his moves for a fight scene that occurs in the film's final act.

"Not So Special FX" is a featurette that runs for 4 minutes 55 seconds and takes a look at the practical effects created for the film. We get a look at the various gags that involved guns, knives and explosions. Sometimes they don't go off according to plan, watching them fail is rather amusing but would have been frustrating on the day filming.

"Crashing a Coach" is the last featurette and runs for 8 minutes 11 seconds, here we get a look at how the production got a hold of a bus for the film, one that essentially had to be completely written off after the production and also a look at the stunt team flipping the bus over.

A reel of deleted scenes is next and runs for 11 minutes 18 seconds, here we see a stoned Steve talking to a deer in a the woods and more footage of him tripping out in the woods, a Palisades Corporate video, the employees bicker in the woods, Gordon suggests a sing-a-long, Steve talks about taking down a deer and favorite Vietnam movies, Jill and Harris bond while in the woods, Steve passes around his joint and Gordon in a delirious state tells Maggie that he loves her and everyone else too.

Rounding out the extras are outtakes that run for 1 minute 35 seconds and include the usual stuff, flubs and missed cues etc.

Overall


Lots of extras were omitted for this release, including an audio commentary that was included on the UK R2, which is a shame considering this is a 'Special Edition' I was expecting a bit more. However if you're not that bothered by extras then this is still a fairly decent edition of the film to pick up.
| | | | | |
| --- | --- | --- | --- | --- |
| The Film: A | Video: B+ | Audio: A | Extras: B+ | Overall: B+ |