The Film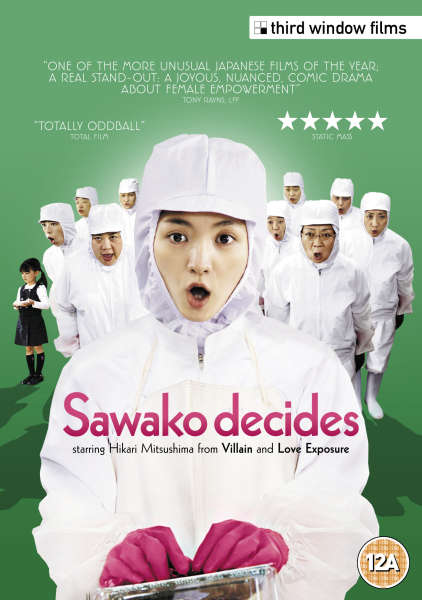 Director Yuya Ishii received the 19th PFF PIA Film Scholarship Award for Sawako Decides which went on to win several awards including best feature and best actress awards at the Fantasia Film Festival.

The synopsis from the press release states:

Sawako has lived in Tokyo for five years, is working her fifth office job, and is dating her fifth boyfriend who is also her boss at the office. Her life with Kenichi, her boyfriend, and his daughter from a previous marriage, Kayoko, feels like a compromise she endures each day feeling distressed about her career and love life. One day, she receives word that her father, Tadao, who runs a freshwater clam processing business, has fallen ill. There is a reason why Sawako would rather not go back home so easily, but she reluctantly decides to return at Kenichi's insistence. Kenichi, however, who had actually quit his job shortly b efore Sawako, uses the opportunity to move with Sawako to her hometown with his daughter in tow. Thus Sawako's ordeal continues as she takes over her father's business and begins to work there, slowly taking charge of the situation and forming a new life for herself.

Sawako Decides is an interesting film with the basic message that when things are not going in life as you planned them, it's good to strive to be average (or "lower-middle" as Sawako puts it) and sometimes you just have to tough the bad times out. Lead actress Mitsushima Hikari plays Sawako with brilliance, going through a whole range of characteristic emotions from defiance to lethargy, love and hate whilst maintaining a darkly comic undertone and quirkiness to the whole affair. A fantastic actress and I would certainly like to see more from her in the future (and maybe I'll finally get around to watching my copy of Love Exposure). Unfortunately, the biggest downpoint to Sawako Decides is the supporting cast who are not of the same caliber as Mitsushima. I disliked Kenichi as a character which, IMO, I was supposed to, but I also disliked the way the character was portrayed by Masashi Endo.

The script was enjoyable and was written by director Yuya Ishii. It was tight, if slightly formulaic, but it did very well at developing the characters at the right moments and made good use of flashbacks to show certain moments in Sawako's life without overusing them. I'm not sure how accurate the subtitles are to the actual dialogue but they certainly seemed to show the right intention so I imagine they are very close.

Sawako Decides is definately a film people should check out, especially fans of the less 'energetic'side of quirky Japanese cinema. Whilst it isn't for everybody, the strength of the main character and the lead actress can't stop me from recommending it.

Video


Presented anamorphically at an aspect ratio of 1.78:1, the picture quality of Sawako Decides is unfortunately ropey. With a lot of grain, lack of sharpness and clarity and feeling more dark than perhaps the director was looking for I can't help but think the transfer is a disappointment, especially considering Third Window's previous releases. It should be noted that the transfer is a NTSC>PAL conversion.

Audio


Like the picture, the sound quality is unfortunately lacking. On occasion sound levels appear slightly inconsistent between indoor and outdoor scenes and this sometimes affects the clarity of dialogue. The only track on offer is Dolby Digital 2.0 Stereo in the original Japanese language and I doubt that the film would've benefited from a 5.1 upmix apart from slight atmospheric reasons such as rain. Optional English subtitles have been included and they are clear and easy to read at all times.

Extras


We start with a very short introduction to the film with director Yuya Ishii. Unfortunately, he really has nothing to say other than welcome and asking the viewer to check out his next movie.

Next up is an interview with Ishii lasting almost thirty minutes. At the start of this extra we get a text screen informing us of poor audio quality due to an air conditioning system but if you can get past this annoyance, the interview is well worth a watch. Going into detail on how Ishii feels about the characters, the settings and similarities with his other works, Ishii comes across as an interesting director who has a lot to give the independent filmmaking community of Japan. Annoyingly we don't actually hear the interviewer who is obviously sitting across from Ishii, instead getting subtitles without dialogue.

The extras finish up with a theatrical trailer and bonus trailers for:
- "Villain"
- "Cold Fish"
- "Confessions"
- "Confessions of a Dog"
- "Memories of Matsuko"
- "Kamikaze Girls"
- "Kakera"
- "Fish Story"
- "Lala Pipo"
- "Love Exposure"
- "Instant Swamp"
- "Fine, Totally Fine"
- "Turtles Are Suprisingly Fast Swimmers"
- "Funuke"
- "Dasepo Naughty Girls"
- "Peppermint Candy"
- "Presidentís Last Bang"
- "Say Yes"
- "No Blood No Tears"
- "Friend"

I would've liked to have seen a commentary or maybe some info about the PIA film scholarship programme, even if the info was available by way of simple text screens or small booklet.

Overall


An interesting film with very good character development and an informative interview with the director. Unfortunately, it is let down by below average picture and sound.
| | | | | |
| --- | --- | --- | --- | --- |
| The Film: B+ | Video: D+ | Audio: C- | Extras: C- | Overall: C |