The Film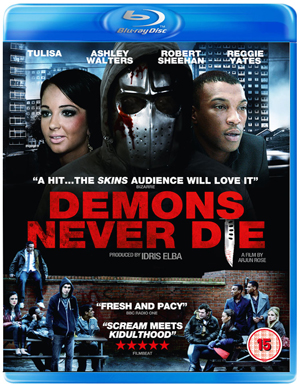 ***This is a technical review only. For reviews on the movie from various critics, we recommend visiting HERE.***

When London detectives Bates and Mason (Top Boy's Ashley Walters and Reggie Yates) are sent to investigate a series of deaths at a local High School, they soon focus on a teenage gang with a dark secret. Led by misfit Archie (Robert Sheehan, Killing Bono, Misfits) and school psycho Kenny (Jason Maza, Rise of the Footsoldier) each member is battling their own inner demons – victims of violence, bullying, disorders and prejudice. These motives give each a reason to kill and a reason to die.

Stylish, gripping and electric-paced entertainment from The Wire's Idris Elba; Demons Never Die combines the hottest new talent including Tulisa (N-Dubz and X-Factor), Shanika Warren-Markland (4.3.2.1), Femi Oyeniran (Anuvahood) and Arnie Oceng (Adulthood) with the year's coolest soundtrack of Chase and Status, Rizzle Kicks, Wretch 32, Jessie J and more.

Video


Exile Media Group have given "Demons Never Die" its worldwide debut on Blu-ray in the original aspect ratio of 2.35:1. The transfer is 1080i/50 and uses an AVC MPEG-4 encode. Unfortunately, it leaves a lot to be desired, especially for such a recent movie.

I'm not really sure where to start with the large array of problems that are visible throughout this transfer. Perhaps the aliasing, which makes itself well known on various items in the backgound, especially on the bridge at 17:50, or perhaps the haloing and edge enhancement which is a constant irritation around the characters in mid-distance shots. Or how about the poor lighting choices which makes blooming an occasional eyesore during outdoors daytime scenes. Nothing is safe here. Not even the colours, which either feel overly bright, or horribly soft. Blacks are never inky and deep when you want them to be, and when you should be seeing some gentle shadow detail, you are met with some crush. To top it off, details are severely lacking for the format, with the transfer often feeling no better than an upscaled DVD. Despite all these problems, it can still pass as a bearable and watchable transfer, but you shouldn't pin your hopes on it being anywhere near as good as similar films of this ilk and budget. A big disappointment.

The feature is uncut, and runs 93:01.

Audio


There are two audio options available:
- English DTS-HD Master Audio 5.1
- English LPCM 2.0 Stereo

For my viewing, I opted for the English DTS-HD Master Audio 5.1. It should be noted though, that the LPCM 2.0 Stereo track annoyingly plays by default, so you will need to select the 5.1 track yourself. The 5.1 is pretty basic. The surrounds are used mainly for the score, as well as for some loud and cheap jumps, whilst the vast majority of environmental effects and dialogue are kept to the front of the sound stage. The LFE is used sparingly, but suitably. Directionality is lacking a little with no real depth or conviction, with an overall slightly flat tone taking precedent. There was no noticeable damage to the audio such as drop outs, or scratches.

No subtitles have been included.

Extras


The first extra is a music video entitled "Ouch: Demons Never Die", performed by Dionne Bromfield and featuring MZ Bratt and Chloe Moretz (3:37). No doubt about it, Dionne Bromfield has a decent voice for what I guess is called urban music? I have to say though, I'm very surprised Chloe Moretz decided to be in the video. Seems like a strange choice for both her, and the singers. I did prefer MZ Bratt's part to Bromfield. Not my type of thing to be honest, but not awful.

Next up, we have some interviews from the red carpet lasting 6:15. Interviewees are Reggie Yates, Iwan Rheon, Arjun Rose, Dionne Bromfield, Jason Maza, Tara Palmer-Tompkinson, Robert Sheehan, Shanika Warren-Markland, Arnold Oceng, Andrew Ellis, Yasmin, and Dynamo. It's a backslapping affair, even in the soundbites after they leave the screening where the people coming out looked bored to tears. It must also be noted, the quality of video and audio here, is very poor, as though it was filmed on an old phone camera.

The extras finish with teasers/trailer:
"Samanatha Suicide Note" teaser (1:08)
"Kenny and the Knife" teaser (0:21)
Theatrical Trailer (1:38)

Overall


The British film industry is massive, and we have some of the best people in the industry working behind-the-scenes at places like Pinewood. Unfortunately, like every country, we also produce some films we'd rather sweep under the carpet and forget about. "Demons Never Die" is one of them.


| | | | | |
| --- | --- | --- | --- | --- |
| The Film: D | Video: D+ | Audio: C+ | Extras: D | Overall: D |