The Film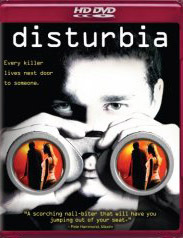 "Every killer lives next door to someone."

Shia LaBeouf (Transformers) stars as Kale Brecht, a 17-year old student who is placed under three months' house arrest after assaulting his Spanish teacher in class. When his mother Julie (Carrie-Anne Moss, The Matrix) takes away his luxuries, Kale takes to spending his days observing his neighbours' lives from the various rooms of his house. After seeing a news item about a missing girl, Kale starts to pay particular attention to the mysterious Robert Turner (David Morse, The Green Mile), who Kale becomes convinced is a serial killer. With the help of his best friend Ronnie (Aaron Yoo) and the recently moved in girl next door Ashley (Sarah Roemer), the trio dig further into Tuner's private life, putting them all in danger.

"Disturbia" is basically Alfred Hitchock's classic Rear Window, but made with today's young adult/teenage market in mind and making using of modern technology: Kale is confined to his house and garden by an ankle monitor rather than a broken leg; he uses the Internet and his mobile to communicate with his friends rather than a traditional telephone, and so on. Initially wasteful with his time, spending it lazing around the house watching TV and playing computer games, it is only when his mother takes away his access to Xbox Live, iTunes, and his TV that Kale actually starts to look at the world around him and get involved in it on something more than a superficial level. It's also the first time he ventures into his father's study since his death a year ago, in a car accident that Kale was involved in.

Despite the formulaic plot, Disturbia is an entertaining and well-paced thriller, with a great performance from LaBeouf. This is the first major role I've seen him in, and I was impressed. David Morse is also effective, playing his role in a quiet and understated way (according to the director, Morse wouldn't be friendly towards LaBeouf on set, to maintain the tension needed between the characters). Yoo and Roemer don't get much to do except provide comic relief and to look good (respectively), while Moss is relegated to a fairly minor role as the single parent. Director D.J. Caruso, who has worked largely in television, keeps things moving along nicely and strikes a good balance between the romantic and thriller aspects of the story, while composer Geoff Zanelli provides a suitably appropriate score that builds tension and menaces in all the right places.


Video


The 1.78:1 1080p transfer, encoded using AVC MPEG-4, is excellent. Closeups on characters' faces reveal a high level of detail, and colours are superb with deep blacks and clean whites. Interior scenes use muted browns, reds and dark oranges, while outdoors scenes use vivid greens, blues and whites, all to great effect.

Audio


There are four options available: English DTS-ES, English DD5.1 EX, French DD5.1 EX and Spanish DD5.1 EX. For my viewing I listened to the DTS-ES option, which features the usual depth and clarity expected from a DTS track, but also features great directional effects; a doorbell rings directly behind you from the rear-centre, while a during thunderstorm the rain echoes all around as the floor shakes with the bass from the thunder.

Subtitles:
There are optional English, English HoH, French, Spanish and Portugeuse subtitles. There is also a special 'Serial Pursuit Trivia/Pop-Up Quiz' subtitle track, which is basically an on-screen trivia track. It's not really interactive as the name implies, as the few questions posed simply have the answer appear a few seconds later. Also, most of the facts about filming overlap with information given in the audio commentary.


Extras


The main extra is an Audio Commentary with director Caruso, and actors LaBeouf and Roemer. The track is an informal, yet uneven, affair: although the trio impart plenty of information about the shoot in the relaxed atmosphere, the commentary is interrupted several times while Caruso receives calls on his mobile phone. I have to admit this did irritate me somewhat.

Next up is The Making of Disturbia, which runs approximately 14:51. This is a typical behind the scenes look at the making of the film, featuring interviews with the cast and crew and on-set footage.

There are also around five minutes of Deleted Scenes, two of which feature nice scenes betwee Carrie-Anne Moss and Shia LaBeouf. It's a shame the two didn't get more screen time, as they clearly work well together.

The Outtakes run for a brief 1:27 and don't offer anything particularly amusing.

The Music Video "Don't Make Me Wait" by This World Fair is your standard music video: the band perform the song interspersed with clips from the film. It was directed by DJ Caruso. Finally we have a Photo Gallery and the Theatrical Trailer.

All the extras are presented in HD, except the Photo Gallery.


Overall



Equipment: Toshiba HD-XE1, Toshiba 37X3030DB, Yamaha DSP-AX630, Mission speakers & sub.
| | | | | |
| --- | --- | --- | --- | --- |
| The Film: B | Video: A+ | Audio: A | Extras: B- | Overall: B+ |