The Film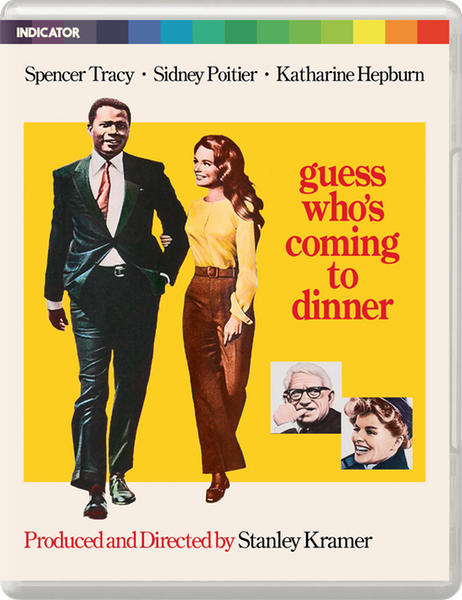 ***This is an A/V and Extras review only. For reviews on the movie from various critics, we recommend visiting HERE.***

A love story of today.

Stanley Kramer's landmark study of racial prejudice stars the ace comic duo of Spencer Tracy and Katharine Hepburn as perplexed parents. When Joanna (Katharine Houghton) returns home with her new fiancé John Prentice (Sidney Poitier), a distinguished black doctor, her mother accepts her daughter's decision, but her father is shocked by the prospect of the interracial union.

With the doctor's parents equally dismayed, both families must meet to explore the limits of their intolerance.

Video


I could probably cover the transfer section of this review with one word. Wow. I won't though! Powerhouse Films utilise the 4K restoration performed at Sony by the ever impressive Grover Crisp, and present the film in the original aspect ratio of 1.85:1 using an AVC codec. It truly is a beautiful transfer.

Guess Who's Coming to Dinner has a very natural look to it, with colours exceptionally well replicated, especially the various blues and greys in clothing. Flesh tones look as they should, and blacks are deep and inky, without any crush. As well as no crush in the blacks, brighter colours avoid blooming and saturation is bang on. Grain levels are generally very consistent throughout, though there are slight changes depending on the use of lighting (which is to be expected). Some scenes featuring Hepburn are a little softer than others, but this is intentional and is down to the fact Hepburn was concerned about her appearance having not been in a colour film for some time. Detail is remarkable throughout, especially in the many facial close-ups. From Tracy's weathered skin, to every little detail in Poitier's suits, this is certainly one of the most detailed transfers I have seen for a film from this era. The print itself is very clean, with only the occasional - and barely noticeable - speck and scratch. There are no signs of edge enhancement, aliasing, or digital noise reduction. Overall, this is a cracking transfer.

The feature is uncut and runs 108:19.

Audio


There are two options included here:
- English DTS-HD Master Audio 5.1
- English LPCM 1.0

For my viewing, I decided to stick to the original mono audio, though I did switch it up from scene to scene to test the 5.1 track. The feature is very much a dialogue driven affair, with only the occasional background environmental sound effect (like general chatter, plane noises in the airport) and Frank De Vol's intermittent score making light use of the surrounds in the upmix. Dialogue is crystal clear throughout, and is well-balanced. The track could perhaps have had a little more depth on occasion, though it never sounds flat at all. As to be expected for a prestige title licensed from Sony, there are no issues with crackles, drop outs, scratches, or pops, and I noticed no signs of background hiss.

Optional subtitles have been included in English for the hard-of-hearing.

Extras


We start the extras off with an Isolated Score which has been presented in DTS-HD Master Audio 2.0. Frank De Vol's score suits the film perfectly, but due to the nature of the film, there are a lot of long moments where no score plays, which makes the isolated score a little bit of a long affair with many dead spots. Admittedly I did not play this extra all the way through, but I did have a decent scan finding moments where the score could be enjoyed. It's an appreciated extra, but would be more fulfilling if one could skip the dead spots.

Introductions:
- Play All (9:22)
- Karen Kramer (2:43)
- Steven Spielberg (1:06)
- Tom Brokaw (2:45)
- Quincy Jones (2:48)
This series of varied introductions to the feature are a welcome addition to the package. Director Stanley Kramer's wife talks about how he fought for civil rights by way of his films and how more still needs to be done, Spielberg talks about how this is one of the most socially conscious contributions to cinema in history and how talented Kramer is, Brokaw goes into how the provocativeness of Kramer's films was used to send a message instead of being just purely entertainment, and Jones mentions his relationship with Poitier and how Poitier knew at the time this would be a powerful film for race relations.

"A Love Story for Today" documentary (29:52) - This retrospective look at the film features archival interview footage from director Stanley Kramer, and talking head interviews with his wife Karen Kramer, as well as cinema's Norman Jewison, and Louis Gossett Jr. They discuss how this is a film of two love stories, one between Spencer Tracy and Katharine Hepburn, and of course the interracial relationship which is the focus of the feature. Many topics are covered, including the story in general, the cast members, the humour within the film, and racism. The most insight comes from Katharine Houghton though, who obviously has very fond memories of being in the film, and the controversial issue in society it fought against.

"A Special Kind of Love" featurette (17:13) - This piece concentrates more on the relationship between stars Katharine Hepburn and Spencer Tracy, who co-starred together in many films, with Hepburn even taking a career break to look after him. This was unfortunately to be Tracy's final film, but he left the film world with one of the greatest scenes I can think of (the summation scene). Again, co-star and Hepburn's niece, Katharine Houghton, offers the best soundbites here.

"A Man's Search for Truth" featurette (16:55) - For me, this is the best extra on the disc and I wish it had been longer. It looks more at Kramer and his use of cinema to tackle social issues. The featurette includes several instances of archival interviews, as well as interviews with the likes of Norman Jewison, Dick van Dyke and the late Dennis Hopper. The quick clip from "At One with David Horowitz" sums the whole piece up in twenty seconds, and Karen Kramer befittingly states how her husband's films are a document of whatever social issue had been happening in America at that time.

"Irving Thalberg Award" excerpt (1:59) - This is short footage showing Stanley Kramer receiving the Irving Thalberg Memorial Award, and his acceptance speech.

"2007 Producers Guild" excerpt (4:35) - This is footage of Harrison Ford presenting the Stanley Kramer Award to Al Gore for his documentary An Inconvenient Truth which also tackled a serious subject matter in climate change.

We finish the extras package with an Image Gallery (60 pages), a Teaser Trailer (1:03), and a Theatrical Trailer (2:36).

The first 3,000 copies come packaged with a DVD Copy and a Booklet with a new essay by the BFI's Tega Okiti and a critical overview by Jeff Billington.

Overall


Recently it feels as if the world is going backwards in regards to race relations, yet this film shows just how far we have come in fifty years. This is an essential purchase for the final summation speech alone. The A/V presentation is superb, and the extras package a delight. Highly recommended.
| | | | | |
| --- | --- | --- | --- | --- |
| The Film: A- | Video: A | Audio: A- | Extras: B+ | Overall: A- |