The Film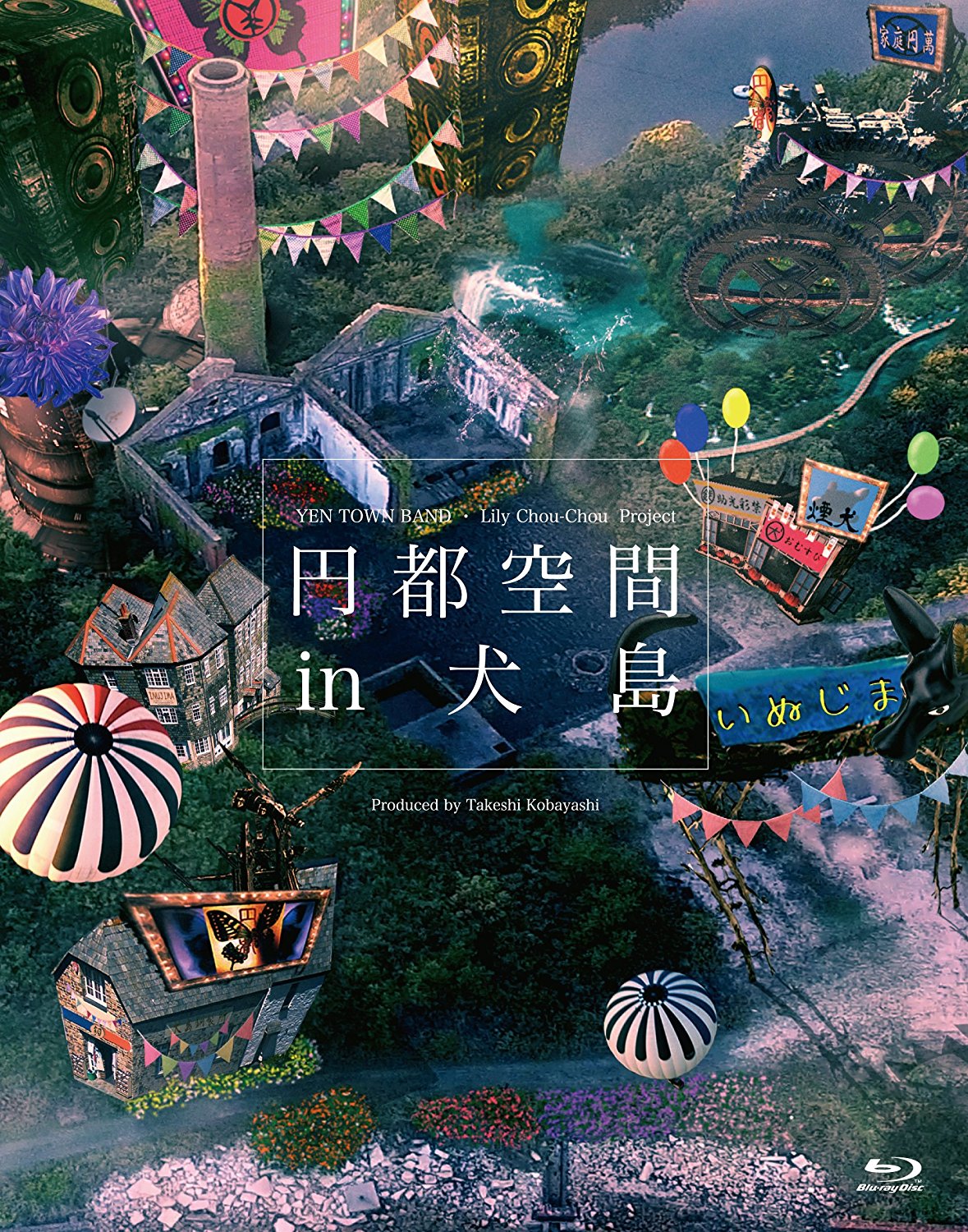 "Yen Town Space in Inujima" 「円都空間 in 犬島」 (2017)

Following the critical successes of his first two directorial features "Love Letter" (1995) and "Picnic" (1996), filmmaker Shunji Iwai made a giant leap with the confrontational and controversial dystopian film "Swallowtail Butterfly" also released in 1996. Dealing with immigration issues, racism, class struggles, world economic issues, the film focused on characters living in the slum-like "Yen Town". Like a mix of "The Lower Depths" and "Children of Men", the film's negative tone was coupled with the positivity of the music, especially by the fictional "Yen Town Band" that performed through the story. Being an integral part of the story with specifically composed songs by Shunji Iwai, famed music producer Takeshi Kobayashi, and charismatic pop singer Chara the music and movie were critical and commercial successes with 9 Japanese Academy Award nominations and 2 wins, and the soundtrack album "MONTAGE" by the Yen Town Band became the first #1 album by a "fictional" band.

In 2001, Iwai's fifth feature and his first since "All About Lily Chou Chou", a film set in the modern era about a junior high school student that is a fan of the angelic pop star Lily Chou Chou. Dealing with school violence, isolation, friendship, and hope, the film was another very darkly toned story that resonated with cinemagoers and music fans, grossing more than ¥3 billion on a ¥150 million budget at the box office. For the soundtrack, Iwai and Kobayashi needed a truly angelic singer that could rise the fictional "Lily Chou Chou" character to life, and that was found in the 18 year old singer Salyu, who's voice was mix of Bjork and Faye Wong - something especially unique and hard to classify into a single style or genre and it was perfect. The soundtrack album "Breathe" sang by Salyu as the Lily Chou Chou character and composed by Iwai and Kobayashi was not the big hit that the "Swallowtail Butterfly" was in the mainstream, but for music fans it was especially well loved and a critical hit, showcasing the amazing vocals with music that was far away from the mainstream yet entirely accessible.

In 2016 for the 20th anniversary of the release of "Swallowtail Butterfly", a special concert event was announced. An outdoor event where the fictional Yen Town Band would reform and play songs from "MONTAGE" as well as a collaboration with Salyu performing songs from "Breathe", and other guest appearances. The event was scheduled as a four day event - from October 8th to October 11th, 2016 on the small island of Inujima, off the coast of Okayama prefecture. Each day had the performances scheduled from 5:00pm to 7:00pm with basically the same sets performed on each night. In the early twentieth century, a copper refinery opened on the island of Inujima, with a peak of about 1,500 people living on the island in 1935. But in the postwar years and the closing of the refinery, the island was largely abandoned. With many of the structures still remaining as ruins, the Inujima Seirensho Art Museum was established to preserve the legacy of the island as a tourist attraction while also having various exhibitions displayed including this special concert event. While there are a good number of people that visit the island by ferry daily, the current population of the island is a small number at 35 people as of 2017.



Director Shunji Iwai / Music Producer Takeshi Kobayashi

It may have been 20 years since the Yen Town Band first formed in the fictional film world, but they have not been silent for the last 20 years. Lead singer Chara who was a successful solo artist prior to acting in the film has and still continues in music, with her trademark raspy voice reminiscent of Janis Joplin or Marianne Faithful crossed with anime style cuteness. In 2015 after a 19 year hiatus, the Yen Town Band made a comeback single "Ainone" and a full length second album the following year entitled "diverse journey". It did not reclaim the top spot of the charts but landed at a respectable 16th place. As for Lily Chou Chou, the singer Salyu went on to have a solo career and while she has gravitated towards a slightly more mainstream sound, her albums failed to make a large impression on commercial music in Japan. Though her music has received positive acclaim and all five of her solo albums have charted in the top 20, she has not crossed into the mainstream and having more of an independent following. Her collaborations with other musicians such as Cornelius, Mr. Children, and Quruli are still highly regarded, but most will still remember her for the Lily Chou Chou album from 2001. To say, she did not leave the character entirely behind, as in 2010 a new single by Lily Chou Chou entitled "Ether" was suddenly released.

For the special 2016 concert event, Takeshi Kobayashi would perform on keys. Chara and Salyu would perform the songs by their characters. Yukio Nagoshi who performed as one of the original members of the Yen Town Band would perform on guitar. Maisa Tsuno from the band Akai Koen would also perform on guitar. Nobuaki Kaneko of the band RIZE would perform on drums. Kiyoshi Takakuwa, also known as the singer/songwriter Curly Giraffe would perform on bass guitar. TOKU would play both the trumpet and flugelhorn. Additional vocal performances were provided by special guest singers Nobuo Oki of the band Acidman and Yuko Ando. The full concert tracklisting is as follows:

Tracklisting (with "All Play")
- "Requiem"
- "Glide"
- "Wasuremono no mori"
- "Ame to pants"
- "Erotic"
- "My Memory"
- "Eien no soko"
- "Meguru, meguru, sono kaku e"
- "Sunday Park"
- "She Don't Care"
- "My Way"
- "Last Eye"
- "Ether"
- "Sekai ga owaru yoru"
- "Swallowtail Butterfly - Ai no uta"
- "EL"



The Singers: Chara / Salyu / Yuko Ando / Nobuo Oki (Acidman)

The show is unlike the standard concert performance as it has no break between songs. If there are breaks, they are monologues performed by Yuko Ando and Nobuo Oki, still keeping the flow moving along with the music. One song would flow directly to the next with performers entering or exiting on cues, so there are no large applauses from audience members as they stand back and listen to the music quietly. While things start slowly with tracks such as "Glide" and "Erotic" by Salyu performing from the "Breathe" album and Ando's beautiful performance of "Wasuremono no mori", things start rocking when Salyu breaks into "My Memory" - a commercially unreleased Lily Chou Chou song first heard in 2010. Oki's performance of "Eien no soko" from Acidman's 2014 album "Yu to mu" rocks the entire place out with powerful vocals and an ever building song that ends with an amazing climax of guitars and drums. Chara comes to steal the show midway through with her renditions of "Sunday Park", "She Don't Care", and cover of Frank Sinatra's "My Way" all featured on the "MONTAGE" album along with newer tracks such as "My Town" and "EL" from "diverse voyage". The performances by the band and the individual performers are an absolute delight to listen and experience in concert and while a concert film cannot completely capture the full feel of being there at that place at that time, the visual direction by director Shunji Iwai along with the stage lighting changing between dusk and night certainly helps in the captured HD image for home viewing.

With Shunji Iwai's films, the music is almost a separate character in the film, showcasing emotional depth while being progressively different from anything else out there. For fans of the films and the soundtrack albums, "Yen Town Space in Inujima" is an unmissable concert film experience.



The Musicians: Maisa Tsuno (Akai Koen) / Kiyoshi Takakuwa (AKA Curly Giraffe) / Yukio Nagoshi / Nobuaki Kaneko (RIZE) / TOKU

Note this is a region ALL Blu-ray which can play back on any Blu-ray player worldwide

Video


Universal Music presents the film in 1080p in the AVC MPEG-4 codec, in the original 1.78:1 aspect rati. Shot on multiple cameras in HD, quality may differ from shot to shot. Some of the opening sequences shot via drones with smaller cameras have some weaker footage with pixelated blockiness while other shots look simply pristine. For the concert sequences which compromises about 90% of the film, they are made of crane shots, handheld shots, and fixed position mini-cameras which all look fairly good. There are some issues with purple lighting distorting some colors, but in terms of depth, clarity and overall color reproduction, it looks wonderful.

The runtime of the concert film is 125:24.


Audio


Music/Japanese/English LPCM 2.0 stereo
The music track is presented in lossless stereo. Most of the songs are in Japanese while a few songs such as "Glide", "She Don't Care", and "My Way" being in English. The music sounds absolutely fantastic, clear in vocals and each instrument coming in clear. Why this wasn't bumped to a 5.1 surround track is beyond me, as concert films certainly benefit from the extra surround channels.

There are no subtitles provided on the disc, but for scenes where monologues are being read out loud, Japanese captions are burned in to the image. In addition, a large LED screen was placed at the stage for certain songs to display the song lyrics as they played. Not all songs had this turned on and it is not always visible to the concert film viewer.

Extras


16 page booklet
A color booklet featuring photos, credits, and short quotes from the performers are provided in Japanese. Chara writes about how she feel strange to be called an "actress" considering she only has two film credits and both are Iwai films. Salyu writes about how difficult it is to describe Lily Chou Chou but is able to express so much just by singing as the character. Nagoshi recalls the days of recording for "MONTAGE" in New Jersey, and the other performers discuss how much these films impacted their lives as audience members.

If you are looking for interviews, behind the scenes materials, notes on Inujima, or anything else, you will be sorely disappointed. This certainly was a missed opportunity.

The official trailer which is not included on the disc is embedded below:



Packaging


The disc is housed in a clear keep case with the booklet inside. The case is housed in a slipcase which slides in from the opening on the left side.

Overall


"Yen Town Space in Inujima" is a great tribute/concert event for the 20th anniversary of the collaboratory works of director Shunji Iwai and music producer Takeshi Kobayashi. Even after all these years, the songs from "Swallowtail Butterfly" and "All About Lily Chou Chou" still sound incredibly timeless and amazing. The Blu-ray gives excellent video and audio though the lack of in depth supplements is the most disappointing aspect. The music and concert still comes as highly recommended.
| | | | | |
| --- | --- | --- | --- | --- |
| The Film: A | Video: A- | Audio: A | Extras: F | Overall: A- |