The Film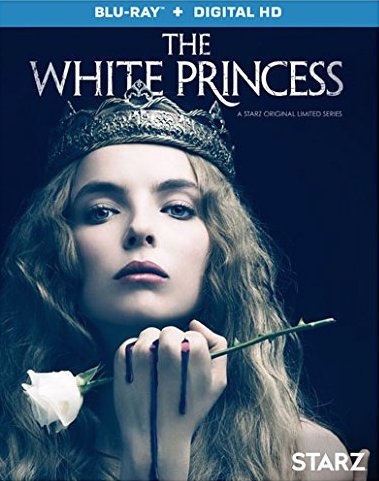 "The White Princess" is a sequel to "The White Queen" (2013), which took place during The War of the Roses, (1455-1487) and showed the downfall of Richard III by Henry Tudor; this series takes place immediately after the slaying of Richard III and shows Henry VII (Jacob Collins-Levy) taking over the throne and reign of England. Henry has promised that he would marry Elizabeth of York (Jodie Comer) and thus merge the red rose of Tudor with the white rose of York and hopefully there would ultimately be peace in the kingdom. The only problem with this coupling is that Elizabeth of York was smitten with Richard III (Aneurin Barnard) and she cannot stand Henry and his overbearing manner; likewise Henry does not want to marry a woman that despises him, but if you know anything about English history, you know that this isn't going to be anybody's idea of a dream marriage; but England needed to have a settlement between the Lancasters and the Yorks because enough blood had already been shed.

Based on a series of novels by Philippa Gregory, this is strictly a soap opera set among the royalty of the throne room. This reviewer could not care less for the hijinks' amongst the upper crust and you will need a scorecard to keep track of who is betraying who, who is sleeping with whom, and more importantly why any of this should be holding our interests in the first place.

Filmed on location in some historically important spots in England, the bulk of the filming took place in Wales, filling in for merry olde England. Gregory focuses on a mostly female centric that focuses on the dramas taking place behind the castle walls, such as the intrigue between the battling mothers-in-laws of both Elizabeth and Henry. Essie Davis and Michelle Fairley respectively chew the scenery in a medieval cat fight while being as polite as they can stand to be. Jodie Comer is excellent as the much put upon wife to the king and she manages to hold her own against the pushy Henry. Hardly an exact recreation of historical events, "The White Princess" plays fast and loose to present an intelligent series that fans of British drama will enjoy. The costumes are the best part of the series and the camera catches all the illustrious details of medieval finery.

The two-disc set includes all eight episodes of this mini-series broken down to four episodes per disc, the episodes included are:

- "In Bed with the Enemy" (59:00) Directed by Jamie Payne, written by Emma Frost. The opening episode shows that Elizabeth was consorting with Richard before he was slain in battle; Lady the King's Mother does not warm to Elizabeth; she gives Elizabeth the motto of "Humble and Penitent".

- "Hearts and Minds" (55:25) Directed by Jamie Payne, written by Emma Frost. King Henry VII tours the kingdom in an attempt to establish himself as the new sovereign; Elizabeth's pending pregnancy complicates her loyalties.

- "Burgundy" (59:00) Directed by Jamie Payne, written by Emma Frost. Elizabeth gives birth to a son, Arthur, and is crowned Queen. Elizabeth is separated from her mother.

- "The Pretender" (58:00) Directed by Alex Kalymnios, written by Sarah Dollard & Emma Frost. Henry finds himself on the battlefield once again and there is plenty of scheming between Elizabeth, Margaret and the Duchess. 

- "Traitors" (56:00), Directed by Alex Kalymnios, written by Loren McLaughlan & Amy Roberts. This episode starts 5 years after the last episode; there has been five years of peace for England. Margaret murders Jasper.

- "English Blood on English Soil" (57:00), Directed by Alex Kalymnios, written by Emma Frost & Alice Nutter. Henry and Elizabeth travel to Spain in an attempt to see their son get married. The episode begins with an execution of a man that conspired with the Yorkist pretender in Burgundy.

- "Two Kings" (58:00), Directed by Jamie Payne, written by Emma Frost. Perkin Warbeck is returned to England and publicly shamed, but he refuses to renounce his claim to the throne.

- "Old Curses" (60:00), Directed by Jamie Payne, written by Sarah Phelps. Henry and Elisabeth ponder what to do with their Yorkist heirs; the simple answer is to murder Richard of York (who is Elisabeth's brother) and slay the Earl of Warwick as well.

Video


Presented in widescreen 1.78:1 mastered in HD 1080p 24/fps using AVC MPEG-4 compression, the fine details are revealed with the excellent camera work and the sets themselves are enjoyable for their representation of the time period.

Audio


Two audio tracks are included in English Dolby TrueHD 7.1 surround and Spanish Dolby Digital 2.0surround. Excellent use of the Dolby TrueHD 7.1 audio track and I was impressed with the echoing footsteps and aural reproduction of the vast chambers, dialogue is cleanly delivered courtesy of the front channel speaker, and the score is nicely utilized throughout the series. Optional subtitles included in English for the hearing impaired and spanish.

Extras


There was no an additional material or extra features other than a code to download a digital copy version of each episode.

Packaging


Packaged in a 2-disc keep case housed in a cardboard slip-case.

Overall


Strictly because I was not overly intrigued with this series. Fans of costumed drama will be delighted with the two disc set, and the overall quality of the series is more than sufficient.
| | | | | |
| --- | --- | --- | --- | --- |
| The Film: B | Video: A | Audio: A | Extras: F | Overall: C+ |