NEWS
BEYOND THE DOOR III COMING TO BLU-RAY FROM VINEGAR SYNDROME!
Sunday 15th September 2019 - posted by Eric_Cotenas
On October 29, 2019, Vinegar Syndrome's October lineup streets with a full roster of horror. First up is Beyond the Door III (also known as Amok Train) in which a group of American high school students travel deep into the Yugoslavian countryside to witness a pre-Christian passion play and barely escape being human sacrifices. They board a train to escape, but the engine soon becomes possessed and starts killing anyone who comes between the Prince of Darkness and his virgin bride. No more related to Beyond the Door than Beyond the Door 2, Beyond the Door III was gutted for an R-rating upon American home video release but is presented on here in its face-ripping, torso-shredding uncut glory. • Region Free Blu-ray/DVD combo • Newly scanned & restored in 4k from its 35mm original camera negative • "Running Amok" interview with director Jeff Kwitny • "A Long Walk to Yugoslavia" interview with actor Bo Svenson • Interview with cinematographer Adolfo Bartoli • Reversible cover artwork • English SDH subtitles This is a pre-order that ships 1-2 weeks before release date of October 29th. This special limited edition embossed slipcover (designed by Earl Kessler Jr.) is limited to 2,000 units and is only available here at VinegarSyndrome.com or as part of the October 2019 Package with limited editions of Amityville: The Cursed Collection, Berserker, and Unmasked Part 25.
GIVEAWAY COMPETITION ON OUR FACEBOOK PAGE!
Tuesday 10th September 2019 - posted by James
Courtesy of Umbrella Entertainment, we are giving away DVDs of "Her Smell" (2018) and "Goodbye Paradise" (1983) for one lucky person. Check out the Rewind DVDCompare Facebook Page for details!
NEKROMANTIK 1 & 2 BLU-RAY BUNDLE LIMITED EDITION OF 500 FROM CULT EPICS
Saturday 7th September 2019 - posted by Eric_Cotenas
Jörg Buttgereit's sublimely sick underground film Nekromantik and Nekromantik 2, the films that made "corpse fucking" an art form come back to Blu-ray in a limited edition of 500 copies with a double-sided slipcase on September 10, 2019 with an exclusive double-sided slipcase with new artwork by Martin Tafford. The content of the discs themselves is otherwise identical to Cult Epics original packages for both films with two versions of Nekromantik - director's approved HD transfer from the original Super 8mm negative and a "grindhouse" HD version taken from a 35mm print, commentary by Buttgereit and co-author Franz Rodenkirchen, making-of featurettes and interviews, and the original soundtrack as a bonus feature. Nekromantik 2 features a director approved HD transfer from the 16mm negative, commentary by Buttgereit and Rodenkirchen, as well as actors Monika M. and Mark Reeder, making-of, 20th anniversary concert video, music video, a 2012 short film, the original soundtrack as well as a new live performance version. All Cult Epic editions of the film will be out of print at the end of 2019. 100 copies will be available directly from Cult Epics while limited stock will also be available from Amazon and Diabolik DVD.
SCORPIO FILMS: THE DUTCH SEX WAVE COLLECTION LIMITED EDITION BLU-RAY SET
Monday 26th August 2019 - posted by Eric_Cotenas
On October 8, 2019, Cult Epics will release a limited edition Blu-ray set of four films from Holland's "Dutch Sex Wave" and the landmark production company Scorpio Films. In the Martin Scorcese-scripted Hitchcockian Obsessions, a medical student becomes voyeur when he discovers a peephole into the apartment next door and sees a sex murder. In Frank & Eva, a man constantly cheats on his wife - with Emmanuelle's Sylvia Kristel among others - but becomes jealous when she takes a lover of her own. In Blue Movie, a young man fresh out of prison for a "social offense" finds his attempts to go straight frustrated by an apartment building full of dissatisfied and horny women. Finally, in My Nights with Susan, Sandra, Olga & Julie, a drifter becomes entangled in a murderous psychosexual four-way when he finds work on a country farm with four beautiful women, a madwoman, and a voyeur. Previously released in separate Blu-ray/DVD combo editions, the four films are included in this set as Blu-ray discs - a DVD set will also be available - with introductions, interviews, short films, trailers, and an exclusive 16-page booklet included with the first pressing. - Blu-ray Pre-Order Link - DVD Pre-Order Link A limited edition, 100-copy version of the Blu-ray set is available HERE as a web exclusive signed by director Pim de la Parra with a set of four postcards.
AN EXCLUSIVE INTERVIEW WITH BFI FLIPSIDE'S VIC PRATT
Sunday 21st July 2019 - posted by James
In the latest Rewind feature, James interviews BFI Flipside cofounder Vic Pratt, discussing about Flipside's first book release "The Bodies Beneath" as well as about the label and its drive to shed a light on the forgotten and odd British films from the past, plus some future title reveals! Read the complete interview HERE!
REWIND STORE IS NOW CLOSED
Saturday 20th July 2019 - posted by Samuel
Thanks for everyone that supported it and the 360 orders received over the last couple of months. I have sold the remainder of my doubles in bulk to a local collector so now have no doubles to sell. The shop could well make a return in the future, but in the mean time, thanks to all!
40+ MORE BLU-RAYS ADDED TO OUR SHOP
Wednesday 26th June 2019 - posted by Samuel
We've added a further 40 used Blu-rays to our online store. Highlights include:
- La Haine (Optimum)
- Hidden (Artificial Eye)
- Fight Club (Fox)
Take a closer look HERE.
A BLONDE IN LOVE (UK BLU-RAY) FROM SECOND RUN
Wednesday 26th June 2019 - posted by Samuel
Presented from the brand new 4K restoration that premiered at 2019 Cannes Film Festival, Second Run presents the Blu-ray world premiere release of Miloš Forman's A BLONDE IN LOVE on July 29.
A BLONDE IN LOVE is a subtle and beautifully observed social satire that deftly balances hope and despair, and is widely celebrated as one of the great films of the 1960s. This bittersweet romance unfolds as a sweetly seductive film but also provides a wry critique of life under totalitarianism.
Pre-order HERE.
WE HAVE LOST THE PLOT!
Sunday 23rd June 2019 - posted by Samuel
99% of DVDs are now just £0.79 at our store HERE.
You'll need to be fast on some of the following;
- Joe Bullet (88 Films)
- Several "The British Film" releases from Network
- Lots of slipcovers
Free UK shipping if you spend £5! £4.99 shipping to Europe for up to 20 items, £12.99 shipping to the rest of the world for up to 20 items.
THE PRODIGY (2019) COMING TO DVD
Saturday 22nd June 2019 - posted by Samuel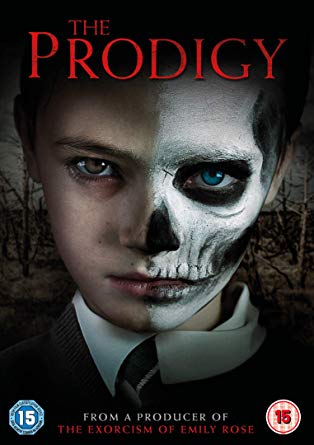 Orange Is The New Black's Taylor Schilling makes her horror debut facing a mother's worst nightmare to save her family from the evil within. From horror rising stars Nicholas McCarthy (The Pact), Jeff Buhler (Pet Sematary), and the producer of The Exorcism of Emily Rose, brace yourself for one of the scariest films of the year which will be available on digital download from 5th July and on DVD 15th July courtesy of Vertigo Releasing!
In her much-anticipated foray into the horror-thriller genre, Golden Globe and Emmy nominee Taylor Schilling stars in Orion's The Prodigy as Sarah, a mother whose young son Miles' disturbing behaviour signals that an evil, possibly supernatural force has overtaken him.
Fearing for her family's safety, Sarah must choose between her maternal instinct to love and protect Miles and a desperate need to investigate what or who is causing his dark turn. She is forced to look for answers in the past, taking the audience on a wild ride; one where the line between perception and reality becomes frighteningly blurry.
Pre-order HERE
FREE SHIPPING WHEN YOU SPEND £5 (UK ONLY)
Thursday 20th June 2019 - posted by Samuel
Our new shop is now in full swing, and after a successful first week, we have decided to make shipping within the UK absolutely free if you spend a minimum of £5!
- Blu-rays by most recently added HERE.
- DVDs by most recently added HERE
EDIT: Let's have a random sale item. LEGO Batman Movie (3D+2D Blu-ray) for just £1.49 HERE. Be quick, only 6 left!
The database contains 50253 entries with 144904 releases compared.

SPONSORS


Scream Magazine - 100% Horror.

FULL REVIEWS
TECHNICAL REVIEWS